Respiration
Biological or enzyme mediated oxidation of organic compounds is called respiration. Carbohydrates, amino acids or fatty acids all may take part in this oxidation individually. Whatever the substrate of oxidation is, the product in every case is Carbon dioxide and water and energy. A part of this energy comes out as heat and the rest is stored within the biological system (i.e., in the cell of the organism) in form of ATP (high energy molecules). The overall equation for respiration as
C6 H12 O6 + 6O2→ 6CO2 + 6H2O + Energy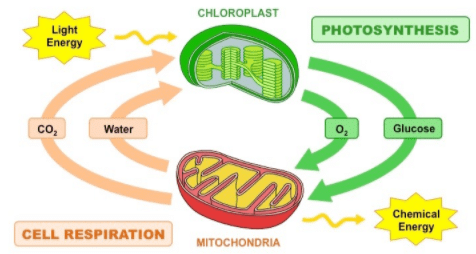 Fig: RespirationThis equation shows the complete oxidation of glucose. But sometimes incomplete oxidation also takes place in the absence of Oxygen and this case products are Carbon dioxide and ethanol (or lactic acid)
C6 H12 O6→2CO2 + 2CH3 CH2 OH + energy
Respiration in the absence of O2 is called anaerobic respiration where as the respiration in the presence of O2 is called aerobic respiration.
Energy in aerobic respiration (i.e., complete oxidation) is always greater than that in anaerobic respiration (i.e., incomplete oxidation).
38 moles of ATP comes out (including 2 of glycoiysis) during the complete oxidation of one mol. of glucose.
RQ or Respiratory Quotient is the ratio of CO2 (comes out) and O2 (which is consumed). This is one for carbohydrates, less than one for fats and more than one for organic acids.
Glycolysis of common for aerobic and an aerobic respiration. A loss in weight is associated with respiration.
Growth And Movement
Growth is a permanent increase in volume and weight and is a resultant effect of both anabolic and catabolic processe. Besides factors like water, light, CO2 and O2 concentrations, one more factor exist, which help the process of growth, is Hormones. Hormones can be defined as organic substances produced by the organism in a very small quantity and carried from one place to the other where it has got a profound action on metabolism.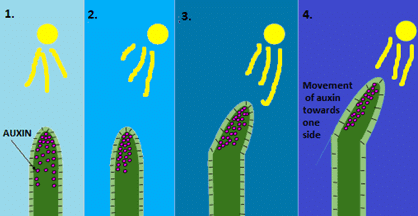 Fig: Growth and Movement of plants
Different types of hormones found in plants are:
Auxins
It is a term used for all (natural & synthetic) growth promoting substances. Natural-auxins are secreted by root or stem tips and carried through out the plant.
Auxin increases the rate of growth (elongation) but over application retards the growth. Amount of auxin in root and stem is almost same but root is more sensitive to auxin than stem.
Chemically auxin is Indole 3 Acetic Acid (IIA).
Tryptophan (amino acid) is the precursor of auxin in the cells. There are some compounds which has properties similar to IAA, but they are produced synthetically and called Heter oauxins e.g. Indole Butyric Acid (IBA), Napthelene Actic Acid (NA), 2,4, Dichlorophenoxy Acetic Acid (2-4-D) etc.
Practical application of auxins are— (a) to produce root primordia, (b) in te production of partheno carpic fruits, (c) in the killing of weeds (especially) 2-4-D).
Gibberelline
(i) Discovered first in the rice fields of Japan where the abnormal length of the rice plants (called Baeanae disease) was caused by the attack of a fungi-Gibberella fuzikuroi. Ultimately from this fungi gibberelline was isolated.
(ii) Chemically it is Gibberellic Acid (GA) on the basis of molecular structure 15 types of gibberellic acids can be distinguished denoted as GA1 to GA15.
(iii) Functions are: (a) It helps in the elongation (as auxins), (b) helps flowering, (c) breaking of dormancy of the seed.
Cytokinin: Hormone which promotes the cell division.
Abscissin: (or Abscissic Acid) helps in the formation of abscissin layer at leaf base essential for the natural fall of the leaves. Movements in plant can be divided into 3 broad groups:
Taxic: Change of place (Particularly for unicellular forms or organs)
Tropic: Change of direction.
Nastic: Movement by non-directional stimulation.
Fruit Development

As the ovules develop into seeds, the fertilized ovary starts developing into fruit.
A mature fertilized ovary is called a true fruit. If a part of a flower other than the ovary is also involved in the formation of fruit, it is called false or pseudocrapic fruit.
The wall of ovary exhibits fast rate of cell divisions and gives rise to fruit wall, technically called a pericarp which may or may not get differentiated into epicarp, mesocarp and endocarp.
The pollen grains (after pollination) provide a stimulus to ovary wall for auxin synthesis and fruit differentiation.
The production of additional auxin, cytokinin and gibberellin in the developing young seeds also promotes fruit growth and development.
In some plants e.g. banan as and grapes, fruits may be p roduced without fertilization which are seedless. The seedless fruits are called parthenocarpic.
Artificially, parthenocarpic fruits may be produced either by spraying pollen extract on a young ovary or by supplying auxin to unpollinated flowers.
Artificial parthenocarpy may be highly significant in either multiseeded fruits such as watermelon, brinjal or tomato or in large seeded fruits e.g. litchi.
The cause of natural parthenocarpy in banana and grapes is the presence of very high contents of auxins in the walls of their ovaries.
The presence of fruits in the angiosperms is significant because it protects the seed from hostile climatic conditions, and from the animals. In young stage, the fruits are green and remain hidden in the green foliage of the plant.
When mature, the fruits are brightly coloured to attract the agents of seed and fruit dispersal.
Vernalization
Some cereals have two kinds of physiological strains the winter type and the spring type. The method of inducing winter strains of cereals to flower early by a pre-treatment of seeds with a certain temperature differing in different groups of plants was developed in Russia by Lysenko (1932), and is known as Vernalization. Vernalization or early flowering is achieved by giving low temperature (chilling) treatments to seeds. Thus vernalization is "a treatment given to seeds before sowing, to hasten the time of flowing of plants that will develop from them." Practical benefits derived from this method are to induce earlier flowering and earlier maturing of the crop, to escape drought, flood and forst.
Fig: Effect of Vernalization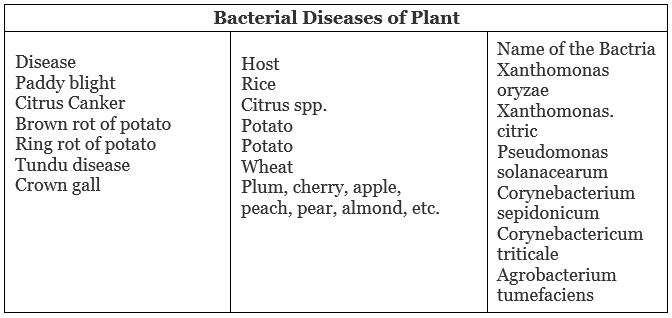 Photoperiodism
Photoperiodism is a response of plants flowering to the timing of light and darkness. Garner and Allard in 1920s were one of the first to not the phenome-non of photoperiodism. The relation of the time of flowering to the daylength of the period of illumination is known as photoperiodism.
On the basis of photoperiod requirement plants have been classified as follows:
Short day plants (SDP)—Plants require day-length less than 12 hours for flowering, e.g., commonly the plants of Kharif crop.
Long day plants (LDP)—Plants require day-length longer than 12 hours for flowering, e.g., commonly the plants of rabi crop.
Day neutral Plants may flower at any day-length, e.g., Tomato, Pepper, etc.
Photoperiodism has helped in the control of flowering of a large number of horticultural and agricultural plants. Artificial shortening or lengthening of day-length by electric illumination has induced plants to flower earlier than the normal plants.
Artificial Vegetative Propagation
A population of genetically identical plants derived from an individual by vegetative means is called a clone. Some important methods of artificial vegetative propagation are as follows:
Cuttings
The use of any plant part such as stem, leaf or root for vegetative propagation is called cutting. For example, stem-cuttings are used for the propagation of sugarcane, bougainvillea, roses and cocoa. Leaf cuttings are used for the propagation of Begonia and rootstocks are used for the propagation of banana. If a cutting fails to develop roots easily, it can be facilitated by auxin treatment at the cut end. For vegetative propagation by cuttings, the factors taken into consideration are, optimal length and covered with moist soil until the branch produces adventitious roots. The rooted branch is then removed from the parent plant for propagation. In trench layering, a branch is immersed horizontally in soil until it produces several roots and shootbuds. Then each shoot bud with its roots is detached and grown as independent plant. In air layering, the stem is girdled i.e. its bark is removed or a slit is made in the branch. The cut surface is treated with auxin and covered with moist cotton or sphagnum moss and wrapped with polythene sheet. When roots appear, the branch is cut below the level of roots and planted in soil.
Grafting
It is practised in such plants which do not root readily or produce weak root system. It is the art of joining parts of two plants which then grow as one individual. This is successful only in the dicot plants which have cambium for secondary growth. The rooted part, called a stock, is derived from a plant resistant to diseases and pests having efficient absorption of water and minerals.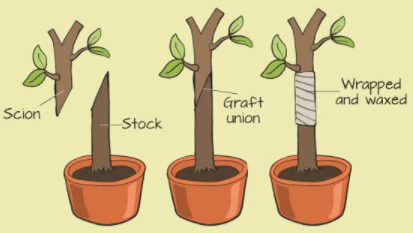 Fig: GraftingThe upper portion to be grafted to the stock is called a scion and it is derived from a plant having superior characters.
During grafting, the graft union should heal properly and the cambia of the stock and scion should have the same growth rate. Grafting is practised for propagation of mango, apple, pear, citrus and guava.
Budding
It is a special type of grafting in which a single bud with adjacent bark is used as a scion and it is inserted into a cut made in the stock under the bark.
Micropropagation by plant tissue culture
The cells, tissues or organs are detached from a plant to be propagated, and grown on a suitable artificial medium. In vitro (in test tube), these explants develop to form callus which is defined as nonpathological undifferentiated tissue involving uncontrolled cell divisions. The callus can be differentiated to produce platelets by supplementing the medium with hormones such as auxin, gibb-erellin and cytokinin. This technique has been commercially used for the propaga-tion of orchids, carna-tion, gladiolu, and Chrysanthemum. The advantage of micro-culture technique is that we can get virus free clones by raising callus from shoot apex; and unlimited number of plants can be obtained within a limited space and relatively short time.
Significance of vegetative propagation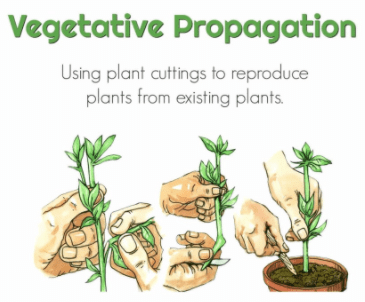 The plants which have lost their capacity to reproduce sexually, can be multiplied easily, e.g. roses, seedless grapes, bougainvillea and lawn grass. It can be of great use in plants where seeds have a long dormancy or poor viability e.g. in Theo-broma cacao, leaves are used for raising new plants. The heteroz-ygous plants having desirable characters can be multiplied without losing the hereditary potentialities of their parent plant. Grafting is significant because it aids in getting an economic plant having useful characters of two different individuals in a short time.