About SNAP
Candidates aspiring to join MBA programs offered by institutes of Symbiosis International University have to take the common, mandatory Symbiosis National Aptitude (SNAP) Test.
A candidate needs to register for SNAP Test & also register for the institutes offering his/ her choice of program by paying separate program registration fees. If shortlisted, he/she would then need to attend the GE-PIWAT process conducted by each of these institutes individually.
While there is only one application for the SNAP written test, you need to apply separately to each institute within Symbiosis International University, as per the details given on the respective website of each institute.
The registration process for SNAP and institutes is now simplified. Aspirants can now complete the SNAP as well as program registrations in the same portal (snaptest.org) 2022 2023
SNAP Official Mock
Due to the fluctuations that usually happen in the SNAP 2023 Exam Pattern, Symbiosis will be releasing an official SNAP 2023 Mock. The main function of the SNAP 2023 Official Mock is to give aspirants an idea regarding the User Interface of the exam so that they do not face any issues during the actual SNAP 2023 Exam. Some of the highlights of last year's SNAP 2022 Official Mock are:
The number of questions was according to the official SNAP 2023 Exam Pattern i.e. General English (15 Questions), Analytical & Logical Reasoning (25 Questions), and Quantitative, Data Interpretation and Data Sufficiency (20 Questions)
While there is an overall time limit of 60 minutes, there was no sectional time limit
Candidates didn't get the option of moving across sections. They were required to end the section and submit it in order to move to the next section.
Moving across questions within the section was permitted in the SNAP 2023 Exam
The marking scheme was as notified in the SNAP 2023 Exam Pattern i.e. +1 for each correct answer and -0.25 for each incorrect attempt.
Highlights of SNAP 2023

Students who are planning to appear for SNAP this year should keep in mind that the registration for SNAP 2023 has not yet begun and the last date to apply for SNAP 2023 is expected to be in the fourth week of November 2023, subject to any further extensions.
Students are required to register for the examination online before the mentioned deadline in order to provide themselves with ample preparation time. As the GK section will not be the part of SNAP 2023 exam, students should devote their particular focus to other sections of the paper.
Also, candidates should abide by the registration guidelines and attest to their eligibility before filling up the application form. The candidate failing to meet the eligibility criteria would not be allowed to take the examination.
SNAP 2023 aspirants need to manage their time effectively when it comes to gear up for the examination. Also, they need to work in accordance with the relevant syllabus and the sectional time limit that is allotted during the paper.
The SNAP 2022 paper had been conducted keeping the same concerns in mind, and therefore was a quick paper for 60 minutes to prevent any potential haphazardness. Students were sitting "two or three seats" far from each other to adhere to social distancing measures. In the same manner, SNAP 2023 will also be conducted for a 60-minute time duration.
After the initial attempt, Students also have an option of retaking SNAP in case they were not fully satisfied with their initial attempt. SNAP 2023 retake is only allowed once. So, a candidate can attempt SNAP twice.
Better out of two attempts will be considered for admission of the candidate. SNAP is a non-adaptive exam, and there are no sectional cut-offs, but an overall examination cut-off.
Also, So, the percentile of a candidate would only depend on one factor, i.e. the number of questions answered correctly, regardless of the difficulty level of the questions.
Important Dates

SNAP 2023 Exam Pattern
The SNAP exam pattern was revised in 2020. The exam duration was reduced from 120 minutes to 60 minutes.
The number of questions was reduced from 110 to 60.
Special Questions and differential marking were scrapped.
Every question carried one mark. There was a negative marking of - 1/4 for every wrong attempt.
The General English section had 15 questions, A-LR had 25 questions and QA, DI-DS had 20 questions
SNAP 2023 exam pattern is expected to be the same as last year
SNAP 2023 Exam Syllabus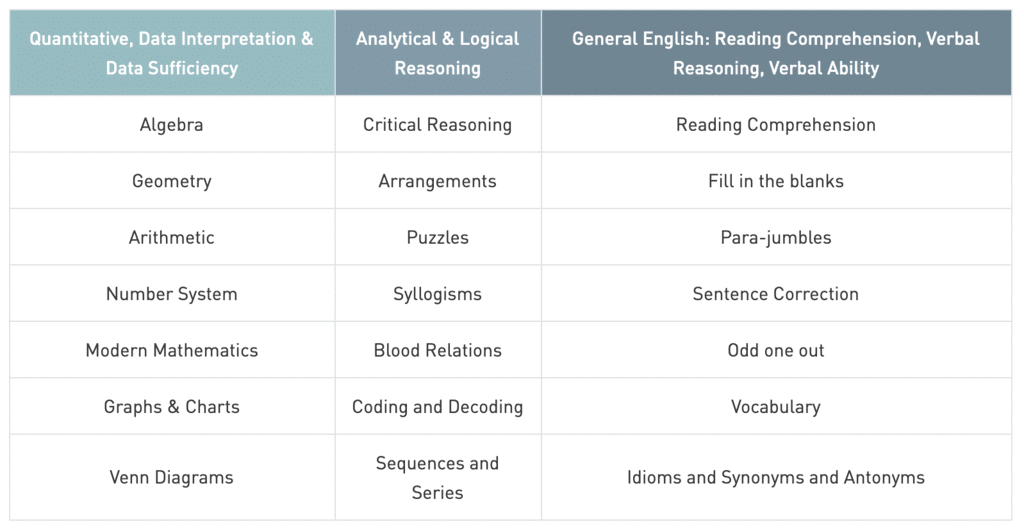 Eligibility Criteria
Students who are eligible to appear for SNAP 2023 should pursue a bachelor's degree in any discipline from a recognized university with a minimum aggregate of:
50% - General/open/OBC candidates
45% - SC/ST candidates
Students in their final year can also apply but their admission is subject to obtaining a minimum of 50% marks (45% for SC/ST candidates)
A candidate having completed his qualifying degree from a foreign university is required to submit an equivalence certificate from the Association of Indian Universities to be eligible.
Registration Process
The overall registration process is quite straightforward. It consists of the initial registration which requires your personal details such as:

Name
Email ID
Date of Birth
Phone Number
Category & Nationality
Exam Date and Exam Centre
Exam day-related Instructions
Photograph
The next stage of the SNAP 2023 Registration is the payment which can be done via BillDesk or Easebuzz Gateway or through Netbanking or Demand Draft. You can also use mobile wallets like Paytm or Payment through UPI (Google pay, PhonePe etc) Following this, you need to fill the Registration Form 2 to complete the SNAP 2023 Registration process.
Steps to Register for the exam
Follow the below-mentioned steps in order to register successfully for SNAP 2023:
Visit SNAP 2023 online registration to register as a new user.
A registration window will open in front of you. Complete the form and put in all the necessary details regarding your personal memorandum I.e Date of Birth, Cell Phone number, email ID, Social Category and preferred test cities.
Save the form after uploading your scanned photograph which should be at most 3 months old. The size of the photo should be between 10 KB and 100 KB and the format should be .jpg, .jpeg, .png
Click on submit and enter the OTP you received on your registered mobile number in the message box.
Open your email ID and find the SNAP 2023 confirmation email. Click on the hyperlink provided in email.
Login to your SNAP account with SNAP ID allotted in the email and enter the security code.
Change your SNAP Password and formulate a new one based on password guidelines mentioned on the page.
The payment page will be loaded.Read the payment instructions with wide eyes.
Proceed to the payment gateway and complete the transaction.
Take a print out for future reference.
You would also have to register for your preferred symbiosis institute differently and complete the admission form including the details of the same.
Application Form Fee Payment
The candidate may pay through
Bill desk Payment Gateway
Ease buzz Payment Gateway
Indian Bank Payment Gateway
Demand Draft.
Mobile Wallet (Mobikwik, Paytm) or UPI
Pay the SNAP test fee of Rs.1950 /- as per the instructions mentioned on the website for Payment of SNAP Test fee.
FOR PAYMENT THROUGH DEMAND DRAFT:

Submit a Demand Draft (DD) of Rs. 1950/- from any Nationalized Bank in favour of "Symbiosis Test Secretariat" payable at Pune.
Choose the mode of Payment as 'DD Payment' in the 'Make Payment' Tab. Take a print of the payment advice form, fill in the DD Details, sign and send it along with the DD to the Symbiosis Test Secretariat only at:
Symbiosis Test Secretariat
Symbiosis International (Deemed University)
Gram: Lavale, Tal: Mulshi, Dist.: Pune - 412115
Phone: +91-20-28116226/27
NOTE:
• SNAP Test fee and institute programme payment is non-refundable.

• Symbiosis Test Secretariat will not be responsible for non-delivery on any delay on the part of courier / postal services.

• It is also mandatory to complete the payment process of desired institute for desired programme(s) before the closing date of payment of the respective programme. Payment towards the programme(s) also needs to be done through the SNAP website only (snaptest.org).
SNAP 2023 Syllabus
According to the analysis of the last 2 years, the most dominant topics in each SNAP Section is as follows:
Section 1: General English
Symbiosis International University can introduce new alterations in the overall format of SNAP form 2023.
To prepare for the updated syllabus of SNAP 2023 which will be along the lines of previous year SNAP papers, candidates need to pep up their learning strategy. General English section is a pure evaluation of the candidate's reading, grammar and vocabulary skills.
This section will contain a total of 15 questions.
All questions will be MCQ type questions. No Non MCQ type questions will be asked in this section.
Each question will carry 1 mark. A student can score maximum 15 marks in this section.
General English Section
Jumbled paragraphs (6 sentences with first and last fixed)
Jumbled paragraphs with 4 or 5 sentences
Fill in the BlanksReading Comprehension of passage/ Poem
Sentence completionAntonyms
One-word substitutionSentence correction
Odd one out
Idioms and syllogisms
Verbal Reasoning
Some key points about SNAP Reading Comprehension
The passages in SNAP are not very lengthy
The passages can appear from any of the popular genres like literature, science and technology, philosophy,etc.
The level of difficulty of questions is mostly easy-moderate
Majority of the questions asked are fact-based, scientific or informative questions.
Verbal Ability
Fill in the Blanks
Synonyms & Antonyms
Vocabulary
Proverbs & Idioms
Sentence Correction
Critical Reasoning
Analogy
Section 2: Analytical & Logical Reasoning
Reasoning is the analytical and logical review of the candidate's decision-making skills. This section contains a total of 25 questions. All questions will be MCQ type questions. No Non MCQ type questions will be asked in this section. Each question will carry 1 mark. A student can score maximum 25 marks in this section.
Critical reasoning
Visual reasoning
Assertion and reasons
Puzzles
Assumption-Premise-Conclusion
Analogy (Numeric and Alphabetical)
Seating Arrangement
Directions
Blood Relations
Syllogism
Clocks and Calendars
Visual Reasoning
Data Interpretation based on text
graphs and tables
Coding and decoding
Sequencing
Identifying next number in series
Statements and assumptions
identifying valid inferences
Identifying Strong arguments and Weak arguments
Symbol Based problems
Miscellaneous
Section 3: Quantitative, Data Interpretation & Data Sufficiency
As for Quantitative aptitude, the focus of the examiner is to check the accuracy of a candidate and the ability to solve complex mathematical problems within the allotted time limit This section will contain a total of 20 questions.
All MCQ type questions will have no special questions asked in this section.
Each MCQ question will carry 1 mark. A student can score maximum 20 marks in this section.
Here is a list of topics from where questions would be asked in this section:

Quantitative Aptitude
Percentages
Profit & Loss
Ratios, Proportion & Variation
Allegations Mixtures & Averages
Time Speed Distance
Time & Work
Number System
Linear Equations and Quadratic Equations
InequalitiesFunctions
Logarithm
Binomial Theorem
Geometry
Coordinate Geometry
Trigonometry
Mensuration
Probability
Set Theory
Simple Interest & Compound Interest
AveragesComplex numbers
Permutations & Combinations
Vectors
HCF & LCM
Geometric Progression
Arithmetic progression
Arithmetic mean
Geometric mean
Ratios and Proportion
Algebra
Data Interpretation & Data Sufficiency
Bar Graph
Line Graph
Mixed Graphs
Tables
Pie Chart
Miscellaneous
Top Colleges Accepting SNAP scores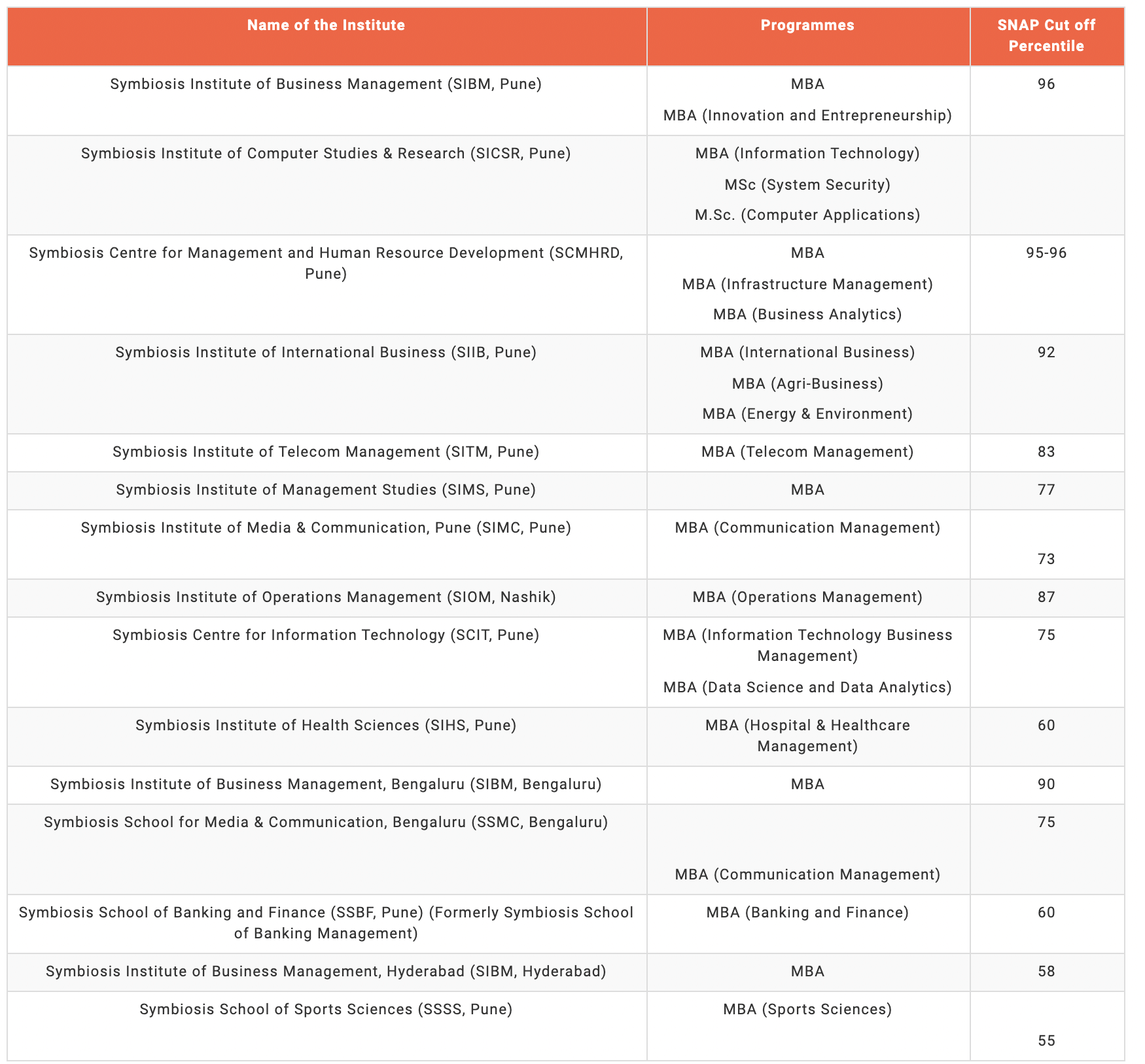 Shortlisting and Selection Process

Shortlisting for Group Exercise, Personal Interaction and Writing Ability Test (GE-PIWAT):

Candidates will be shortlisted for GE-PIWAT based on their overall SNAP Percentile. Please check the respective institute website for information and dates of GE-PIWAT.
It is mandatory to attend all components/tests of GE-PIWAT to be eligible for admission to any PG programs.
Only candidates who attend all components/tests of the selection process (GE-PIWAT) shall be considered as eligible for the generation of merit/wait/reject list.
Candidates who remain absent for any one of the components/tests will be considered as ineligible for the selection process of any of the MBA/M.Sc. (CA)/M.Sc. (SS) degree programs of SIU.
Frequently Asked Questions
Q1: What is the application fee for the SNAP Test?
The SNAP application fee is Rs 1,950 to be paid in online mode only through credit/debit card or internet banking.
Q2: What is the process to get admission through SNAP 2023?
The admission process includes SNAP Test, Group Exercise (GE), Personal Interaction (PI), and Writing Aptitude Test (WAT). Final admission is granted to candidates on the basis of SNAP scores and performance in GE, PI and WAT.
Q 3: How many times can I appear in SNAP 2023?
As per the latest exam pattern, SNAP 2023 will be conducted thrice between December and January. The candidates will be given two attempts. The score of best of the two SNAP attempts will be considered for shortlisting for SIU admission.
Q4: Is there any reservation policy in SNAP?
There is no reservation policy in SNAP but there is one for admission to SIU. Given below is the sanctioned intake under the govt approved reservation policy
Q5: What is the syllabus of SNAP 2023?
SNAP syllabus includes General English, Analytical & Logical Reasoning and Quantitative, Data Interpretation & Data Sufficiency.
Q6: Will SNAP answer key be released before result announcement?
Yes, SNAP answer key will be released on the official website, a few days before result announcement. The official date of answer key has not been announced yet.
Q7: Will there be impact of COVID-19 on SNAP 2023?
It is unlikely that there will be any impact on COVID-19 this year too. With the vaccination programme in full swing and daily cases decreasing, it is expected thay by December when the SNAP exam is conducted, everything will be back to normal.
Q8: When will SNAP 2023 registrations begin?
SNAP 2023 registration process is expected to begin by the third week of August and continue till last week of November. The application forms will b available on the official website of SNAP 2023 in this duration.
Q9: Is there any age limit to appear for SNAP?
No, there is no age limit to appear for SNAP. However, the candidate must have completed Graduation or most be in the final year of their Bachelor's degree.
Q10: What is the marks relaxation scheme for SC/ST candidates?
For SC/ST candidates, the minimum marks required is 45 per cent aggregate in graduation (any stream). For General category candidates, the minimum marks requirement is 50 per cent in aggregate.
Q11: Is the eligibility criteria the same for all MBA courses offered by SIU?
No, the eligibility criteria for all MBA courses is not common. For example, the eligibility criteria for MBA (Infrastructure Development and Management) is BE/BTech, BArch or BPlan. The candidates must check the course-wise eligibility criteria for the particular course before filling the SNAP application form.
Q12: Is there any cut off for admission through SNAP?
Yes, each institute releases SNAP cut off marks for admission, on the basis of which candidates are screened for GE/PI and WAT.