Scientific Development
Mankind has progressed immensely over the period of time and the great contributions by some men in the field of science have played a key role in this growth and transition. These great scientists have made some amazing inventions and discoveries which have changed the way we live.
Inventions/ Discoveries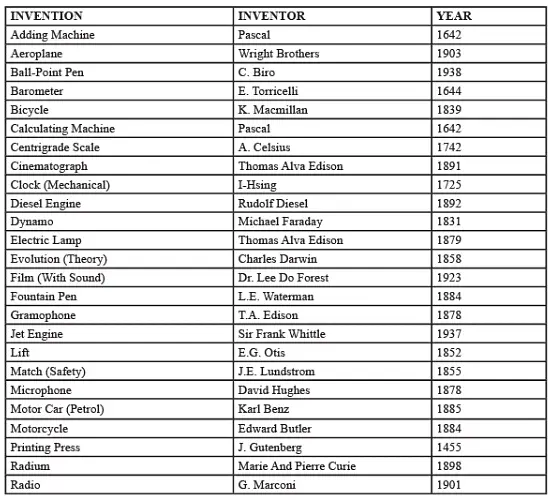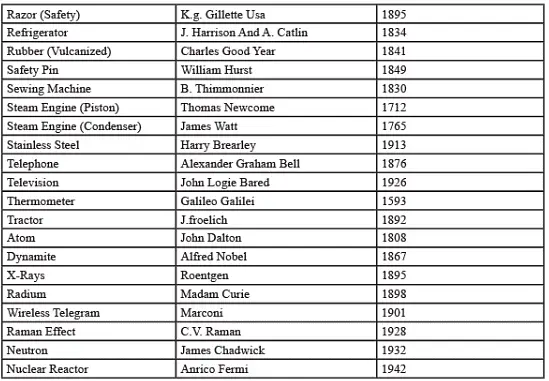 Technological Developments
1. Smart contact Lens
Contact lenses developed at the University of California contain conductive wires that continuously monitor pressure and fluid flow within the eyes of people. The lenses then relay information to a small device worn by the patient; the device wirelessly transmits it to a computer.
2. Maglev Trains
The maglev train has no wheels. So, these locomotives levitate. The tracks they run on are magnetized. The trains use the force this creates to propel themselves upward and forward at high speeds. Running these engines requires the consumption of only a small amount of fuel. Thus, in addition to being faster than traditional style locomotives, these ones are more eco-friendly and less costly to operate.
3. Electric Cars
The electric car is a good solution to the transportation crisis at hand. These automobiles are just plugged in to the appropriate outlet and then they are on the road. The cars do almost no harm to the environment and are also economical. One study published by IDC Energy Insights stated that by the end of 2015 there will be three million cars on the road.
4. Driverless Cars
A large and complex camera is mounted to the roof of driverless cars which is used to navigate the road. These cars are safer, if the technology is right, to ride in as a precisely calibrated robot is at the wheel. The automobiles also allow people to work or relax during a trip, as they eliminate the need to focus on the road. However, they are bad for the environment.
5. Artificial Skin of Robots
Rubber electronics and sensors that operate normally could work as artificial skin on robots, according to a new study. The skin is made of a smart polymer core which expands depending on the humidity and temperature.
6. Disney's magic Bench
A new "Magic Bench" designed by Disney Research lets you interact with funny animated characters and no special glasses or headsets are required.
7. Atomic Fingerprinting
Scientist Professor Robert Young and his colleagues from the Lancaster University have invented a technique for confirming the authenticity of an object. The new method that can engrave things with atomic fingerprinting to check fake products.
8. Solar Power Generating Windows
The startup Physee has developed fully transparent solar-power-generating windows. The windows have solar cells installed in the edges at a specific angle that allows the incoming solar light to be efficiently transformed into electricity.
9. lens-Free camera
Scientists at California Institute of Technology (Caltech) have developed a tiny, paper-thin camera that has no lens and can turn conventional photography on its head.
10. Spray-on Touchscreens
Scientists from Carnegie Mellon University in Pittsburgh have invented a spray technology that can convert any material into touchscreen.
11. Real-Life Iron Man
Inventor Richard Browning designed an Iron-Man style that enables him to fly in air like a super hero.