Fibres
All fabrics are materials made from many fibres. Cotton is a natural fibre obtained from the cotton plant. All synthetic fibres are man-made fibres that are prepared by a number of processes using raw material of petroleum origin, called petrochemicals.
A polymer is made up of many repeating units called monomers. Cotton is a form of a polymer called cellulose, which is made of a large number of glucose units.
Characteristics of synthetic fibres:
(i) Synthetic fibres are cheaper, stronger and durable than natural fibre.
(ii) It is easy to maintain, easy to wash, dry up in less time and readily available.
(iii) Synthetic fibres possess unique characteristics which make them popular dress materials.
Characteristics of rayon:
1. Cheaper than silk and can be woven like silk fibres.
2. Highly absorbent, soft and comfortable.
3. Easy to dye in a wide range of colours, and drapes well.
Uses of Rayon:
Widely used in all types of clothing and home furnishings. Mixed with cotton to make bedsheets and curtains, or with wool to make carpets.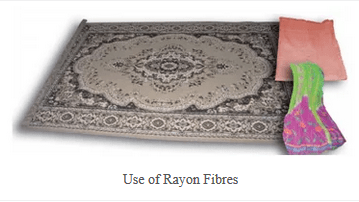 Characterstics of Nylon:
Nylon is a synthetic fibre made from coal, water and air. Cloths from nylon are very strong elastic and light lustrous and easy to wash.
Uses of nylon:
1. To make seat belts in cars, curtains, sleeping bags, tents, toothbrushes, socks and ropes, 2. To make parachutes and ropes for rock-climbing.

Characterstics of Polyester:
(i) Polyester is a synthetic fibre, derived from coal, air, water and petroleum. Polyester is made of repeating chemical units called esters.
(ii) Polycot is a mixture of polyester and cotton, and poly-wool is a mixture of polyester and wool. Fabric made from polyester retains its shape and remains crisp. Polyester is easy to wash and dry.
(iii) Terylene is a popular form of polyester, which can be drawn into very fine fibres. These fibres can be woven like any other yarn.
(iv)PET, or polyethene terephthalate, is another familiar form of polyester, which is used to make bottles, utensils, films and wires. Polyester is also used for making hoses, ropes, nets, thread, raincoats, fleece jackets, clothing and medical textiles. Acrylic is a synthetic polymer of methyl methacrylate. Fabric made from acrylic is warm to wear, retains its shape and is durable.
(v) Acrylic is easy to wash and dries quickly. Acrylic is used in apparel like sweaters and socks, and in-home furnishings such as furniture, carpets, blankets and upholstery fabrics. Industrial uses of acrylic include craft yarns, awnings, boat and vehicle covers, and luggage.
PLASTICS
Plastics are polymers of long carbon chains. Plastics that get deformed easily on heating and can be bent easily are known as thermoplastics. PVC polythene, nylon, acrylic, celluloid and cellulose acetate are examples of thermoplastic. Plastics that, when moulded, cannot be softened by heating are called thermosetting plastics. Bakelite, melamine, vulcanised rubber, duroplast and epoxy resin are examples of thermosetting plastics. Characteristics of plastics:
(i) Do not corrode easily- Light in weight - Strong - Durable
(ii) Can be easily moulded into different shapes and sizes. Poor conductors of heat and electricity.
Some Uses of Plastic in Various Fields:
(i) Plastics find extensive use in the health-care industry. Plastics are used for the packaging of tablets, threads used for stitching wounds, syringes, doctors' gloves and a number of medical instruments.
(ii) Special plastic cookware is used in microwave ovens for cooking food without affecting the plastic vessel.
(iii) Teflon is a special plastic on which oil and water do not stick. It is used for making non-stick coating on cook wares.
(iv) Fire-proof plastics: Synthetic fibre catches fire easily. The uniforms of firemen have coating of melamine plastic to make them flame resistant.

BIODEGRADABLE AND NON-BIODEGRADABLE
Material that gets decomposed through natural processes, such as by the action of bacteria, is termed as biodegradable. For example, peels of vegetables, fruits, other foodstuff, paper and pieces of clothes.
On the other hand, material that is not easily decomposed by natural processes is termed as non-biodegradable. For example, plastic, polythene covers, thermocol, etc.
Plastics and the Environment:
(i) Plastic is a non-biodegradable material. It takes many years to get decomposed or either does not get decomposed.
(ii) Due to non-biodegradable property of plastic, it is a very major problem for environment.
Problem:
(i) Now days, plastic is very popular and used it for many purposes. As a result, we generate a large amount of plastic waste. Since plastic has non-biodegradable property, so plastic waste is getting accumulated in the environment. It causes environmental pollution.
(ii) Accumulated plastic waste is a major concern as it does not get completely burnt easily. In the process it releases lots of poisonous fumes into the atmosphere causing air pollution.
Ways to reduce the use of plastic materials:
Reduce: Avoid the use of disposable plastic bags, instead make use of cotton or jute bags for shopping.
Reuse: Plastic items should be reused wherever possible.
Recycle: It is better to recycle plastic waste. Most thermoplastics can be recycled.