Q. 1. How is 'barter system' practiced among various tribal communities in the world?
Ans. In the primitive societies, during the initial stages of trade, there existed the barter system. In this system direct exchange of goods took place. In the olden times, before paper and coin currency came into being, rare objects with very high intrinsic value serve as money such as flintstones, furs, cattle, rice, peppercorns, salt, small tools, copper, silver and gold in exchange of commodities.

Q. 2. What is international trade? Why does international trade exist? Explain.
Ans. International trade is the exchange of goods and services among two countries
International trade exist because of:
(i) Regional difference in production and productivity.
(ii) Economic development.
(iii) Difference in national resources.

Q. 3. American slave auction advertised slaves for sale or temporary hire by their owners. Buyers often paid as much as $2,000 for a skilled, healthy slave. Such auctions often separated family members from one another, many of whom never saw their loved ones again.
Read the above paragraph and answer the following:
(i) "Slavery was a curse." Justify the statement in your opinion.
(ii) What kind of values are needed to bring slavery to an end?
Ans. (i) Slave trade is a curse and bane in the world. All human beings in this world should live and be treated with equality. They should not be discriminated on the basis of colour and sex. It is the duty of human beings to create and provide equal status, and respect their self-esteem and one should be bold enough to raise their voices against it locally or globally.
(ii) Values that are needed to bring slavery to an end are:
(a) Universal Brotherhood and Fraternity.
(b) They should be empowered to make choices with dignity.
(c) Respect human and fellow citizens.
(d) Right to equality.

Q. 4. Explain how the international trade is mutually beneficial to nations.
Ans. (i) The international trade allows countries to exchange goods and services with the use of money as a medium of exchange.
(ii) Global trade has become one of the major contributors to the reduction of poverty.
(iii) International trade has helped the nations become prosperous.

Q. 5. What do you understand by difference in national resources?
Ans. The world's national resources are unevenly distributed because of differences in their physical make up, i.e., geology, relief soil and climate.

Q. 6. How does international trade help the developing countries?
Ans. Foreign investment can boost trade in developing countries which lack in capital required for the development of mining, oil drilling, heavy engineering, lumbering and plantation agriculture. By developing such capital intensive industries in developing countries, the industrial nations ensure import of food stuffs, minerals and create markets for their finished products.

Q. 7. How has the development of transport facilities helped in the growth of trade?
Ans. In olden times, lack of adequate and efficient means of transport restricted trade to local areas. Only high value items, e.g. gems, silk and spices were traded over long distances. With expansions of rail, ocean and air transport, better means of refrigeration and preservation, trade has experienced spatial expansion.

Q. 8. Explain the meaning of 'Volume of Trade.'
Ans. The actual tonnage of goods traded makes up the volume. However, services traded cannot be measured in tonnage. Therefore, the total value of goods and services traded is considered to be the volume of trade.

Q. 9. Assess the positive aspect of 'trade liberalisation.'
Ans. Trade liberalisation is removal or reduction of restriction or barriers on the free exchange of goods between the nations.

Q. 10. How is the favourable balance of trade an indicator of economic development of a country?
Ans. If the value of export is more than the value of import than the country has positive or favourable balance of trade. Favourable balance of trade is the indicator of economic development of the country.

Q. 11. Examine the functioning of World Trade Organisation.
Ans. The World Trade Organisation is the only international organisation which deals with the global rules of trade conducted between nations. WTO sets the rules for the global trading system and resolves disputes between its member nations. WTO also covers trade in services, such as telecommunication and banking and other issues such as intellectual rights.

Q. 12. Which association is the largest single market in the world?
Ans. European Union (EU)

Q. 13. India is a member of which trading block?
Ans. SAFTA

Q. 14. What is free trade? Give two advantages of free trade.
Ans. Free trade is a policy in international markets in which governments do not restrict imports or exports. Free trade is exemplified by the European Union/European Economic Area and the North American Free Trade Agreement, which have established open markets. Most nations are today members of the World Trade Organisation (WTO) multilateral trade agreements.
Advantages of free trade: (i) Goods and services can reach everywhere. (ii) Foreign goods can compete with domestic goods.

Q. 15. State any two functions of the World Trade Organisation (WTO).
Ans. Functions of the WTO:
(i) It oversees the implementation, administration and operation of the covered agreements.
(ii) It provides a forum for negotiations and for settling disputes.

Q. 16. Study the table and answer the following questions: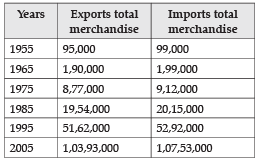 (3.1) Which decade shows the highest increase of total value of imports and exports of goods and services?
(3.2) How much is the increase in the total value of exports during 1955 to 2005?
(3.3) Why does the need for trade arise?
Ans. (3.1) 1965-1975.
(3.2) 1,03,93,000 – 95,000 = 102,98,000 millions of US Dollars.
(3.3) The need for trade arises because of:
(i) Regional difference in production and productivity.
(ii) Economic development.
(iii) Difference in national resources.

Q. 17. Discuss the reasons for the emergence of the Regional Trade Blocs.
Ans. Reasons for the emergence of the Regional Trade Blocs:
(i) Encourage trade between countries with geographical proximity, similarity and complementarities in trading items.
(ii) Curb restrictions on trade of the developing world.
(iii) As a response to the failure of the global organisations to speed up intra-regional trade.

Q. 18. Why is it detrimental for a nation to have negative balance of payments?
Ans. It is detrimental for a nation to have negative balance of payments as it indicates a predominant money flow outbound from a country to other countries. The impact of this negative balance of payments is that the ownership of assets in foreign countries increases. Transactions affecting a country's balance of payments include corporate, individual and government dealings.

Q. 19. Define the term 'Hinterland' of the port.
OR
Give the meaning of the term 'Hinterland.'
Ans. Hinterland of the port is an area from which products are delivered to a port for shipping. It is the area in land from the port to which imports are distributed and from which exports are collected.

Q. 20. What are naval ports? Give one example of naval port.
Ans. Naval ports are those which have only strategic importance. These ports serve warships and have repair workshops for them.
Example: Kochi and Karwar.

Q. 21. How is the importance of a seaport judged?
Ans. The importance of a port is judged by the size of cargo and the number of ships handled. The quantity of cargo handled by a port is an indicator of the level of development of its hinterland.

Q. 22. Most of the international trade is carried through sea routes. Explain the statement giving three reasons.
Ans. (i) Ports play an important role in the growth of manufacturing and mining sector. Core manufacturing sectors like steel, refinery and automobiles are dependent on trade for raw materials and sale of finished products.
(ii) Logistics cost plays an important role in the cost of production and hence profitability of the business as volumes of material to be transported are huge.
(iii) With the rising demand for port infrastructure due to growing imports and containerisation, it will be difficult for public ports to meet demands. This provides private ports with an opportunity to serve the spill-off demand from major ports and increase their capacities in line with forecasted new demand.