NATIONAL AMBIENT AIR QUALITY STANDARDS
The notifications on National Ambient Air Quality Standards were published by the Central Pollution Control Board in the Gazette of India. Extraordinary vide notification No(s). S.O. 384(E), dated 11th April, 1994; S.O. 935(E), dated 14th October, 1998; and S.O. 217 in Part III section 4, dated 18th November, 2009 .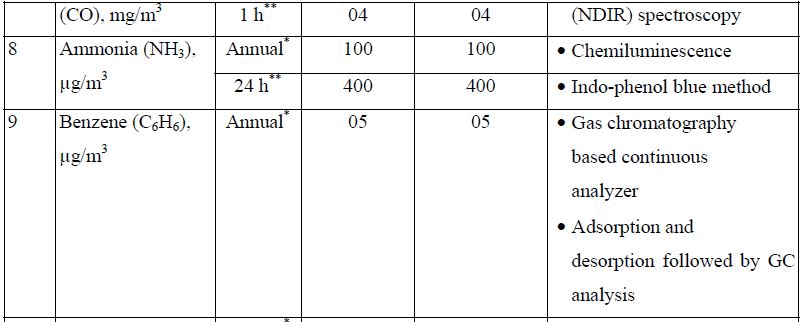 *Annual arithmetic mean of minimum 104 measurements in a year at a particular site taken twice a week 24 hourly at uniform intervals.
**24 hourly or 08 hourly or 01 hourly monitored values, as applicable, shall be complied with 98% of the time in a year. 2% of the time, they may exceed the limits but not on two consecutive days of monitoring.
Note: Whenever and wherever monitoring results on two consecutive days of monitoring exceed the limits specified above for the respective category, it shall be considered adequate reason to institute regular or continuous monitoring and further investigation.

GENERAL STANDARDS FOR DISCHARGE OF ENVIRONMENTAL POLLUTANTS
These standards shall be applicable for industries, operations or processes other than those industries, operations or process for which standards have been specified in Schedule of the Environment Protection Rules, 1989:
PART - A: EFFLUENTS










PART - B: WASTEWATER GENERATION STANDARDS






PART-C: LOAD BASED STANDARDS
1. Petroleum Oil Refinery



2. Large Pulp & Paper, News Print/Rayon grade plants of capacity above 24,000 tonne/annum