Water
Water is the most abundant and widely distributed on the earth. It occurs in all the three physical states. H2O is a covalent molecule in which oxygen is sp3 hybridised. It has bent structure.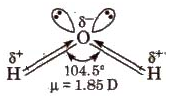 Physical Properties of Water:
Water is a colourless, odourless, tasteless liquid. It has abnormally high b.p., f.p., heat of vaporisation due to hydrogen bonding.
Pure water is not a good conductor so it is made conductor by adding small amount of acid or alkali.
Density of ice (which is mass per unit volume) is lesser than that of water and it floats over water.
Water has maximum density at 4°0.
Water is a highly polar solvent with high dielectric constant 78.39. It interacts with polar or ionic substances effectively with the release of considerable amount of energy due to ion-dipole interaction. The dissolution of covalent compounds like urea, glucose and C2H5OH, etc is due to the tendency of these molecules to form hydrogen bond with water.
Chemical Properties of Water:
1. Water is amphoteric in nature.


2. In redox reactions, water reacts with metals and non- metals both.

3. In hydrated salts, water may remain in five types such as coordinated water, hydrogen bonded water, lattice water, clathrate water and zeolite water.
4. A number of compounds such as calcium hydride, calcium phosphide, etc., undergo hydrolysis with water.
Purification of Water:
It involves two processes:
Removal of suspended impurities.
Destroying the bacteria.
Suspended particles are removed by coagulation with alum followed by filtration.
Exposure to sunlight, boiling, chlorination (treatment with liquid Cl2 or bleaching powder), ozonization and addition of CuSO4 are some processes which are employed to destroy bacteria.