Q.12. Calcium burns in nitrogen to produce a white powder which dissolves in sufficient water to produce a gas (A) and an alkaline solution. The solution on exposure to air produces a thin solid layer of (B) on the surface. Identify the compounds A and B. (1996 - 2 Marks)
Ans. Sol. The reactions are given as follows :



Q.13. A colourless inorganic salt (A) decomposes completely at about 250°C to give only two products, (B) and (C), leaving no residue. The oxide (C) is a liquid at room temperature and neutral to moist litmus paper while the gas (B) is a neutral oxide. White phosphorus burns in excess of (B) to produce a strong white dehydrating agent. Write balanced equations for the reactions involved in the above process. (1996 - 3 Marks)
Ans. Sol. Let us summaries the given facts.

Strong white dehydrating agent
(i) Since the resulting dehydrating agent is derived from P, it is likely to be P4O10.
(ii) P4O10 is produced by burning phosphorus in excess of neutral oxide (B) which is likely to be NO2.
(iii) Thus the salt A should be NH4NO3 which explains all given reactions.


Q.14. During the qualitative analysis of a mixture containing Cu2+ and Zn2+ ions, H2S gas is passed through an acidified solution containing these ions in order to test Cu2+ alone.
Explain briefly. (1998 - 2 Marks)
Ans. Sol. The solubility products of CuS and ZnS are

Since Ksp (CuS) << Ksp (ZnS), very small concentration of S2- is sufficient to cause the precipitation of Cu2+ ions. In order to have very small concentration of S2- ions, acidic medium is used. Due to the common ion H+, the ionisation of H2S is suppressed:

The available concentration of S2- ions in acidic medium causes only the precipitation of CuS and not that of ZnS.
Q.15. A white solid is either Na2O or Na2O2. A piece of red litmus paper turns white when it is dipped into a freshly made aqueous solution of the white solid. (1999 - 4 Marks) (i) Iden tify the substance and explain with balan ced equation. (ii) Explain what would happen to the red litmus if the white solid were the other compound.
Ans. Sol. (i) The substance is Na2O2. When dissolved in water, the solution becomes alkaline with the liberation of H2O2 Na2O2+ 2H2O → 2NaOH + H2O2
NOTE : Due to the alkaline solution, the red litmus paper will turn into blue, which subsequently changes into white due to oxidation caused by H2O2. (ii) The substance Na2O merely produces alkaline solution and thus the red litmus paper will turn into blue.
Na2O + H2O → 2NaOH
Q.16. An aqueous solution containing one mole of HgI2 and two moles of NaI is orange in colour. On addition of excess NaI the solution becomes colouress. The orange colour reappears on subsequent addition of NaOCl. Explain with equation s. (1999 - 3 Marks)
Ans. Sol. Sodiumiodide on reaction with HgI2 gives colour less complex salt, Na2[HgI4]

Colour is due to presence of residual HgI2 But on addition of excess NaI, it becomes colourless due to change of residual HgI2 into Na2[HgI4] HgI2 + 2NaI (excess) → Na2[HgI4] (colourless) The orange colour of HgI2 reappears due to conversion of Na2[HgI4] into HgI2 by means of NaOCl

Q. 17. An aqueous blue coloured solution of a transition metal sulphate reacts with H2S in acidic medium to give a black precipitate A, which is insoluble in warm aqueous solution of KOH. The blue solution on treatment with KI in weakly acidic medium, turns yellow and produces a white precipitate B. Identify the transition metal ion. Write the chemical reactions involved in the formation of A and B. (2000 - 4 Marks)
Ans. Sol. Summary of the given facts

The reaction corresponds to copper sulphate.


Q.18. Write the chemical reactions associated with the 'borax bead test' of cobalt (II) oxide. (2000 - 3 Marks)
Ans. Sol.



Q.19. A white substance (A) reacts with dilute H2SO4 to produce a colourless gas (B) and a colourless solution (C). The reaction between (B) and acidified K2Cr2O7 solution produces a green solution and a slightly coloured precipitate (D). The substance (D) burns in air to produce a gas (E) which reacts with (B) to yield (D) and a colourless liquid.
Anhydrous copper sulphate is turned blue on addition of this colourless liquid. Addition of aqueous NH3 or NaOH to (C) produces first a precipitate, which dissolves in the excess of the respective reagent to produce a clear solution in each case. Identify (A), (B), (C), (D) and (E). Write the equations of the reactions involved. (2001 - 10 Marks)
Ans. Sol.


The above set leads to following conclusions.
(i) Since the gas (B) is colourless and turns acidified K2Cr2O7 solution green, it should be H2S.
(ii) Since H2S gas is obtained by the reaction of dil. H2SO4 on A, the latter must be sulphide.
(iii) The white colour of the sulphide (A) poin ts out towards ZnS.
Thus the various reactions can be written as given below.




Q.20. When a wh ite crystallin e compound X is h eated with K2Cr2O7 and concentrated H2SO4, a reddish brown gas A is evolved. On passing A into caustic soda solution, a yellow coloured solution of B is obtained. Neutralizing the solution B with acetic acid and on subsequent addition of lead acetate, a yellow precipitate C is obtained. When X is heated with NaOH solution, a colourless gas is evolved and on passing this gas into K2HgI4 solution, a reddish brown precipitate D is formed. Identify A, B, C, D and X. Write the equations of reactions involved. (2002 - 5 Marks)
Ans. Sol. Let us summarise the given facts.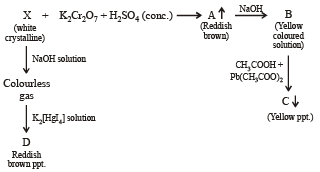 NOTE : Reaction of compound X with NaOH solution and subsequent treatments indicate that X has NH4+ radical. On the other hand, reaction of X with K2Cr2O7 solution, conc.
H2SO4 and subsequent treatments indicate that A has Cl– radical. Thus compound X is NH4Cl which explains all the above reactions.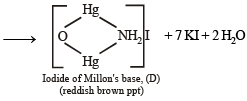 Q.21. A mixture consists of A (yellow solid) and B (colourless solid) which gives lilac colour in flame.
(a) Mixture gives black precipitate C on passing H2S(g) through its aqueous solution.
(b) C is soluble in aqua-regia and on evaporation of aquaregia and adding SnCl2 gives greyish black precipitate D.
The salt solution with NH4OH gives a brown precipitate.
(i) Th e sodium car bonate extract of th e salt with CCl4/FeCl3 gives a violet layer.
(ii) The sodium carbonate extract gives yellow precipitate with AgNO3 solution which is insoluble in NH3.
Identify A and B, and the precipitates C and D. (2003 - 4 Marks)
Ans. Sol.