The silly young cricket was fun-loving. He loved merry-making. He used to sing all through the pleasant sunny months of summer and spring. He was short-sighted. He didn't bother to store food for the rainy season and cold winter.
When the earth was covered with ice and snow, he found that he had nothing to eat. There were no flowers and no leaves on the trees. He grew nervous. Starvation could be seen over his face.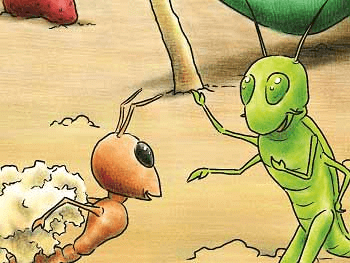 Wet with the rain and shivering with cold, the hungry cricket went to an ant to get shelter and food. He made it clear that he would return the borrowed grain the next day. The miserly ant said humbly that he was the servant and friend of the cricket. But as a matter of principle, the ants neither borrow nor lend. He asked why he never bothered to store something for the rainy day.The cricket admitted that he had been careless and foolish. He enjoyed the beauties of summer and sang merrily. The ant then told him bluntly to go and dance all winter. He turned the poor cricket out.

Notes For the Teacher
Spend about 15 minutes eliciting, and listening to, fables or fable-like stories from children, preferably in their own language(s). Help them retell one or two in English by providing appropriate words and phrases.
The story about the Sun and the Wind at the end of 'Glimpses of the Past' may be used here. Ask them if it's a fable, though there are no animals in it.
Try the following writing task.
Rearrange the following sentences to construct a story. Start with sentence 4.
1. One cold day, a hungry grasshopper came to the anthill and begged for a little something to eat.
2. He replied, "Alas! I spent all my time singing and playing and dancing, and never thought about winter."
3. One ant asked him how he had spent his time during summer and whether he had saved anything for winter.
4. A nest of ants had been occupied all through the summer and autumn collecting food for winter.
5. They carefully stored it in the underground chambers of their home.
6. Then we have nothing to give you.
7. Thus, when winter came, they had plenty to eat.
8. People who play and sing all summer should only dance in winter.
9. The ant answered.
Find three adjectives in the first stanza associated with summer and spring.
Find four phrases/lines in the same stanza associated with the onset of winter.
Suppose the last line of the first stanza were to be rewritten as 'Oh! What will become of me? Says the cricket.' Would you find it acceptable in the poem? If not, why not?
Speak the words given below. Ask children to write the word, and against it two new words that rhyme.
· sing ____________ ___________
· crumb ____________ ___________
· through ____________ ___________
· wished ____________ ___________
(Last sound in 'crumb' is 'm'. In 'wished' it is 't'.)
Activity 4 under working with language needs patience and time. Punctuation in writing sentences is an important teaching point. Since the activity is to be taken up in groups, there will be several versions of each sentence to begin with. Encourage children to discuss why only one version is grammatically acceptable and not the other.