Word Galaxy
Experience – event or situation that affects someone
Blow – movement of wind
Grappling – struggling
Future – time that will come when the present time passes
Keep up – to try to be in the same position or condition as someone
COMPREHENSION
A. Choose the correct option
1. Who knows where the wind comes from?
i. everybody
ii. nobody
iii. only some people
2. The poet believes that he can
i. never catch up with the wind
ii. run as fast as the wind
iii. run faster than the wind
3. The poet says if he freed his kite, it would blow with the wind for
i. an hour
ii. a day
iii. a day and a night
4. No one can tell the poet that
a. when the wind blows.
b. why the kite blows away
c. where the wind comes from
B. Read the lines from the poem and answer the questions.
1.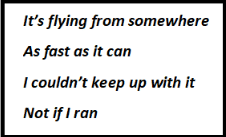 (a) What is 'it' here?
Answer: 'It' is the wind.
(b) Who does 'I' refer to?
Answer: 'I' refers to the poet AA Milne.
2.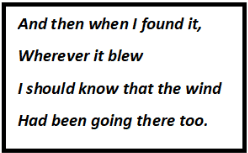 (a) What does 'it' refer to?
Answer: 'It' refers to the kite.
(b) What should the poet know about the wind?
Answer: The poet should know that the wind had been going to the place where the kite flew to.
C. Find rhyming words from the poem for the following words.
1. Blew- too
2. Can- ran
3. Kite- night
4. Knows- goes
VOCABULARY
Use the words in brackets to complete the similes. One has been done for you.
1. Jia runs as fast as (fast) a deer.
2. Ravi is gentle like (gentle) a lamb.
3. Hena is as brave as (brave) a lion.
4. Grandpa is as wise as (wise) an owl.
5. Leena is timid like (timid) a rabbit.
6. Gurjit is as playful as a kitten.
7. The sheet was as white as (white) snow.
8. Zeba's hair is black like (black) charcoal.