The Reactivity Series


The arrangement of metals in order of decreasing reactivities is called reactivity series or activity series of metals

.
The data provided by the reactivity series can be used to predict whether a metal can displace another in a single displacement reaction.
It can also be used to obtain information on the reactivity of metals towards water and acids.

After performing displacement experiments the following series have been developed.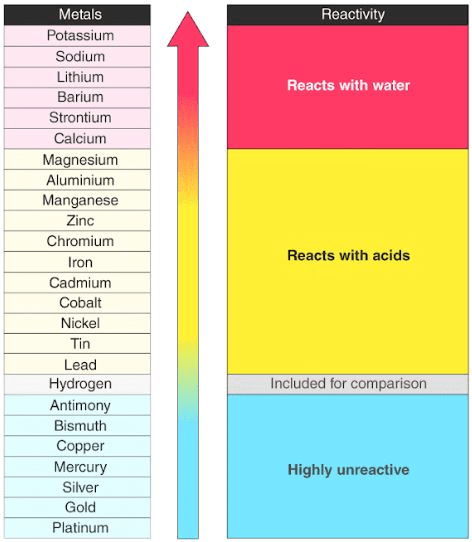 Reactivity Series of Metals
In this table, the most reactive metal is placed above hydrogen and the less reactive metal is placed below hydrogen.

It may be noted that hydrogen is not a metal but even then it has been placed in the reactivity series.

Due to hydrogen can also lose an electron and form positive ion (H+).
Long Tabular Form of the Reactivity Series

Atoms of elements combine to form stable molecules. The combining power of an atom is expressed as valency. Each atom has a tendency to attain a completely filled valance shell. The noble gases, which have a completely filled valence shell or outermost shell, are very stable. The electronic configuration of noble gases and some metals and non-metals are given in the following table.
Electronic Configuration of Some Elements
Types of element

Element

Atomic number

Number of electrons in shells

Noble gases

Helium (He)

Neon (Ne)

Argon (Ar)

2

10

18

K L M N

2

2 8

2 8 8

Metals

Sodium (Na)

Magnesium (Mg)

Aluminium (Al)

Potassium (K)

Calcium (Ca)

11

12

13

19

20

2 8 1

2 8 3

2 8 3

2 8 8 1

2 8 8 2

Non-Metals

Nitrogen (N)

Oxygen (O)

Fluorine (F)

Phosphorus (P)

Sulphur (S)

Chlorine (Cl)

7

8

9

15

16

17

2 5

2 6

2 7

2 8 5

2 8 6

2 8 7
It is clear from the above table that except helium, all other noble gases have 8 electrons (octet) in their outermost shell which represent a highly stable electronic configuration. Due to this stable configuration, the noble gases have no tendency to lose or gain electrons. So they exist monoatomic, sodium atom has one electron in its outermost shell. If it loses an electron from its M shell then its L shell becomes the outermost shell. which has stable octet like noble gases. The nucleus of this atom still has 11 protons but the number of electrons are 10. Therefore, if becomes positively charged sodium ion or cation (Na+).


On the other hand chlorine has seven electrons in its outer most shell and it require one more electron to complete its octet. The nucleus of chlorine atom has 17 protons and the number of electrons become 18.
This makes chloride ion, Cl- as negatively charged.



So, Na+ and Cl– ions being oppositely charged atoms which attract each other and are held by strong electrostatic forces of attraction to exist as NaCl. In other words, Na+ and Cl– ions are held together by electrovalent or ionic bond.

The formation of one more ionic compound magnesium chloride :
The electronic configuration of magnesium (Mg) and chlorine atoms are :
Mg12 : 2, 8, 2
Cl17 : 2, 8, 7
Magnesium atom has two electrons in its valence shell. It has a tendency to lose both of its electrons to attain the nearest noble gas configuration (i.e. Ne).

.
On the other hand, chlorine has only one electron less than the nearest noble gas (i.e. Ar) configuration. The magnesium loses its both the valence electrons to two chlorine atoms, each of which is need of one electron to form Cl– ion.




The compounds formed by the transfer of electrons from a metal to a non-metal are known as ionic compound or electrovalent compounds.
Structure of some common ionic compounds


(i)

(ii)


(iii)


(iv)


(v)


(vi)


Properties of Ionic Compounds


To learn about the properties of ionic compounds. Let us perform the following activity.
Activity: 1.10:
1. Take the samples of NaCl, KCl, BaCl2 and CaCl2.
Dissolve small quantity of each solid one by one (a) in water (b) in kerosene and observe.
Observations & conclusion:
(a) Each salt is soluble in water.
(b) Each salt is insoluble in kerosene.
2. Take small quantity of each salt one by one on a metallic spatula and heat carefully in the top flame of a bunsen burner.
Observations: These salts do not melt on heating in the flame of bunsen burner. NaCl salt shows yellow colour flame of burner. KCl salt shows violet colour flame, CaCl2 salt shows brick colour flame and BaCl2 salt shows apple green colour flame of burner.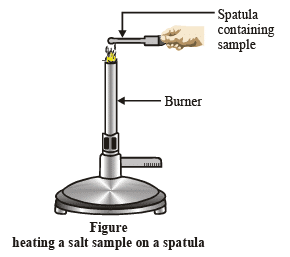 3. Aim: To show that aqueous solution of ionic compounds conduct electricity.
Procedure: Dissolve a salt (NaCl) in water and make the experimental set up as shown in figure below: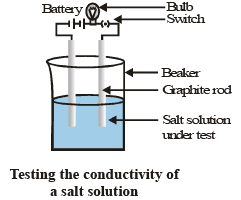 Observations: When the key is pressed it is observed that the bulb glows.
Result: This activity shows the current is passing through the circuit as well as through the aqueous solution.
| | | |
| --- | --- | --- |
| Ionic Compound | Melting Point (K) | Boiling Point (K) |
| NaCl | 1074 | 1738 |
| LiCl | 878 | > 1570 |
| KBr | 1007 | 1708 |
| KI | 953 | 1600 |
| CaCl2 | 1055 | 1870 |
| CaO | 2845 | 3123 |
| MgCl2 | 987 | 1685 |
From the above observations the following general properties are present in the ionic compounds.

Physical State
Ionic compounds are solids and relatively hard because of the strong force of attraction between the positive and negative ions. This attraction of force is also known as strong electrostatic force of attraction. These compounds are generally brittle and break into pieces when pressure is applied.
Solubility
Electrovalent compounds are generally soluble in water and insoluble in solvents such as Kerosene, Petrol, etc.
Melting and Boiling Points
Ionic compounds have high melting and boiling points due to the strong electrostatic force of attraction between the oppositely charged ions. Therefore, large amount of energy is needed to break these bonds.
Conduction of Electricity

Ionic compounds in the solid-state do not conduct electricity because movement of ions in the solid is not possible due to their rigid structure. But ionic compounds conduct electricity in molten state. In the molten state, the ions become free and therefore, they conduct electricity due to the mobility of ions.
Occurrence of Metals
The earth's crust is the major source of metals. They are present in nature in the free state as well as in the combined state. Aluminium is the most abundant metal in the earth's crust. The second most abundant metal is iron and the third one is calcium.

Native and Combined State of Metals
Metals occur in the crust of earth in two states: native state and combined state. A metal is said to occur native or free state when a metal is found in nature in the elementary or in combined form or metallic state. The metals at the bottom of the activity series are the least reactive. They are often found in a free state.
Example: Gold, Silver, Copper and Platinum are found in free state because they are very unreactive metals due to which they have no tendency to react with oxygen and not attacked by moisture, CO2 of air or other non-metal. Copper and Silver are also found in the combined state as their suphide or oxide ores.
Sr. No.

Properties

Metals

Non-metals

1

State

Metals are solids at ordinary
temperature. Exception. Mercury is a liquid

Non-metals exist in all the three states, that is, solid, liquid and gas

2

Lustre

They possess lustre or shine.

They Possess no lustre or shine

Exceptions : Iodine and graphite.

3

Malleability and Ductility

Metals are generally malleable and ductile.

Non-metal are neither malleable nor ductile

4

Hardness

Metals are generally hard. Alkali metals are exceptions.

Non-metal possess varying hardness.
Diamond is an exception. It is the hardest substance known to occur in nature.

5

Density

They have high densities

They generally possess low densities.

6

Conductivity

Metals are good conductors of heat and electricity.

The only exception is graphite which is a good conductor of electricity.

7

Melting and boiling points

They usually have high melting and boiling points.

Their melting and boiling points are usually
low. The only exceptions are boron, carbon and silicon.
Chemical Properties

1

Action with mineral acids

Metals generally react with
dilute mineral acids to liberate H2 gas.

Non-metal do not displace hydrogen in reaction with dilute minerals acids.

2

Nature of oxides

They form basic oxides. For
example, Na2O, MgO, etc. These
oxides are ionic in nature.
Non-metal form acidic or neutral oxides. For
example, SO2, CO2, P2O5, etc. are acidic whereas CO, N2O, etc. are neutral.

3

Combination with hydrogen

Metals generally do not combine with hydrogen. However, Li, Na, Ca, etc. form unstable hydrides. For example, LiH, NaH, CaH2 etc. These hydrides are ionic in character.
Non-metal combine with hydrogen to form stable hydrides. For example, HCl, H2S, CH4 ,NH3, PH3, etc. These hydrides are covalent.

4

Combination with halogens

They combine with halogens to form well defined and stable crystalline solids. For example, NaCl, KBr, etc.

Non-metals form halides which are unstable and undergo hydrolysis readily. For example PCl5, PCl3, etc.

5

Electrochemical behaviour

Metals are electropositive in character. They form cations in solution and are deposited on the anode when electricity is passed through their solution.

Non-metals are electronegative in character. They form anions in solution and are liberated at the anode when their salt solutions are subjected to electrolysis. Hydrogen is an exception. It usually forms positive ions and is liberated at cathode.

6

Oxidising or reducing behaviour

Metals behave as reducing agents.
This is because of their tendency to lose electrons.
Na → Na+ e–
Non-metal generally behave as oxidising agents since they have the tendency to gain
electrons.
1/ 2 Cl2 + e– → Cl–
Combined State


A metal is said to occur in a combined state if it is found in nature in the form of its compounds. The very reactive metals which have a tendency to react with moisture, oxygen, sulphur, halogens etc. occur in the crust of the earth in the form of their compounds. Such as oxides, sulphides, halides, silicates, carbonates, nitrates, phosphates etc.
Example: Sodium, Potassium, Calcium, Aluminium, Magnesium etc. are very reactive metals. All of these are laying at the top of activity series. These are never found in the free state. The metals in the middle of the activity series such as zinc, iron, lead etc. are moderately reactive. They are found in the earth crust mainly as oxides, sulphide or carbonates. On the basis of reactivity metals are divided into the following three categories:-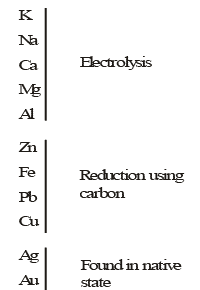 Activity Series