Tissue Systems in Plants
A tissue can be defined as a group of similar or dissimilar cells that perform or help to perform a common function and have a common origin. Tissue may be simple or complex.
Parenchyma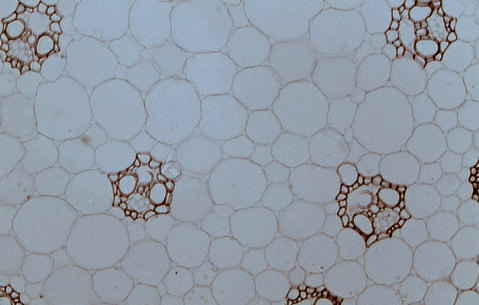 Parenchyma➤ Functions
Stores food in the form of starches, proteins, oils, and fats, e.g. sweet potato and potato tubers. It helps in photosynthesis e.g. chlorenchyma in the leaves of higher plants. In aquatic plants, parenchyma has large air cavities (aerenchyma) which helps in giving buoyancy to plants, and in facilitating better gaseous exchange.In fleshy stems and leaves e.g. Opuntia and Aloe, parenchyma helps in water conservation.
At times the mature parenchyma may regain the property of cell division to help the growing plant in many ways. For example, cork cambium differentiates from cortex and produces cork during secondary growth. By retaining turgid condition parenchyma helps the plant to maintain rigidity. With the loss of water, the rigidity is lost and the aerial parts of plants dropdown. The secretory organs of plants such as nectary and oil glands are made up of parenchyma and help in the secretion of nectar, oils, and resins.
Collenchyma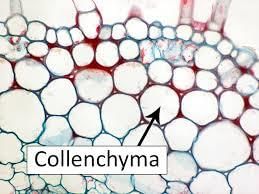 Collenchyma cells➤ Functions
Due to its peripheral position, it gives strength to the organs and resists the bending and cracking of stems and petioles due to the action of wind. If collenchyma develops chloroplasts it helps in photosynthesis.
When collenchyma forms the hypodermis of dicot stems e.g. sunflower, it becomes meristematic and helps in the formation of cork.
Sclerenchyma
They are found in hard parts of the plant body and also in the pulp of fruits like pear and apple. They also occur in the endocarp of almond and coconut, and in the seed coats of legumes.
➤ Functions of Sclerenchyma
The sclerenchyma provides mechanical strength to the plant from various stresses and strains of the environmental factors, e.g. wind. It provides rigidity to long leaves as in most monocots. The surface fibers help in the dispersal of seeds and fruits.

Complex Tissue
It is a collection of different types of cells that help in performing a common function e.g. Xylem and Phloem.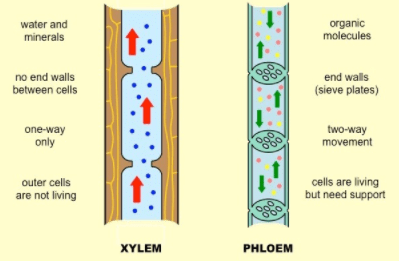 Xylem and Phloem TissuesEach of these tissues consists of several types of simple tissues that differ in shape, size, and structure. However, all the simple tissues of xylem collectively perform the function of translocation of water and minerals, and those of phloem are meant for translocation of food materials.
Leaf
Leaf can be defined as a flattened lateral exogenous outgrowth of stem arranged in acropetal succession. The stalk of the leaf is called the petiole, sometimes the leaf base becomes swollen called a pulvinus. The lateral appendage of the leaf at the base is called a stipule, and a smaller stipule is called a stipel.
Flowers
The flower is the metamorphosed part of the shoot meant for the reproduction of the plant. There are four whorls in a flower.