Bio-Geochemical Cycle
Both non-living (abiotic) and living (biotic) components of the biosphere constantly interact with each other to form a dynamic, but stable system. The intersection include transfer of matter and energy between the different components of the biosphere.
As far as nutrients are concerned, all living organisms require eight elements as nutrients in relatively larger amounts. These include carbon, hydrogen, oxygen, nitrogen, sulphur, phosphorus, potassium and calcium. The living organisms get the nutrient elements from lithosphere (mainly soil), hydrosphere and atmosphere.
Bio-refers to living, geo-refers to the rocks, soil, air and water of the earth.
The cyclic flow of elements or compounds between non-living environment [Soil, rock, air, water] and living organisms is known as 'bio-geochemical cycle.
Water, oxygen, carbon and nitrogen cycles are very important in maintaining the balance in our environment
1. Water Cycle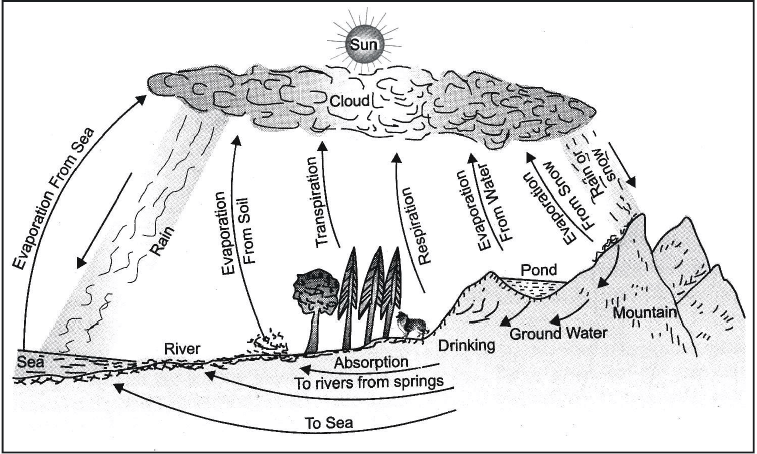 (i) Water is a compound and include two vital elements
hydrogen and oxygen. It forms a very important component of the environment and survival of all living organisms depend on it.
(ii) Ocean is the biggest store house of water which on evaporation form clouds and which after condensation fall down as rain or snow.
(iii) After rain it passes through puddles, ponds and rivers and get collected again in the ocean. The circulation of water in this manner is known as hydrologic cycle or water cycle.
This cycle is driven by solar power and also performed through living organisms such as absorption and transpiration of water by plants and drinking by animals. The formation of soil, too depend on water.
2. Nitrogen Cycle
(i) Nitrogen is an important chemical on the earth and present in all the living organisms in the form of protein, amino acids and nucleic acid.
(ii) In atmosphere it exists in molecular form (N2) and in form of some oxides [N2O, NO, NO2 , NO3_ ]. Nitrogen is the most abundant component of air (78 percent). Atmospheric nitrogen directly cannot be used by living organisms.
(iii) During lightning nitrogen of atmosphere reacts with oxygen and ultimately form dilute nitric acid. This acid comes down to earth with rainwater. Nitrates are absorbed by plants and utilized for making organic matter (proteins), etc.
(iv) When animals consume plant matter, they break down the plant's nitrogenous compounds and use them to form new animal proteins and other cell components.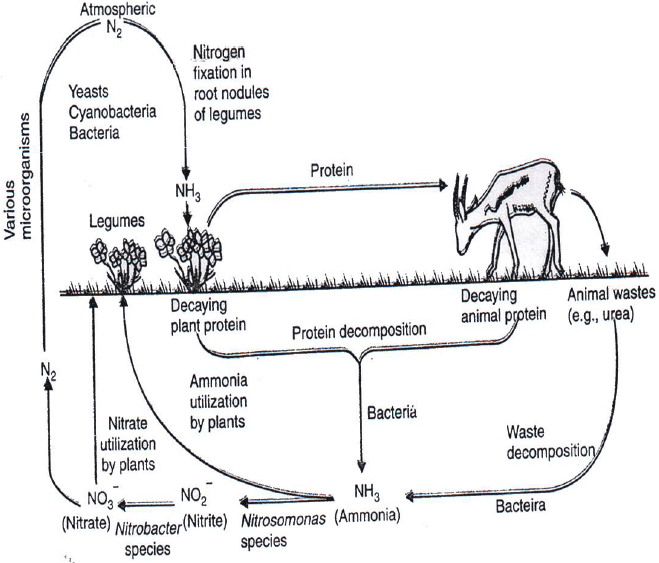 Biological Nitrogen fixation
Nitrogen fixation [conversion of atmospheric nitrogen gas into N2-compounds]
(i) Rhizobium [in root nodules of leguminous plants]
(ii) Azotobacter [in soil]
(iii) Blue Green Algae
Ammonification [conversion of nitrogen containing proteins of dead plants and animals into ammonia]
(i) Putrefying bacteria
(ii) Fungi
Nitrification [conversion of ammonia into nitrites and then into nitrates]
(i) Nitrosomonas bacteria - Convert NH3 into nitrites (NO2)
(ii) Nitrobacter bacteria - Convert nitrites into nitrates (NO2)
Denitrification [Conversion of nitrate salts into free nitrogen gas] e.g. Pseudomonas.
OXYGEN CYCLE
Importance of Oxygen :- Oxygen is also an essential component of biomolecules. It is needed for respiration also.
Main sources :- Oxygen is availiable in molecular form (O2) in the air, forming about 21% of it. Some oxygen is found dissolved in water. Oxygen also occurs as a component of water and carbon dioxide.
Use and Release :- The oxygen of the atmosphere is in a state of dynamic equilibrium. It is taken by animals and plants from the air or as dissolved in water for use in oxidative reactions (respiration). It is returned to the environment, either in combination with carbon as carbon dioxide or with hydrogen as water. The carbon dioxide and water are used by plants in photosynthesis, which liberates molecular oxygen into the envirnoment for reuse in respiration. Thus, the cycle is completed.
The concentrations of oxygen in the air and water are maintained by equal rates of its use in respiration and release in photosynthesis.
Oxygen is also released as a part of CO2 by decay of dead organic matter.
Some oxygen is added to the air as CO2, H2O, sulphur dioxide and nitrogen oxides during burning of fuel (wood, coal, petroleum and natural gas).
Some oxides are formed by microbial oxidation. These oxides release O2 when reduced by chemical and biological processes.
Effect of Human Activity :- Oxygen was not present when the earth was formed. It was added to the atmosphere later when photosynthesis started with the evolution of photoautotrophs. Human activity has not affected the oxygen content of the atmosphere because it is replenished by photosynthesis.
Oxygen is essential element required for respiration. It forms about 21% of the air in the atmosphere.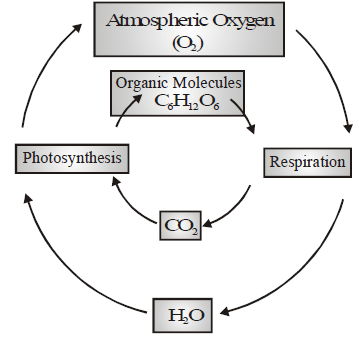 CARBON CYCLE
The cyclic flow of carbon between non-living envirnoment and living organisms of biosphere is called carbon cycle in nature.
In abiotic envirnoment, carbon is present in the following forms :
as carbon dioxide in the air or atmosphere.

as dissolved carbon dioxide or carbonic acid and bicarbonates in water bodies or hydrosphere.

as fossil furels, like coal, petroleum and natural gas, and

ascarbontates and graphite in rocks.
In biotic environment, Carbon forms the backbone of complex organic molecules like carbohydrates, lipids, proteins, nucleic acids, enzymes, hormones etc.
The availability of carbon in the environment is, therefore, a crucial factor in the maintenance of living beings. It is essential that the carbon 'locked up' within the organisms be returned to the environment for reuse.
Then main reservoir of carbon is the atmosphere.
Processes by which carbon dioxide of atmosphere is consumed :-
The plants use carbon dioxide as one of the raw materials for the process of photosynthesis and prepare carbohydrates.
When animals feed on the plant products, plant carbohydrates change into animal carbohydrates.
Some of the dead plants and animals get buried deep under the earth and change into fossil fuels (coal and petroleum) through slow chemical change.
Some of the dissolved carbon dioxide in oceans and other water bodies gets converted into limestone and other carbonate rocks.
Processes by which carbon is released from biotic world to abiotic world
Both plants and animals release carbon dioxide in the atmosphere as a product of respiration.
When plants and animals die, their bodies are decomposed by decomposers and carbon dioxide is released into the atmosphere.
Combustion of fossil fuels like coal, petroleum gas, kerosene, petrol, diesel, etc gives carbon dioxide which goes into atmosphere.
Weathering of carbonate rocks by the action of microoganisms or when acid rain falls on these rocks liberates carbon dioxide.
Volcanic eruptions and hot springs also release carbon dioxide into the atmosphere.
Thus, there is continuous exchange of carbon dioxide between living and non-living world.
Greenhouse effect :
In greenhouse, the heat is trapped by glass, hence the temperature in a glass enclosure is much higher than the surroundings. Due to higher temperature in glasshouses, the tropical plants can be kept warm and protected from cold temperature during winter.
Some gases, like carbon dioxide, methane and nitrous oxides also prevent the escape of heat from the earth. With industrialization, widespread deforestation and burning of more fossil fuels, the concentration of carbon dioxide in the air is increasing with an alarming rate. Carbon dioxide gas traps heat within the atmosphere preventing its escape into the space.
Therefore increased CO2 concentration in air is the major cause of rise in atmospheric temperature. It causes melting of polar ice. It also causes submerging of coastal land under water.
CFC is the major compound responsible for ozone depletion.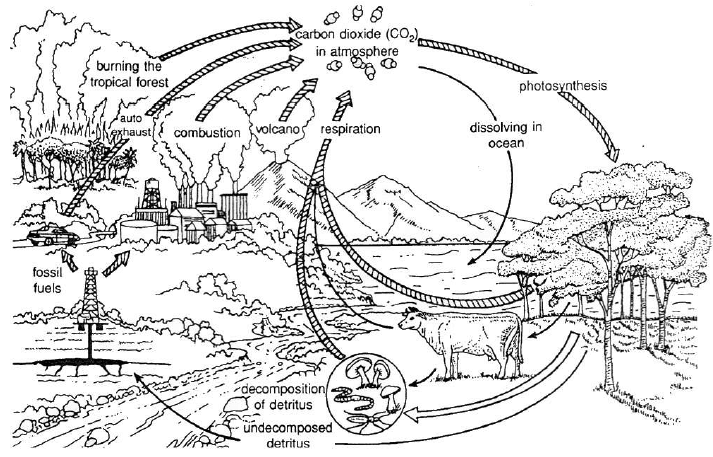 Green House effect and global warming :- Earth temperature is maintained by re-radiated infra-red (heat) radiation by greenhouse gases which prevent heat from escaping to outer space. This is comparable to glass panels of a greenhouse which keep CO2 concentration higher and so higher temperature inside i.e. greenhouse. This effect is called greenhouse effect.
Green house gases - CO2, CH4, NOx. They prevent the escape of heat from the earth. Increased CO2 concentration in air is the major cause of rise in atmospheric temperature. It causes melting of polar ice. It also causes submerging of coastal land under water.
Due to higher temperature in glasshouses, the tropical plants can be kept warm and protected from cold temperature during winter.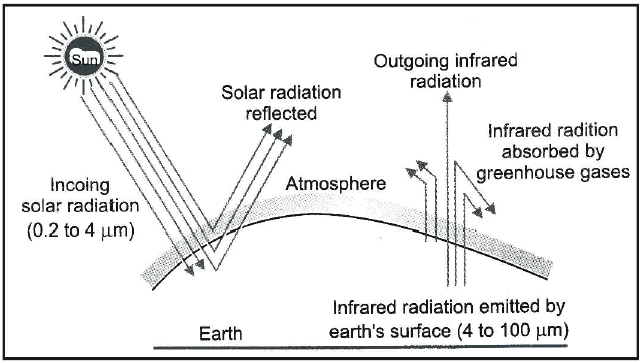 Depletion of Ozone layer :
Ozone Gas :
Ozone is poisonous in nature.

Ozone is formed in atmosphere by the action of ultraviolet radiation on oxygen gas.

The high energy ultraviolet radiation (UV radiation) coming from the sun splits oxygen gas into free oxygen atoms


Ozone Layer : It is a layer of the earth's atmosphere ozone is concentrated. The Ozone layer is very important for the existence of life on earth because it absorbs most of the harmful ultraviolet radiation coming from the sun and prevents them from reaching the earth.
The thining of ozone layer is commonly called ozone depletion. Ozone is being depleted by air pollutants. Chlorofluorocarbons (CFCs) are air pollutants that are mainly responsible for the depletion of ozone layer in the stratosphere. Besides, methane (CH4) and oxides of nitrogen (NOx) also cause destruction of ozone.
Ozone hole : Decline in thickness of ozone layer a restricted area is called ozone hole. Ozone hole was first discovered over Antarctica in 1985. Amount of atmospheric ozone is measure by Dobson spectrometer and is expressed in Dobson units (DU).
Harmful effects
Skin cancer and skin disorder.

Cornea layer will slowly become opaque which will cause slow blindness.

Change at genetic level may lead to genetic disorder.

Ultraviolet rays weaken the immune system.

An excess of ultraviolet light kills phytoplankton, the minute aquatic plant life, resulting in the disturbance of the food chain.

These rays also disrupt global rainfall and can cause ecological imbalance.