Air Pollution
The present day industrial growth has polluted air to a greater extent by releasing SO2, CO2, CO, oxides of nitrogen, H2S fumes of acids, dust particles of unburnt carbon, lead asbestos and even cement. For example, the burning of coal and oil to generate electric power, run factories and fuel automobile engines creates oxides of nitrogen and sulphur that acidify the rain.
Air carries many undesirable substances or impurities which are not good for our health. The chief constiuents of the impurities of air include (i) carbon dioxide, (ii) carbon monoxide, (iii) oxides of sulphur, (iv) oxides of nitrogen, (v) fluoride compounds, (vi) metals (e.g. lead nickel, arsenic, cadmum, tin etc.) (vii) hydrocarbons (e.g., benzene), (viii) particulate matter (dust, grit, fly ash) and (ix) toxicants. All these impurities are called pollutants. They cause air pollution.
Definition : The presence of harmful gases and suspended particles in the air which have adverse effect on human beings, animals and vegetation is called air pollution.
Consequences of Air Pollution
Air pollutants can cause respiratory problems, renal problems, high blood pressure, problems in nervous system, eye irritation etc. in the human beings. Many injurious effects such as falling of leaves, reduced growth, degeneration of chlorophyll etc. have been reported in plants. Lichens are found to be very sensitive to the levels of contaminants such as sulphur dioxide present in polluted air.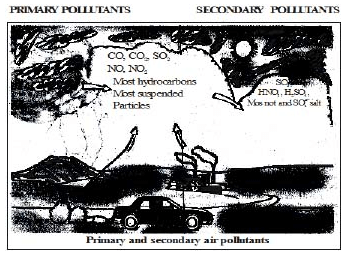 Acid Rain
Literally acid rain means the presence of excessive acid in rain water : Acid rain is infact cocktail of mainly H2SO4 and HNO3.
H2SO4 is the major contributor (6070%) to acid precipitation HNO3 ranks second (3040%) and HCl third.
Causes of Air Pollution
Increase in human population and rapid industrialization.

Burning of fossil fuels.

Oxides of nitrogen and sulphur inhalation adversely affect human health and also causing acid rains.

During cold weather water vapour get condensed on the suspended particle [Unburnt carbon particles and hydrocarbons] resulting in smog formation.
Water Pollution
The addition of undesirable substances or removal of desirable substances in/from the water bodies are a change in the temperature of water, which degrades the quality of water so that it either becomes health hazard or unfit for use is called water pollution.
Types of water pollutants
(1) Physical water pollutants
These include heat and oil-spills. Specific industries and thermal / nuclear power plants use water for cooling in various operations and later return this hot water to water bodies. This result in thermal pollution. Another manner in which the temperature of the water in river can be affected is when water is released from dams. The water inside the deep reservoir would be colder than the water at the surface which gets heated by the sun. High temperature of water reduces its dissolved oxygen content.
(2) Chemical water pollutants
These include organic wastes e.g. sewage, detergents, fertilizers, pesticides (e.g. dieldrin, DDT, DDE, BHC, etc.), [polychloronated biphenyls [PCBs], inorganic chemicals (e.g. arsenic, cadmium, mercury, lead, phosphates, nitrates, fluorides etc.)] and radioactive wastes. Common inorganic impurities in water are compounds of calcium and magnesium.
(3) Biological water pollutants
These include pathogens such as viruses, bacteria, protozoa, fungi, helminths& nematodes etc.
Point and Non-point sources of water pollution
(1) Point sources
These sources have a specific location for the discharge of water pollutants directly into water bodies. Therefore, these sources are located near the water bodies i.e. factories, power plants, breweries, underground coal mines and oil wells. It is always easy to treat the pollution coming out of point sources before their discharge into water bodies.
(2) Non-point sources
These pollution sources are scattered and do not have any specific location for discharging pollutants into particular water bodies. Example of non-point sources are run-off from fields, lawns and gardens, road and streets, construction sites, logging areas etc. Unlike point sources, these sources are difficult to monitor and treat to remove the pollutants.
The term water pollution is used to cover the following effects in water :-
(i) Addition of undesirable substances to water bodies.
Like fertilizers and pesticides used in agriculture or poisonous substances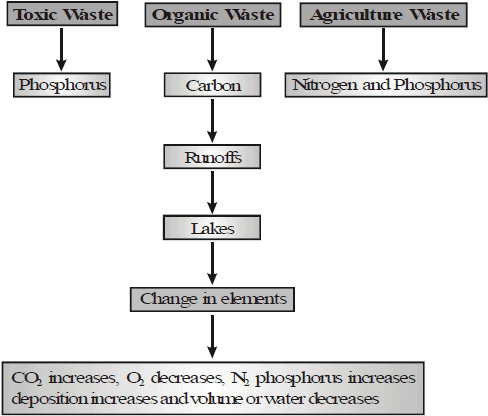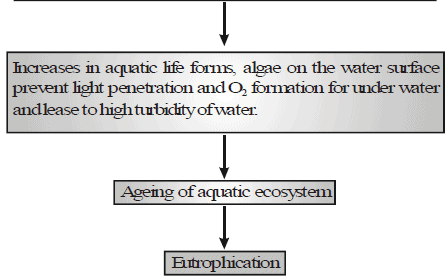 Eutrophication :- Eutrophication is the process in which dissolved oxygen in water is reduced due to excessive growth of algae as a result of extra loading of nutrients in the water body. In fact, presence of sewage and fertilizers (nitrates and phosphates) in polluted water provide a lot of nutrients to the algae (phytoplankton) present in water body. As a result, excessive growth of algae occurs which is termedalgal bloom. The algae subesquently die and aerobic decomposers become active. They consume rapidly the dissolved oxygen of the water during decomposition of the dead algae. In the absence of dissolved oxygen, all the aquatic life (including fishes) in the water body dies. Thus, eutrophication deprives us of one of our significant sources of food.
Biomagnification (bioaccumulation) :- Pesticides such as DDT, DDE, dieldrin, etc. are harmful chemicals that are regularly being used in agriculture to protect crops from the pests (fungi, insects, etc.). Also heavy metals (e.g. mercury, cadmium, tin, lead, arsenic, etc.) are regularly poured from industries into the water bodies. These chemicals are non-biodegradable, i.e. unlike the organic sewage wastes they are not broken down by the activity of microorganism. These pesticides / heavy metals, therefore, enter the soil or washed out by run off water to surface water bodies such as lakes, streams, rivers. From soil or water thesepesticides / heavy metals then enter the food chain via the producers. At each trophic level, their concentration goes on increasing. This phenomenon of increase in concentration of harmful non-biodegradable chemical substances in the body of living organisms at each trophic level of the food chain is called bioaccumulation, biological accumulation or biomagnification. This makes it more likely that predators such as fish-eating birds such as kingfishers become poisoned. For example, biomagnification of mercury in the fishes through a food chain results in Minimata disease in fish-eating human populations of the regions.
SOIL POLLUTION
The contamination of soil (or land) with solid waste, chemicals (through industrial wastes or acid rain), fertilizers and pesticides, reducing its fertility is called soil pollution (or land pollution).
Soil pollution : Soil pollution can be defined as decrease in soil fertility because of addition of some foreign elements. Soil is polluted with dumping of solid wastes generated in house hold and manufacturing units. Domestic wastes include kitchen garbage, broken bottles, cloth rags, ash, etc. Industrial wastes include flyash, metal scraps, dyes, plastics, etc. Agricultural chemical and fertilizers are also the cause of land pollution. The dumping of human excreta and waste from cow-sheds and slaughter houses befouls the land. Most important causative pollutant of woil is plastics.
SOURCE OF SOIL POLLUTION
The main sources of soil pollution include :
1. Solid wastes
2. Chemical (directly through industrial wastes or indirectly through acid rain)
3. Excess of fertilizers and pesticides
1. Solid wastes :- These are considered the main source of soil pollution. Solid waste generally comes from residences, cattle sheds, industries, agricultural fields, and many other places. It includes peelings of fruits and vegetables, cow dung, human excreta, ash, paper, glass, plastics, leather and rubber articles, brick, sand worn out clothes, and metal objects. These heaps of solid waste make the surroundings dirty,and pollute the soil.
2. Chemicals :- Industrial wastes are generally dumped in vacant sites along the roads, railway tracks orelsewhere.
These industrial wastes contain a lot of chemicals that pollute the soil. Chemicals discharged into the air in the form of fumes such as compounds of sulphur and lead, as well as gases (e.g., SO2 and NOX) eventually come down and settle as dry deposition or as acid rain on the soil and pollute it.
3. Excess of fertilizers and pesticides :- Fertilizers are used in the agricultural fields to increase the crop production. Also, different kinds of chemicals (pesticides) are sprayed on the crops to kill the pests, weeds, etc. All these chemicals, when used in excess, get mixed with soil and pollute it. From the soil, many non-biodegradable chemicals (e.g. DDT) even enter the food chains and biomagnify
EFFECTS OF SOIL POLLUTION
1. The industrial pollutants increase the toxicity levels of the soil.
2. Soil pollution due to domestic sewage may cause diseases like giardiasis, tetanus, etc. in human beings.
3. Land pollution may also cause several plant diseases.
4. Weedicides act as metabolic inhibitors or reduce the plant yield.
5. Mine dust causes many types of deformities in animals and human beings. It also destroys the vegetation
of that area.
6. Excess of fluorides in land cause fluorosis.
SOIL EROSION
Soil is a complex mixture of non-living materials and living organisms. It provides anchorage (firm support) to plants, and is also a source of nutrients and water to the plants. Majority of the plants, thus, grow in the soil. The top layer of soil (commonly called top soil) is very fertile. It is often carried away by environmental agencies i.e., strong winds and fast flowing water.
CAZRI : is actively engaged in research to suggest measures for controlling wind erosion. The removal and transportation of top layer of soil from its original position to another place with the help of certain agents such as strong winds and fast running rain water, is called soil erosion. Soil erosion normally occurs in bare areas i.e. areas without plant cover. It is so because the bare top-soil is loose and thus can easily be carried away by strong winds or fast moving water of heavy rains or rivers.
CAUSES OF SOIL EROSION
1. Strong winds
2. Heavy rains
3. Improper farming and suspended cultivation
4. Human actions
5. Dust storms
EFFECTS OF SOIL EROSION
1. Loss of fertility and desertification
2. Landslides in hilly areas
3. Flash floods
4. Famines
PREVENTION OF SOIL EROSION
1. Intensive cropping
2. Sowing grasses and planting xerophytes
3. Terrace farming
4. Proper drainage canals around the field
5. Making strong embankments along the river banks