Various types of Soil Properties
The properties of soil are dependent on either individual grains of the soil (soil grain properties: such as mineralogical composition, size and shape of grains, specific gravity) or on the soil structure, mode of formation, stress history etc. (soil aggregate properties: such as Atterberg limits, permeability, relative density, unconfined compressive strength etc.).
The shape of soil grains is a very useful grain property incase of coarse grained soils. Soil grains can be Bulky, Flaky or plate-shaped, needle-shaped. For Bulky grains, all the dimensions of a grain are more or less same (sand or gravels). The bulky grains can be angular, sub-angular, rounded, sub-rounded. Figure 3.1 shows the various shapes of bulky particle. Soil having particles with high angularity posses higher shearing strength as compared to the soil having less amount of angular particles as particles with high angularity provide more resistance against displacement. Incase of flaky grains, thickness of the particles is vary less as compared to the other two dimensions of the grain (submicroscopic crystals of clay minerals). Incase of needle-shaped grain, one dimension is much longer than the other two dimensions (clay mineral like kaolinite).

1.1 Grain size distribution
Grain size distribution gives an idea about the percentage of various soil grains present in a dry soil sample. Grain size analysis can be carried out by sieve analysis incase of coarse-grained soil (such as sands, gravels) and hydrometer analysis incase of fine-grained soil (such as silt, clay). Incase of hydrometer analysis, Stokes's law is used to determine the grain size distribution of the soil.

Figure 3.1. Shapes of Bulky Particles.
Based on the Sieve and Hydrometer analysis, grain-size distribution curves are plotted for different soils (as shown in Figure 3.2). In the graphs, X-axis represents the particle size (mm) (in log scale) and Y-axis represents percentage passing or percentage finer (in normal scale). In curve number 1, the percentage passing corresponding to the 0.5 mm particle size is 30%. This means that the 30% particle size is less that 0.5mm. Based on the shape and slope of the grain-size distribution curve, the type and gradation of the soil can be identified. A well-graded soil has a good representation of grain or particle sizes over a wide range and has smooth gradation (Curve No.1). Poorly-graded soil has either an excess or a deficiency of certain particle sizes (Curve No. 2). In the curve number 2, particle sizes in between 0.3 mm to 1.0 mm are excessively present (almost 80%). The grain size distribution curve of a poorly-graded soil has uniform gradation. In the Gap-graded soil, some of the particles sizes are missing (Curve No. 3). In the Figure 3.2, for curve number 3, particle sizes in between 0.3 mm to 1.0 mm are missing.
In the grain size distribution curve, D10 (the diameter corresponding to 10% percentage finer or passing) is called the effective size. From the particle distribution curve, two shape parameters the (Cu) and Coefficient of Curvature (Cc) are determined.
The Coefficient of Uniformity (Cu) and Coefficient of Curvature (Cc) are defined as:
where D60 and D30 are the grain diameter corresponding 60% and 30% finer, respectively. For well-graded soil, Cc value must be in between 1 to 3 and Cu value must be greater than 4 for gravels and greater than 6 for sands.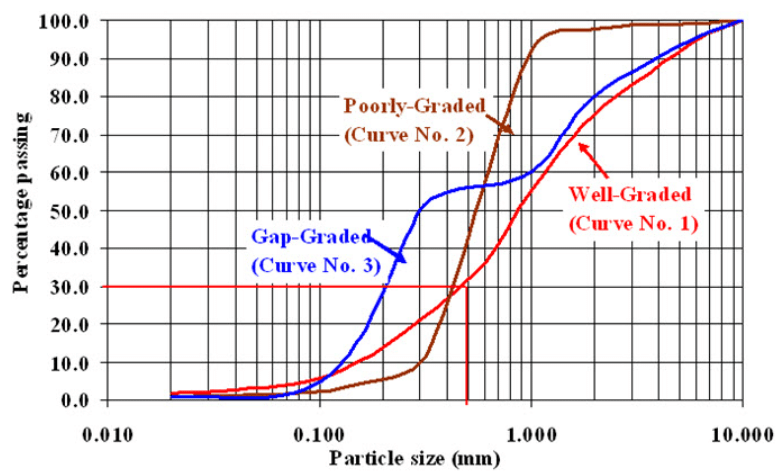 Figure 3.2. Grain-Size Distribute on Curves.