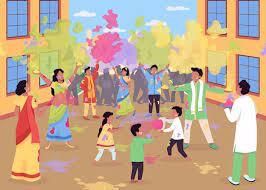 Q1: Multiple Choice Questions (MCQs).
(i) What is a festival?
(a) A type of food
(b) A celebration or special event
(c) A type of animal
(d) A new toy
(ii) Which of the following is NOT a festival?
(a) Diwali
(b) Christmas
(c) Monday
(d) Eid
(iii) On Diwali, people light which of the following?
(a) Candles and diyas
(b) Firecrackers indoors
(c) Water balloons
(d) Books
(iv) What festival is celebrated by decorating a Christmas tree?
(a) Holi
(b) Christmas
(c) Easter
(d) Halloween
(v) During which festival do children get colorful eggs as a treat?
(a) Easter
(b) Thanksgiving
(c) New Year's Day
(d) Halloween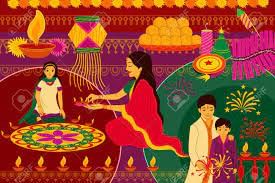 Q2: Fill in the Blanks.
(i) Friends and families come ______ during festivals.
(ii) The Republic Day parade starts from the ______Hills.
(iii) _____ is celebrated after the month of Ramzan.
(iv) Parsis celebrate ______.
(v) ______ is given to people on Gurupurab.
Q3: Match the Following.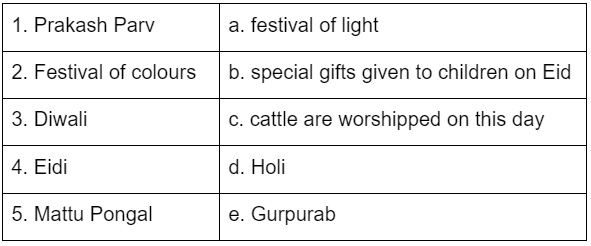 Q4: Short Question Answer.
(i) What do you know about the festivals celebrated in the southern part of India?
(ii) Name the three national festivals of India.
(iii) How is Diwali celebrated?
(iv) How is Eid celebrated?
(v) What is the Guru Granth Sahib?