Q1: Fill in the blanks.
(i) House son stilts are seen in places where heavy ______ occurs.
(ii) Bricks are used with ______ to make pucca houses.

(iii) A ______has many rooms.

(iv) Houses protect us from wild ______.
Q2: Match the Following.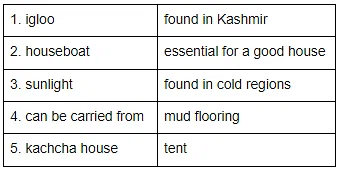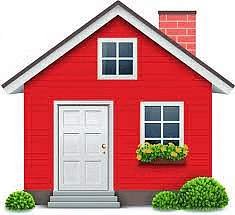 Q3: Choose the correct Option.
(i) Tents/lgloos/Apartments are seen in multi-storeyed buildings.

(ii) Stilt houses are built on steel/iron/bamboo poles.

(iii) A hut/igloo/caravan is a mobile house.

(iv) Sloping/Flat/Thatched roofs are seen in hot regions.
Q4: Short Question Answer.
(i) Why are sloping roofs seen in cold regions?
(ii) What are the essential factors necessary in a good house.
(iii) How are bungalows and multi-storeyed buildings different from one another?
(iv) How are pucca houses different from kachcha houses?
(v) Name some materials used for making houses.