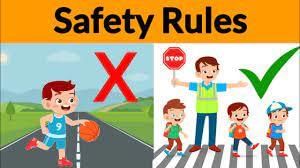 Q1: Multiple Choice Questions (MCQs).
(i) Look both ways while crossing a road, to see if there is any
(a) oncoming traffic
(b) animal
(c) police man standing
(c) none of these
(ii) While walking on the road, we should use
(a) footpath
(b) lift
(c) escalator
(d) none of these
Q2: Fill in the Blanks.
(i) Make a ______ to get on or off a bus.
(ii) Safety means to protect oneself from ______.
(iii) Always walk on the ______, not on the road.
Q3: Match the Following.
Q4: Oral Questions.
(i) How do you commute from your home to school? Do you follow the safety rules?
(ii) Do you use subway, footpath or zebra crossing while walking on road along with your elders?
Q5: True and False.
(i) Never run on the road.
(ii) We should not lean out of the window of a moving car or bus.
(iii) We should not use zebra crossing to cross the road.
Q6: Answer the following Questions.
(i) Write any two safety rules that you should follow on the road.
(ii) How should we behave while travelling in a bus or a car?
(iii) How should we cross a road?