Q1: Multiple Choice Questions (MCQs).

(i) Who is usually the head of the family?
(a) Grandparent
(b) Teacher
(c) Mother
(d) Father
Ans: (d)
The father is usually the head of the family.

(ii) Who takes care of you and cooks your meals at home?
(a) Siblings
(b) Friends
(c) Grandparents
(d) Mother
Ans: (d)
The mother takes care of children and cooks meals at home.

(iii) What do you call your brother's or sister's children?
(a) Cousins
(b) Aunts
(c) Uncles
(d) Grandparents
Ans: (a)
Your brother's or sister's children are your cousins.

(iv) Who tells you stories and plays games with you in your family?
(a) Neighbors
(b) Parents
(c) Teachers
(d) Strangers
Ans: (b)
Parents tell you stories and play games with you.

(v) Who is older, your aunt or your niece?
(a) Aunt
(b) Niece
(c) Both are the same age
(d) It depends
Ans: (a)
An aunt is usually older than her niece.
Q2: Fill in the Blanks.
(i) My __________ takes me to the park to play.
Ans: Father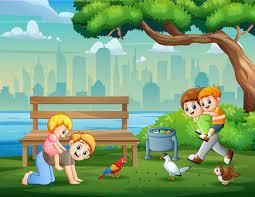 The father often takes children to the park to play.
(ii) My ________ helps me with my homework.
Ans: Mother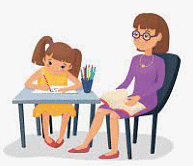 The mother often helps children with their homework.
(iii) My ___________ are my father's parents.
Ans: Grandparents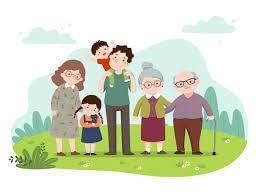 Grandparents are the parents of one's father or mother.
(iv) My ________ are my brother's children.
Ans: Nieces/nephews
Nieces and nephews are the children of one's brother or sister.
(v) My family loves me, and I love my _______.
Ans: Family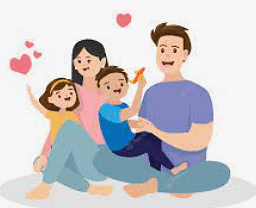 In a loving family, everyone cares for each other.
Q3: Short Answer Questions.
(i) Who is usually considered the head of the family, and what are their responsibilities?
Ans: The head of the family is usually the father. His responsibilities include taking care of the family's needs, making important decisions, and providing support and love.
(ii) How do parents show their love and care for their children?
Ans: Parents show their love and care by taking care of their children's needs, spending time with them, helping them with their studies, and ensuring their safety and well-being.
(iii) What is the role of grandparents in a family, and why are they important?
Ans: Grandparents play a role in sharing wisdom and stories, providing emotional support, and spending time with their grandchildren. They are important because they connect different generations and offer valuable life experiences.
(iv) Explain who your cousins are and how you relate to them.
Ans: Cousins are the children of your aunts and uncles. You relate to them as extended family members and often play and share family events together.
(v) Why is family love important, and how does it make you feel?
Ans: Family love is important because it provides a sense of belonging, support, and security. It makes you feel happy, loved, and cared for, knowing that you have a loving family to rely on.