Q.1. Give the structures of the products in each of the following reactions. (2000 - 4 Marks)
(i)


(ii)

Solution. (i)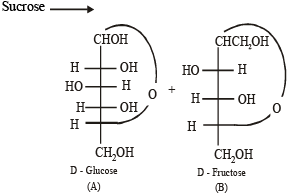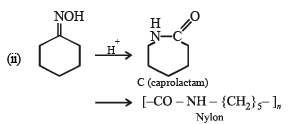 Q.2. Write the structures of alanine at pH = 2 and pH = 10. (2000 - 2 Marks)
Solution. TIPS/Formulae :
pH = 2 indicates acidic character whereas pH = 10 indicates basic character.

Q.3. Aspartame, an artificial sweetener, is a peptide and has the following structure : (2001 - 5 Marks)

(i) Identify the four functional groups.
(ii) Write the zwitterionic structure.
(iii) Write the structures of the amino acids obtained from the hydrolysis of aspartame.
(iv) Which of the two amino acids is more hydrophobic?
Ans. (i) Amine, Carboxylic acid, Amide, Ester
[For answers of rest of the questions refer solutions]
Solution.

Aspartame (Aspartamine)
(i) Four functional groups present in aspartamine are
(a) –NH2 (Amine)
(b) –COOH (Carboxylic acid)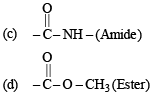 (ii) Zwitterion structure is given as follows :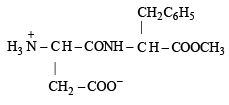 Hence on hydrolysis two amino acids (a) and (b) are obtained
(iv) Of the above two amino acids,

is more hydrophobic due to presence of non-polar and bulky benzyl group.

Q.4. Followin g two amino acids lysine and glutamine form dipeptide linkage. What are two possible dipeptides? (2003 - 2 Marks)
Solution. The structure of two possible dipeptides are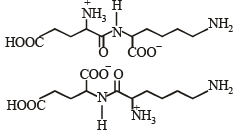 Q.5. The Fisher projection of D-glucose is drawn below. (2004 - 2 Marks)

(i) Draw the Fisher projection of L-glucose.
(ii) Give the reaction of L-glucose with Tollen's reagent
Solution. L-Glucose is an enantiomer of D-glucose, hence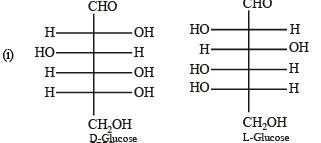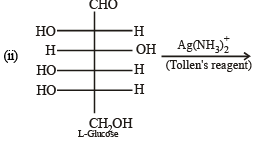 Q.6. Which of the following will reduce Tollen's reagent? Explain. (2005 - 2 Marks)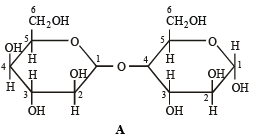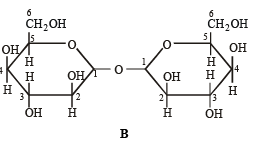 Solution. In the two disaccharides structure A will be reducing sugar since both monosaccharides units are not linked through their reducing centers, while in structure B both the monosaccharide units are linked through their reducing centers, hence it will be non-reducing.