Major Forts of Rajasthan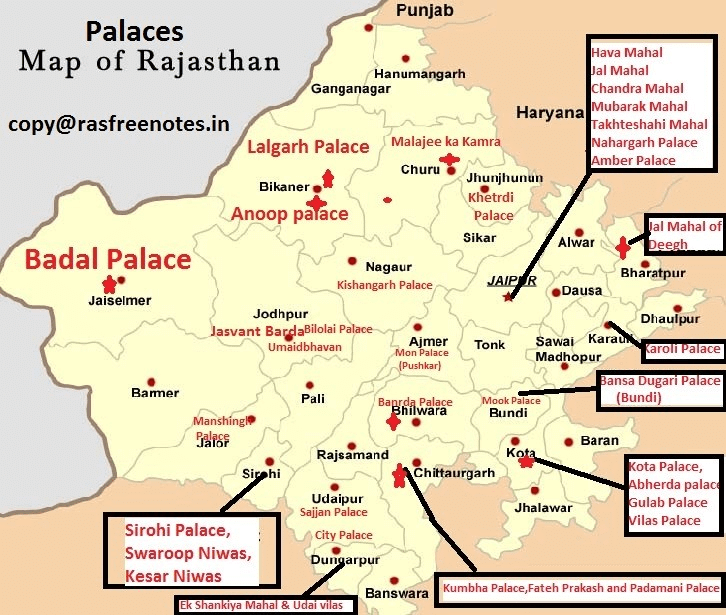 Hill Forts of Rajasthan. The serial site, situated in the state of Rajastahan, includes six majestic forts in Chittorgarh; Kumbhalgarh; Sawai Madhopur; Jhalawar; Jaipur, and Jaisalmer are included in the list of UNESCO World heritage sites
| | | | | |
| --- | --- | --- | --- | --- |
| Serial No | Name of Fort | Constructed by | Location | Related Dynasty |
| 1 | Mehrangarh | Rao Jodha | Jodhpur | Rathore |
| 2 | Taragarh | Ajay Pal | Ajmer | Chauhan |
| 3 | Gagron | Dord Parmar | Jhalawar | Parmar |
| 4 | Bhatner | Bhupat Bhati | Hanumangarh | Rathore |
| 5 | Nahargarh | Sawai Jaisingh | Jaipur | Kachwah |
| 6 | Lohagarh | Surajmal | Bharatpur | Jat |
| 7 | Ranthambore | Ranthamban Dev | Sawai Madhepur | Chauhan |
| 8 | Junagarh | Raja Raisingh | Bikaner | Rathore |
| 9 | Kumbhalgarh | Maharana Kumbha | Kumbhalgarh | Sishodiya |
| 10 | Chittord | Chitrangad Mori | Chitorgarh | Sishodiya |
| 11 | Achalgarh | Maharana Kumbha | Mount Abu | Parmar |
| 12 | Jaigarh | Mirja Raja Jai Singh | Jaipur | Kachwah |
| 13 | Jalore | Nagbhat | Jalore | Parmar |
| 14 | Jaisalmer | Rawal Jaisal | Jaisalmer | Bhati |
| 15 | Taragarh | Rao Barsingh | Bundi | Hada |
| 16 | Nagore | Samant Kaimas | Nagore | Rathore |
| 17 | Bala | Aldhurai | Alwar | Kachwah |
| 18 | Mandalgarh | Chauhans | Bhilwara | Chauhan |
| 19 | Churu | - | Churu | Kayamkhani |
| 20 | Kuchaman | - | Nagore | Rathore |
Main centers for Handicraft
THEWA ART
The art of setting gold on glass is known as Thewa Art. Thewa is a rare and distinct skill of Rajasthani Rajsonia of Pratapgarh. Necklace sets, pillboxes, photo frames, pendent, earing are main products.
SANDAL WOOD CARVING
Based on ivory crafts shifted to sandalwood items. Beautiful carved work and wonderful finishing makes this craft worldwide popular. Gods, Ambabadi, Elephant, Chess pieces and Jewelry items are main product. This craft is practiced in Jaipur and Churu.
TIE & DYE
Bandhani is the local name for the Tie & Dye process. It is a rustic's technique. Parts of fabric remain un-dyed because they are covered by "Tied Threads" and knots before dying. Cotton, Silk, Chiffon, Sarees, dress materials and bed covers are made at Jaipur, Churu, Jodhpur and Sikar. Tradition based items are worn on the particular occasions and a particular group of ladies and by no other one. Gents turbans are made in different designs and colors.
TEXTILES HAND BLOCK PRINTING
Various techniques of printing and dying are used in the textiles of Rajasthan. Eco-friendly dye stuffs and chemicals are used. The printings are named on the basis of their practicing towns.
a) Dabu Textiles Hand Block Printing – Dabu is the local name for the racist print process, mud, racist paste is applied by hand, using wooden blocks to seal the fabric from the effect of further treatment. This type of printing is done in Bagru, Baotra and Akola mainly.
b) Bagru – Famous for its alizarin red, iron black, oval, beige - the characteristics of this type of painting. Very often the ground is dyed in indigo blue, green and black.
c) Azrak Print – Traditionally the products were by Sindhi Muslims as loongies and headgears, in the indigo blue and aligrine red colors are used.
d) Sanganer – Exclusive and fine printing is in subdued colors were patronized by royalty. It has a large export market today. Screen printing fast taking over. However, Sanganer prints for royal use had a
Distinctive fineness. Motifs are based on flowers, which were not necessarily native.
TOYS & DOLLS
The Rajasthani toys &dolls, puppets are more popular. They are printed in colors to add to their attractiveness and charm for the children. There attractive dresses make them more charming. Material in making these items are stuffed cotton, wood and paper machine. Jaipur and Jodhpur are main production centers.
LAC BANGLES & DECORATIVE ITEMS
Lac items are mainly based on tradition like Bangles in different designs, other decorative articles are images of God &Goddesses, Kings & Queens and different kind of birds and animals. These are decorated with glass beads. Main production center is Jaipur.
KOFTKARI
Koftkari is a craft of silver wire inlay in an iron plate, sword handle, shields. This craft is now a lesser known one and practiced by a very few craftsman at Jaipur and Ajmer.
MOTHER OF PEARLS
Pieces of sea shells are stuck together around wood to form a mosaic like outer layer. This art is also been done on bone and brass items. The craft is practiced in Jodhpur.
CAMEL HIDE
The art of pure gold and stone colors, on camel leather, vessels is known as camel hide. This craft is practiced at Jodhpur and Bikaner.
EMBROIDERY
Little shiny mirrors and embroidering beautiful skirts, jackets, Wall hangings and cushion covers etc. traditional Rajasthani motifs and heartwarming colors are blended well in these master pieces. Jaisalmer, Barmer and Jodhpur are the main production centers.
IRON CRAFT
Practiced in Jaisalmer & Tillonia by way of twisting iron wires and cutting the sheets. Main products are animal figures and decorative kitchenware stands and corners. Good potential for exports.
WOOD CARVING
This craft is practiced in Jaisalmer, Barmer, Jodhpur and Jaipur. Finest quality of carving is made on furniture, windows, partitions, beds and sofas. The seasoned wood is used, so these products are quite sturdy and long lasting. Painting on wooden furniture is done at Krishangarh and Ajmer.
LACQUARE WARE
The richly painted lacquered furniture of Rajasthan is an instant crowd puller. The vibrant colors, the shiny gloss and the basic rounded forms of lacquered designing/setting.
JEWELLARY
Rajasthan has a rich culture of kundan (Precious Stone with Emeralds), gold and silver jewellery. Both men & women worn jewelry. Gem cutting, polishing and setting in Jaipur are renowned the worldwide. The art of Meenakari (Enameling) dates back to early 17th Century. Meenakari is often combined with Gems cutting jewelry. Thewa art of Pratapgarh is well guarded secret of Rajasthani families. Thewa art of Pratapgarh is well guarded secret of Rajasthani families.
It consists of delicate gold leaf work embedded into glass or enamel framed with silver or gold. Silver has always been a popular metal for Jewelry – also in Rajasthan where it is very often combined with village rituals and faith.
TERRACOTA
Look for decorative clay work at the main centers. The terracotta images of Molela near Udaipur, are made for the tribal and villages. January is its peak season. Beautiful terracotta horses for religious offerings, 2.5 ft. in height are made in Jallore,Ahora districts. Terracotta toys of BU ( Nagpur District) and Merta are popular articles in local fairs. Pottery is made all over Rajasthan. Centers – Alwar, Bharatpur, Jaipur Bikaner, Dausa& Kota etc.
LEATHER
Leather products are rich in design and display, high skill, majris or jutties(Leather Shoes) for local needs and some embroidered with silk threads, applique or bead work. Camel hide increasingly popular because it is soft and flexible, embroidered hand bags, coin purses, belt and pouches, seats and back rest of chairs. Bikaner is known for its beautiful gesso work on camel hide, lampshades, traditional flasks and perfume bottles are painted in bright colors and gold, using a special technique. Membrophonic instruments – Dholak,T abla etc. are made by the Dabgar community using camel hide. Look for them in almost every major towns. Centers – Jaipur,Ajmer,Bharatpur,SikarSawaimadhopur etc.
PAPER MACIE
The combination of aesthetic with frugality and utility is nowhere more evident than in simple village life. Decorative shelves and containers of paper machine is highly evolved craft in West Rajasthan. Made out of waste paper and clay, the big containers or kothis are light and lasting, decorated with pieces of glass paint and relief work. Today paper machine is a commercial craft – marriages, decorations, pops and back drops for Jhankis (Festive Occasions) are made at Jaipur, Bharatpur and Ajmer, Palai (District Tonk) has a unit for making furniture out of Paper Machine.
BLUE ART POTTERY
The Persian art of glazed blue pottery found its way to Jaipur via the Moghul courts. Later the art was revived with the help of Master Craftsman Kripal Singh Shekhawat, who continues to add and design and colors to it. Jaipur, Sanganerm Mahalan and Neota are known for blue pottery. Especially notable are the painted tiles, vases, bowls, soap dishes and door knobs.
METAL CRAFT
Damascening, Lac coloring, Enameling, Engraving, Inlay, punching and casting – all techniques are known and practiced in Rajasthan, Jaipur, Jodhpur and Udaipur are the main centers for metal craft.
Swords and shields, essential for rituals, Jaipur, Udaipur and Sirohi are the main centers to damascening in which gold or silver wire is hammered into grooves chiseled out on an iton or steel surface. Koftakari, a lesser work, where silver or gold is simply stuck on the ground. Metal field is a craft at Jaipur, Ajmer and Pushkar.
Jaipur is known for its engraved, layered or enameled brassware for decorative purposes. Jodhpur is a very big center for metal craft today mainly for handcrafted iron. Also known for its aluminum shields and trophies.
STONE/MARBLE WORK
Rocks of various hues have provided raw material not only for Rajasthan's unique architecture but also for the Taj Mehal, Agra and Rashtrapati Bhawan at Delhi. The art of Jail or trellis work converts stones into lace. Pillers, Jali work and stone carving for buildings is a living craft in Rajasthan and craftsmen are specially commissioned for work outside. This is also an export item in Jaisalmer. Known for marble idons in many temples in North India, Khazane-Walon-ka-rasta in Jaipur is the center for this flourishing craft.
Carved marble bowls, vases, plates decorated with meenakari are emerging trend in the market Jaisalmer, Nagaur, Sirohi, Udaipur, Nathdwara etc.