"I think CAT is more of an aptitude test and does not require rigorous coaching. With the right strategy & a good amount of practice, one can crack the CAT exam. EduRev's Practice Questions and Mock Test Series helped a lot in cracking the CAT exam." - Laxmi Pravallika, IIM L

Our team has mentored thousands of students in the last 3 years, including 100+ students who cracked IIM Ahmedabad, Bangalore, Calcutta, Lucknow & other top B-schools, and one thing that was common among all the toppers is the strategy & regular practice that they did to clear the exam. With the guidance of various IIM graduates, the relevant information about the exam has been compiled in this EduRev document to help you devise your own strategy. Our efforts are targeted to help you score the elite 99%ile scores in CAT.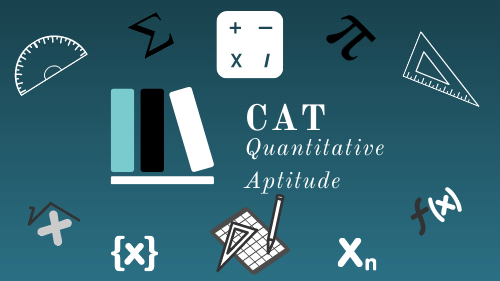 Importance of Quantitative Aptitude for CAT
The Quantitative Aptitude section is one of the three sections in the CAT Exam and has equal weightage as the rest two, i.e. VARC & LRDI Sections. Many topics of Quantitative Aptitude also form the basis for questions in Data Interpretation of LRDI. Hence a thorough knowledge of the basics of the Quant section is very-very important.
The purpose of this document is to help you understand how to read Quantitative Aptitude as a subject for not just CAT but also other B School entrances like SNAP, XAT, IIFT, NMAT, etc., and understand how to tackle the QA Section in these exams. We at EduRev recommend the LPA strategy – Learn, Practice & Analyse to score complete marks in the QA section.
CAT 2022 Quantitative Aptitude Details
Total Questions in CAT Quantitative Aptitude Section

22

Total Marks in CAT Quantitative Aptitude Section

66

Types of Questions in Quantitative Section

MCQs And TITA (Non-MCQs)

Total MCQs in Quant for CAT Section

15

Total TITA(Non-MCQs) in Quant for CAT Section

7

Difficulty in Quantitative Aptitude for CAT Section

High

Marking Scheme in QA Section for CAT

+3 (for the correct answer)

-1 (for incorrect answer)

0 ( for unmarked answer)

As the CAT exam does not have a predefined syllabus, numerous candidates face difficulty and get confused during preparation. But it should be noted that the questions are generally asked from a few repeating concepts every year, so our experts have compiled a complete list of these topics and created the CAT Syllabus (based on last 10-years question papers). To access the syllabus document, click on the link:
CAT Syllabus
EduRev Tip: Attempt Past Year Questions of CAT exam to understand & adapt to the pattern of the exam.
You can check out past year papers of the last 31 years with detailed solutions here: Past Year Question Papers

The trend of CAT Quant section in last 3-years
CAT 2022 Quant Distribution: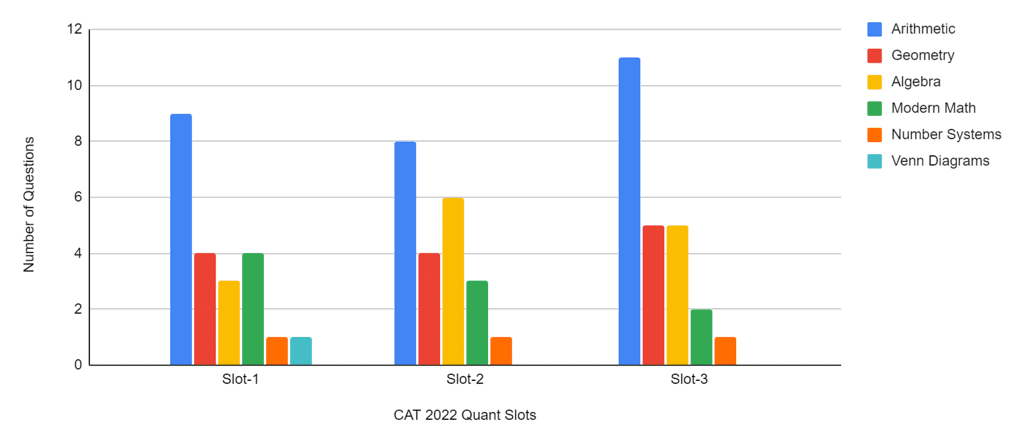 CAT 2021 Quant Distribution:

CAT 2020 Quant Distribution

You can check out CAT Quant questions (with explanations) by clicking on the respective links:
- CAT Quant 2021 (Slot 1)
- CAT Quant 2021 (Slot 2)
- CAT Quant 2021 (Slot 3)
Topics in CAT Quant
Considering the pattern of past CAT exams, our experts have created the Quantitative Aptitude course, which offers video lectures, detailed notes, practice questions & level-wise MCQ tests for each topic. You can access all the materials for each chapter by clicking on the links below:

1. Number System
1.1 Number System
1.2 Surds and Indices

2. Algebra
2.1 Progressions (Sequences & Series)
2.2 Functions
2.3 Quadratic Equations
2.4 Linear Equations
2.5 Logarithm
3. Arithmetic
3.1 Time and Work
3.2 Ratio and Proportion
3.3 Averages
3.4 Percentages
3.5 Vedic Mathematics - Tricks for Fast Calculations
3.6 Speed, Time and Distance
3.7 Profit, Loss and Discount
3.8 Mixtures and Alligations
3.9 Inequalities
3.10 Interest (Simple and Compound)
4. Geometry and Mensuration
4.1 Geometry
4.2 Mensuration
4.3 Coordinate Geometry
5. Modern Maths
5.1 Permutation and Combination
5.2 Set Theory
5.3 Probability
It should be noted that the topics mentioned here are not the only topics required for CAT exams. Candidates are suggested to have a strong foundation of broader topics related to the quantitative section. This section is very crucial for the CAT exam since almost 22 questions (number of questions according to CAT 2022) were asked from this section which involves a wide range of numerical topics.


Topic-wise weightage CAT 2022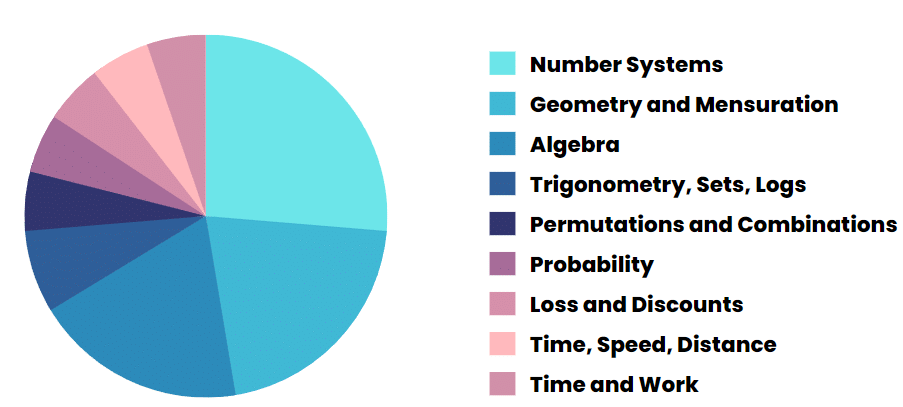 Tips to Ace Questions in Quant For CAT Section
1. Strengthen the Basics
As the questions are related to elemental mathematics, you're required to get well acquainted with the basics through regular practice. Also, it is suggested to cover all the numerical topics to avoid losing any marks in the exam.
You can view detailed lectures, practice 5-10 tests on each and every topic under the Quantitative Aptitude course in the CAT exam category.
One way to assess your knowledge is to start practicing the questions; first-hand practice will help you cover the basics. You can access Practice documents for all the quantitative topics here to understand the type of questions being asked in the CAT exam.
2. Practice
"Quant has always been my strength out of 3 sections. After working for 2 years, I felt I need a quick refresher for concepts of quants. I gave regular topic-wise tests for 30-40 minutes on EduRev'' - Kusumitha, MBA IIM Bangalore 22
Once you have completed the basic levels of preparation, attempting tests that are planned level-wise will help you in sharpening your concepts. You can attempt them here - level-wise test. Our experts from IIMs have prepared these level-wise tests by referring to books like Arun Sharma, Pearson, etc., in order to provide you with the best possible learning experience. Our medium level tests replicate the level of majority CAT questions, and hard level questions are generally present for you to be competitive for a tougher CAT exam.
3. Revision
The probability of success increases with the revision of concepts. There is no topper of CAT who aced the exam without revising the concepts. Quantitative aptitude course has 200+ tests with 5-10 tests for each topic, prepared just for you so that you can revise and master each and every topic and gain confidence.
We also recommend you to attempt the cumulative subject-wise mock tests & Archive for Quant: CAT, SNAP & XAT in Quantitative Aptitude course of EduRev, this will give you an idea of how the final quant section would look like.
Along with the practice of tests, you should be well aware of the formulas of all the topics to quickly solve the questions which will save your time in the final exam. We have compiled topic-wise formulae sheets for all the topics of Quantitative Aptitude.
In case you feel the necessity of revising through videos, we have the best videos that can help you with the conceptual understanding.
EduRev Tip: Time management is really important during the preparation and it is advisable to stick to minimal resources as far as possible and spend more time practicing different questions.
4. Practice Mock Tests and Past Year Papers
CAT Mock Tests are crucial as the test acquaints the candidates with the real exam scenario and helps to analyze the preparation level. The past year papers are very useful to analyze the paper pattern and difficulty level of questions.
You sit in front of your CAT question paper and the first question comes in front of you; if you have identified the logic of the question or seen the question of a similar pattern earlier, your entire quant preparation is rewarded. Any other preparation is quite worthless and meaningless. It remains our responsibility to help you achieve this confidence through our planned curriculum.
Your battle for CAT would be won if you get a "YES I KNOW THIS PATTERN/LOGIC" reaction to 50–60% of the questions in your test. The sureshot way to attain this confidence is to attempt as many mock tests for CAT.
As an aspirant, you might consider giving exams of other B-Schools as well. Though their syllabus is almost the same, the pattern of the actual exam is really different.
So, we've created a different mock test series for all these exams. Check out the links below to access the mock test series for the respective exams:
IIFT Mock Test Series
You can check out the syllabus of SNAP, NMAT, XAT through these links. And to know more about the CAT Quant section, go through the frequently asked questions in the Quantitative Aptitude section Document.