Phthalic Anhydride
Phthalic anhydride first became commercially important during the nineteenth century as an intermediate for dyestuff industry. However, now phthalic anhydride is largely used for the manufacture of plasticizers, alkyd resins, and unsaturated polyester resins where about 95percent of the phthalic anhydride production is consumed. With an aggregate installed capacity of 267,200-tpa across India, major PAN producers include IG Petrochemicals Ltd and Thirumalai chemicals Ltd. Consumption pattern of PAN is shown in Figure M-VII 8.2. List of the phthalic anhydride manufacturer in India is given in Table M-VII 8.2.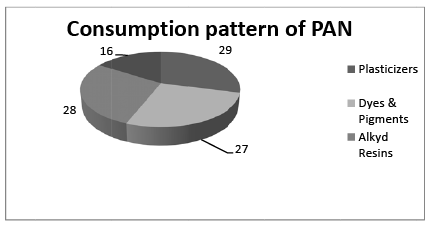 Figure M-VII 8.2: Consumption pattern of PAN
Table M-VII 8.2: Phathalic Anhydride Manufacturer in India
| | | |
| --- | --- | --- |
| Company | Location | Installed Capacity (TPA) |
| I.G. Petrochemicals Ltd. | Taloja, Maharashtra | 120,000 |
| Thirumalai Chemicals Ltd. | Ranipet, Tamil Nadu | 100,000 |
| Asian Paints Ltd. | Ankleshwar, Gujarat | 25,200 |
| Mysore Petrochemicals Ltd. | Raichur, Karnataka | 12,000 |
| S.I. Group Ltd. | Thane, Maharashtra | 10,000 |
| Total | | 267,200 |
The basic raw material for the manufacture of phthalic anhydride is naphthalene and o-xylene. Phthalic anhydride was manufactured from naphthalene. With the availability of large amount of o-xylene as a byproduct during p-xylene production, now phthalic anhydride is made from oxylene. Both vapor phase and liquid phase oxidation of o-xylene are available. Phthalic anhydride is produced by oxidation of naphthalene in the gas phase using vanadium pentoxide catalyst supported on silica or silicon carbide promoted with various other metal oxides, e.g. titanium oxide (wire) in either a fixed bed multiple reactors or fluidized bed reactor


Production of phthalic anhydride from o-xylene is similar to naphthalene route. Catalytic oxidation of o-xylene is done either in fixed bed catalytic reactor having multi tube or fluidised bed reactor in the presence of vanadium pentoxide and titanium oxide catalyst.


Cumene
Cumene is made by alkylkating benzene with propylene using zeolite catalyst. Following three major processes are available
Catalytic Distillation Technology: The process uses a specially formulated zeolite alkylation catalyst in a proprietary catalytic distillation (CD) process and a trans-alkylator reactor using zeolite catalyst. In CD column combines both reaction and fractionation takes place.
Liquid Phase Q-max Process: In this process, cumene is produced by liquid phase alkylation of benzene with propylene in presence of azeolite catalyst.
Cumene by Mobil Badger Process: The process produces cumene from benzene and any grade of propylene using a new generation of zeolite catalysts from Exxon m Mobil. The process includes a fixed bed alkylation reactor and a fixed bed trans-alkylation reactor and distillation section.
Phenol
According to SRI consulting report 2010 global production and consumption of phenol were both around 8.0 million tones with global capacity utilization of 77percent. Phenol consumption is expected to average growth of 5.1percent per year from 2009 to 2014 and around 2.5percent from 2014-19. Phenol is consumed mainly for production of bisphenol A and phenolic resins which accounted for 42percent and 28percent respectively of total phenol consumption in 2009.
Various routes for Phenol:
Phenol from Cumene
Phenol from Benzoic acid
Phenol from chlorobenzene
Benzene Sulphonation
With the availability of propylene now phenol is made by cumene route with added advantage of acetone as by product
Aniline
The process of aniline manufacture involves two stages: Company which produce aniline is given in Table M-VII 8.3.
Table M-VII 8.3: Company-Wise Production of Aniline
Company

Years

Production

Sales Quantity

Sales Value

Gujarat Narmada

Valley Fertilizers Ltd.

2008-09

27077

27090

1865

2009-10

33848

33825

2167

2010-11

39896

-

-

Hindustan Organic

Chemicals Ltd.

2009-10

5538

5231

309

2010-11

1833

1826

135
Nitrobenzene Route:
Nitration of benzene with nitric acid
Hydrogenation of nitrobenzene to aniline


Ammonylysis of Chlorobenzene

Ammonolysis of Phenol

Benzoic Acid (C6H5COOH)
Benzoic acid is the simplest member of the aromatic carboxylic acid. Benzoic acid, which is used in the manufacture of caprolactam, phenol, terephthalic acid and used as mordant, is manufactured by liquid phase catalytic oxidation of toluene in presence of cobalt acetate at 165 oC and 11.2 atm pressure. Major processing steps in the manufacture of benzoic acid consist of:
Catalytic liquid phase air oxidation of toluene
Stripping of unreacted toluene and light end precursors from the benzoic acid for recycle
Distillation to recover benzoic acid as a pure overhead product

Bisphenol

Bisphenol is an important building block and its measure use is in the manufacture of polycarbonate plastic and epoxy resins. Other uses include in flame retardants, unsaturated polyester resin and polyacrylate, polyetherimide and polysulphone resin .
India and Global demand of Bisphenol
Demand of bisphenol in India during 2010-11 was 30,000 tonnes per annum
Global installed capacity: around 5.2 million tones
Global demand around 4.2 million tones
Global growth rate in demand 5 to 6percent
Polycarbonate resin are the largest and fast growing BPA market, consuming 60percent of the global production.
Process Technology
Various process technologies available for manufacture of bisphenol are:
Condensation of phenol with acetone
Condensation of phenol with alkenyl phenol
Condensation of phenol with ethylene and acetylenes
Condensation of phenol with alkyl benzene
Bisphenol From Phenol And Acetone: Bisphenol is synthesized by a condensation reaction between phenol and acetone using proprietary cation exchange resin-base catalyst (4PET) in a packed bed reactor. The catalyst has higher acetone conversion, higher BPA selectivity and longer life. Reactor effluents are process in series of distillation column for separation of product bisphenol, unreacted acetone, water, phenol. Phenol and acetone are recycled. Bisphenol is purified by crystallization where bisphenol crystals are separated from the impurities. Although the impurities are removed with mother liquor, however two stage crystallistion can lower the impurities captured in the crystal. Bisphenol is sent to prilling tower to get final bisphenol in the form of spherical prill.