Halogenation
Halogens involve introduction of one or more halogen groups into a organic compound for making various chlorine, bromine, iodine, fluorine organic derivatives. All though chlorine derivatives find larger application, however some of the bromine and fluorine derivatives are also important. Various chlorinating agents are chlorine, HCl, phosgene sulfuric chloride, hypochlorite, bromination, bromine, hydrobromic acid, bromide, bromated, alkaline hypobromites. In iodination iodine, hydroiodic acid and alkali hypoiodites
Example
Typical important chemicals are chlorinated products: Ethylene dichloride, chlorinated methanes Chloroform, Carbon tetra chloride etc) Chlorinate ethane, Chloro propane, chloro butanes, chloroparaffins, chlorination of acetaldehyde (Chloral), alkyl halhides, Chlorobenzene, Ethylene diiodide, Chloroflurocarbon (CFCs).
Preparation of chloroform and chloroflurocarbon (CFCs)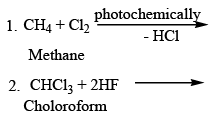 Sulphonation and Sulphation
Sulphonation involves the introduction of sulphonic acid group or corresponding salt like sulphonyl halide into a organic compound while sulphationinvolves introduction of -OSO2OH or -SO4-. Various sulphonating agents are sulphur trioxide and compounds, sulphurdixide, sulphoalkylating agents. Some of the sulphaming agents are sulphamic acid. Apart from sulfonation and sulphamate sulpho chlorinated, sulfoxidation is also used. Typical application of sulphonation and sulphation are production of lingo sulphonates, linear alkyl benzene sulphonate, Toluene sulphonates, phenolic sulphonates, chlorosulphonicacd, sulphamates for production of herbicide, sweetening agent (sidiumcyclohexysulphamate). Oil soluble sulphonate, saccharin
Preparation of Saccharin
The industrial synthesis entails the reaction of hydrogen chloride with a solution of sulfur trioxide in sulfuric acid. Sulfonation by chlorosulfonic acid gives the ortho and para substituted chlorosulfones. The ortho isomer is separated and converted to the sulfonamide with ammonia. Oxidation of the methyl substituent gives the carboxylic acid, which cyclicizes to give saccharin.
HCl + SO3 → ClSO3H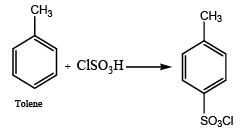 Oxidation
Oxidation used extensively in the organic chemical industry for the manufacture of a large number of chemicals. Oxidation using oxygen, are combinations of various reactions like oxidation via dehydrogenation using oxygen, dehydrogenation and the introduction of oxygen and destruction of carbon, partial oxidation, peroxidation, oxidation in presence of strong oxidizing agent like KMnO4, chlorate, dichromate, peroxides H2O2, PbO2, MnO2; nitric acid and nitrogen tertra oxide, oleum, ozone. Some of the important product of oxidation are aldehyde, ketone, benzyl alcohol, phthalic anhydride, ethylene oxide, vanillin, bezaldehyde, acetic acid, cumene, synthesis gas from hydrocarbon,, propylene oxide, benzoic acid, maleic acid, benzaldehyde, phtathalic anhydride. Oxidation maybe carried out either in liquid phase or vapour phase.
Preparation of synthesis gas from hydrocarbon
By using the Fischer–Tropsch process, or Fischer–Tropsch synthesis, is a collection of chemical reactions that converts a mixture of carbon monoxide and hydrogen into liquid hydrocarbons.

Hydrogenation
Hydrogenation involves the reaction of a substance with hydrogen in the presence of a catalyst. Some of the other reaction involving hydrogen are, hydrodesulphurisation, hydrcracking, hydro formylation, oxosynthesis, hydroammonylsis, synthesis of ammonia.
Preparation of aldehyde (Hydro-formylation):
H2 + CO + CH3CH=CH2

CH3CH2CH2CHO
Esterification
Esterification is an important unit process in the manufacture of polyethylene terephathalate, methyl metha acrylate, cellulose ester in viscose rayon manufacture (xanthation of alkali cellulose with carbon disulphide), nitroglycerine.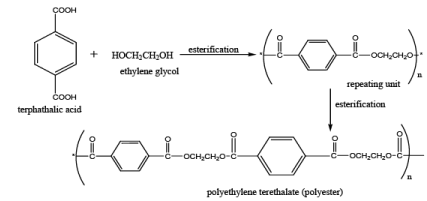 Hydrolysis
Hydrolysis is used both in inorganic and organic chemical industry. Typical application is in oil and fats industry during soap manufacture where hydrolysis of fats are carried out to obtain fatty acid and glycerol followed by addition of sodium hydroxide to form soap. Other application is in the manufacture of amyl alcohols. Some of the major product using hydrogen is ethylene from acetylene, methanol, propanol, butanol, production of alcohol from olefins (eg. Ethanol from ethylene).
Various types of hydrolysis reaction may be pure hydrolysis, hydrolysis with aqueous acid or alkali, dilute or concentrated, alkali fusion, hydrolysis with enzyme and catalyst.
Preparation of ethanol from ethylene:
CH2 = CH2(g) + H2O(g)

CH3CH2OH(g) H = - 45 kJ mol -1
Alkylation
Alkylation involves the introduction of an alkyl radical into an organic compound by substitution or reduction. Products from alkylation find application in detergent, lubricants, high octane gasoline, photographic chemicals, plasticizers, synthetic rubber, chemicals etc. Some of the alkylating agents are olefins, alcohols, alkyl halides. Although sulphuric acid and phosphoric acid were commonly used as catalyst in alkylation process, however due to the corrosive nature of these acid now solid acid catalyst is finding wide application in new alkylation processes.
Preparation of toluene
Alkylation is the transfer of an alkyl group from one molecule to another.

Polymerization
Polymerization is one of the very important unit processes which find application in manufacture of polymer, synthetic fibre, synthetic rubber, polyurethane, paint and petroleum industry for high octane gasoline. Polymerisation maybe carried out either with single monomer or with comonomer. Polymerisation reaction can be addition or condensation reaction. Various Polymerisation methods may be bulk, emulsion, solution, suspension. Typical important product from polymerization are, Polyethyelene, PVC, poly styrene, nylon, polyester, acryicfibre, poly butadiene, poly styrene, phenylic, urea, melamine and alkyd resins epoxy resin, silicon polymers, poly vinyl alcohol etc.
Preparation of Polyethylene or polythene
It is the most common plastic