Books are considered to be the best and the most effective medium for gaining knowledge. Detailed knowledge about the different topics present in the CAT Syllabus is required to crack the MBA Entrance Exam. To meet such needs, candidates refer to various preparatory books.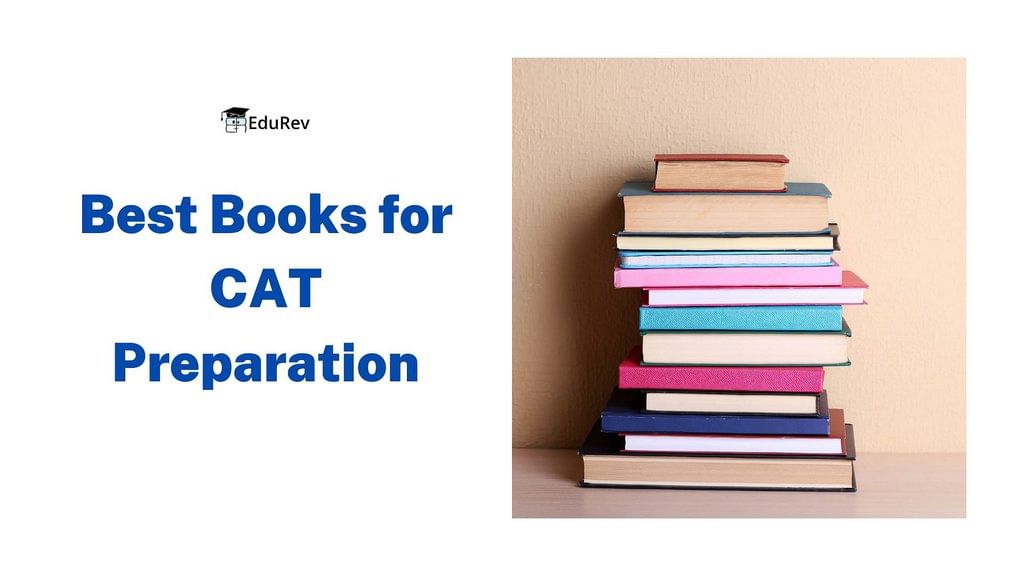 As there are so many CAT books available for the aspirants, it is often difficult to choose the right ones. After reviewing the most popular ones, EduRev experts have shortlisted some of the best books for CAT preparation. Additionally, you will get to know the reasons as to why you should choose these.
Certain instructions have been provided by experts at EduRev in the section below that will help the candidates to choose the best and the most relevant books for the CAT Exam.
Factors to Consider while Choosing Your Books for CAT Exam Preparation
To succeed in preparing for the CAT exam, candidates need to consider various factors before choosing the right resources and materials. Although there are numerous options available, the key factors that will determine success include persistent practice, the best coaching, and continuous guidance from mentors.
To choose the right CAT preparation books, candidates should consider the following factors:
Always opt for the most up-to-date editions of books, which provide the latest trends and topics covered in the exam. Look for books with simple language that is easy to understand.
Ensure that the book includes rich quality content, covers all subject areas, and provides time-saving shortcuts and strategies.
Before purchasing a book, review it carefully to see if it includes practice questions of varying difficulty levels.
Check whether the book provides previous years' question papers with answer keys from the last five years, as well as a considerable number of mock test papers with detailed solutions.
Look for recommendations from toppers or CAT exam aspirants or candidates from your peer group who have passed the exam. It is advisable to purchase books written by renowned authors or publications.
By considering these factors, candidates can make an informed decision and choose the right resources to prepare for the CAT exam.
Section-Wise Best Books for CAT Preparation 2023
Verbal Ability & Reading Comprehension, Data Interpretation and Logical Reasoning, Quantitative Aptitude are the three areas that make up the CAT Exam Syllabus. Candidates should prepare independently for each of the syllabus's several components.
In the table below, we've listed recommended preparation books for the CAT exam 2023, categorized by sections of the exam: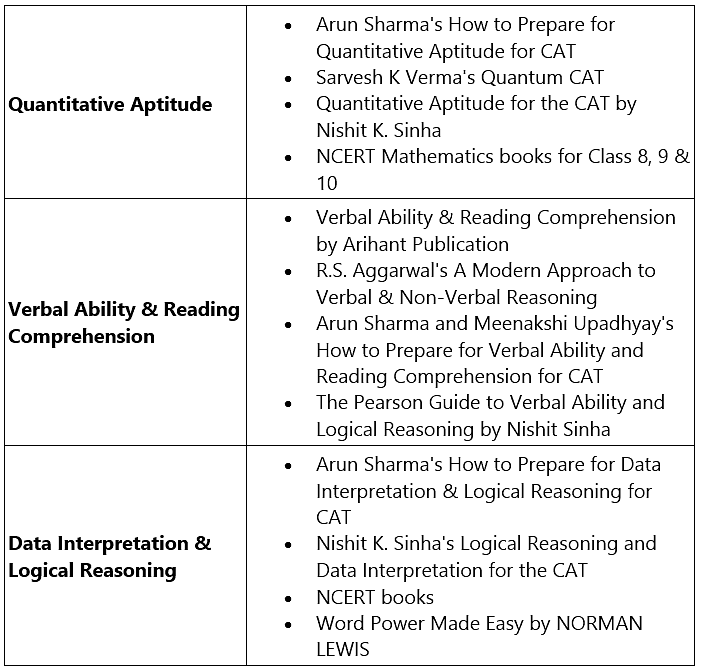 EduRev offers a comprehensive package of EduRev Infinity for CAT according to the latest syllabus which includes everything that an aspirant would need for CAT Preparation. All the courses in the EduRev Infinity for CAT have been curated by the mentors of toppers like Anshul Goyal (IIM L), Arijit Goswami (IIM K), Abhinav Gupta (IIM K) & others.
Best Books for CAT Quantitative Aptitude
The Quantitative Aptitude section of the CAT exam is considered to be the most difficult and time-consuming, requiring practice to improve speed and accuracy. Different instructors and authors have their own approaches to the questions, but it is important to find the approach that works best for you. Recommended books for preparing for this section include those listed.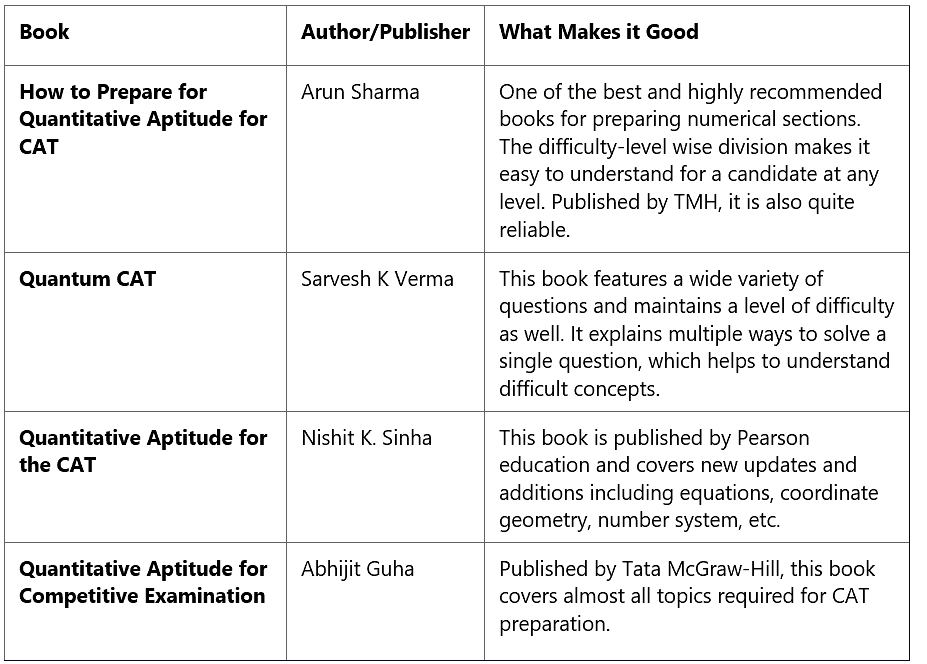 Also Read: How to prepare for CAT Quantitative Aptitude
Best Books for CAT Logical Reasoning and Data Interpretation
The DI & LR component of the exam assesses a candidate's capacity for logic and analysis. The part calls for a thorough comprehension of the ideas and an analytical approach to each issue. In contrast to QA, success in this area involves a lot of practise, as well as creative problem-solving to make difficult questions simpler to answer. These are some of the top books for preparing for the 2023 CAT exam's DILR section.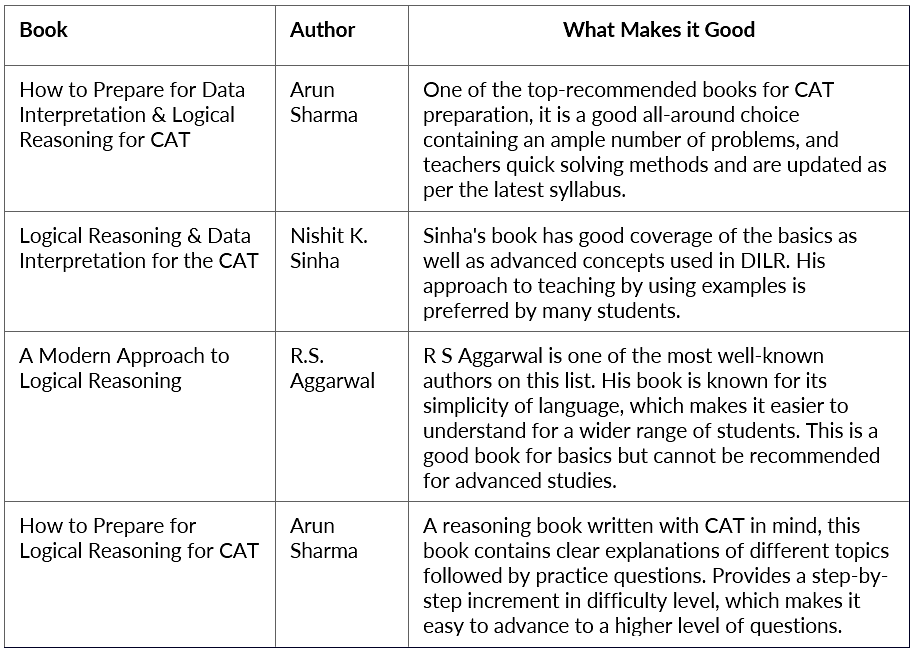 Also Read: How to Prepare for DILR with EduRev
Best Books for CAT Verbal Ability and Reading Comprehension
The VARC component of the exam concentrates on a candidate's ability to utilise and comprehend English. It calls for accurate grammatical knowledge, a respectable vocabulary, quick reading speed, and the capacity to extract key information from lengthy texts. Candidates who read often have an edge in this area, but it is still possible to succeed with consistent practise and a good book. The following are a some of the top VARC books for the CAT test.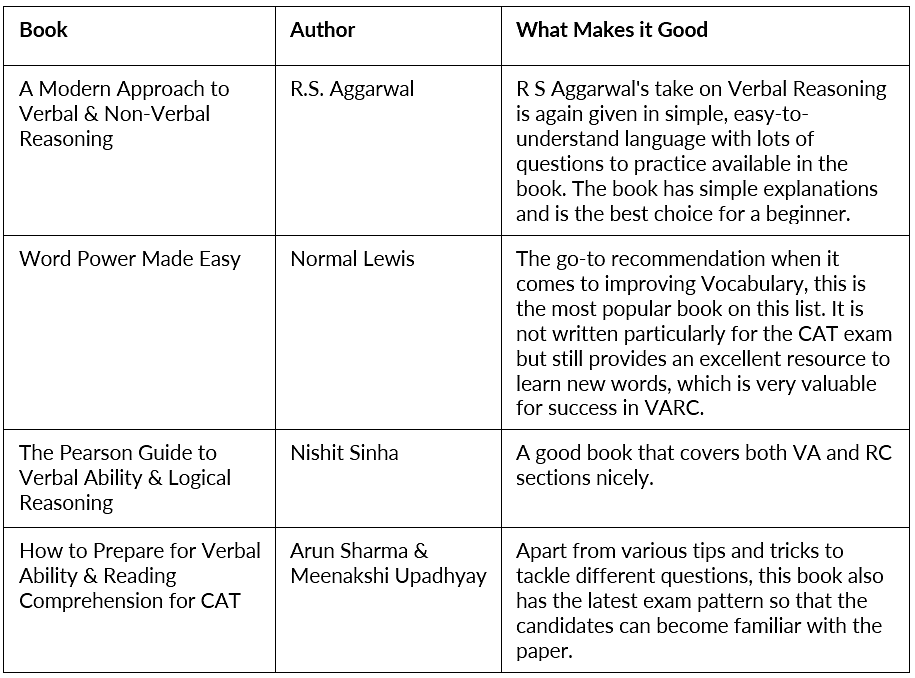 Also Read: How to Prepare for VARC with EduRev
How to enhance your Reading Speed for CAT?
Considering the importance of reading comprehensions in CAT and other management entrance tests, it makes absolute sense to hone your reading skills. But where do you start? and what should you read? You can begin by reading a novel or magazine of your interest.
To ease your task, EduRev has made a detailed list of online resources where you can read useful articles and fine-tune your reading and comprehension proficiency.
1. Top Newspapers for CAT Preparation 2023
It is recommended that aspirants should read newspapers and journals to enhance studying comprehension skills. Reading those materials will assist to get a strong command of the English language which in turn will assist in the VARC section.
The Hindu
Time
Business Week
Newsweek
The Economist
National Geographic
Fortune
Business World
Also Read: How to Improve VARC for CAT 2023?
2. Reading Books for CAT Preparation 2023
We have classified the list of reading books according to the level of language used in them.
(A) Books and Novels for MBA aspirants: Beginner Level
If you are not a regular reader, I would suggest that you start with something simple and easy and then move on to books which are slightly harder to read. Some easy to read books that can start with and they would also motivate you:
Old Man and the Sea
The Alchemist
Harry Potter (Series)
Sherlock Holmes (Series)
Lord of the Flies
Catch-22
Animal Farm
1984
Brave New World
Train to Pakistan
Slaughterhouse 5
Books and Novels for CAT aspirants: Moderate Level
Once you are done with the above list, or may be even half of it, probably you should try out another list that is slightly harder.
Dealing with Indian issues
The Great Indian Novel
India after Gandhi
Midnight's Children
Argumentative Indian
The Last Mughal
Dealing with global issues and economics/management:
The Selfish Gene
Guns, Germs, and Steel
The World is Flat
Freakonomics
Tipping Point
The Black Swan
Thinking Fast & Slow
Straight from the Gut
Steve Jobs (Walter Isaacson)
Iacocca
Business Maharajas
Banker to the Poor
Latest Books and Novels for CAT aspirants
I do what I do: Written by Raghuram Rajan, former Governor of RBI, it is a collection of speeches he delivered during his stint as the Governor. What makes it really interesting and riveting to read is his commentary on the economic and political context prevalent at that time.
Sapiens: A Brief History of Humankind is a book by Yuval Noah Harari. It surveys the history of humankind from the evolution of archaic human species in the Stone Age up to the twenty-first century, focusing on our own species of human, Homo sapiens.
Hit Refresh: Written by the Microsoft CEO Satya Nadella. It tells the inside story of the company's continuing transformation, while tracing his own journey from a childhood in India to leading some of the most significant changes of the digital era and offering his vision for the coming wave of intelligent technologies.
Importance of Choosing the Ideal Booklist for CAT Preparation
Choosing the best books for CAT preparation is crucial to succeeding in the exam. Here are some reasons why investing time in selecting the right books is important:
The latest CAT books are updated with changes in the exam pattern and syllabus, which helps candidates stay current with the latest trends and topics.
The best books for CAT preparation are accurate and provide good explanations, saving candidates time and effort in reading and preparation.
A strong booklist for CAT preparation enables candidates to identify their weak areas easily and improve quickly using the guidelines and tricks provided by the authors.
Many CAT preparation books include mock papers and previous years' papers, providing insight into the exam's expectations and helping candidates assess their preparation level.
It is essential to have a clear understanding of fundamental concepts before practicing questions. The right books will strengthen candidates' foundation and help them score well in the exam.
In summary, investing time in choosing the best books for CAT preparation will help candidates stay current with the latest exam patterns and syllabus, save time in reading and preparation, identify weak areas, and strengthen their foundation for scoring well in the exam.
How will EduRev help you prepare for CAT Exam 2023?
To aid with your CAT Preparation, EduRev provides you with comprehensive CAT Preparation course which offers you the following:
1. Subject-wise Courses: Courses for all the 3 subjects: Quantitative Aptitude (QA), Verbal Aptitude & Reading Comprehension (VARC) and Logical Reasoning & Data Interpretation (LRDI). Each course offers topic-wise video lectures, detailed notes & online tests for each topic.
2. Mock Test Series for CAT Preparation: Mock Test Series for CAT Preparation course on EduRev offers section-wise & complete mock tests.
3. Level-wise Tests for CAT Preparation: This course offers level-wise tests for each topic to help you prepare exhaustively for the CAT exam.
4. Previous Year Question Papers & Archives: EduRev also offer previous year question papers & topic-wise questions for each topic, which have appeared in different CAT exams in the last 5-10 years.
5. 100 RCs for CAT Preparation: This course offers 100+ RCs to help you prepare & master in RCs, which will give you an edge in the CAT exam and move a step closer to your IIM dream.
6. Shortcut Techniques, Formulas, CAT Crash Course & Others: Along with the above courses, you also get shortcut techniques, formulas & others in various courses of EduRev.
7. Mock Test Series for Other MBA Exams: You also get Mock Test Series for other MBA Exams like SNAP, NMAT, XAT, IIFT, TISSNET & others.
What is the best book for CAT Preparation?
Arun Sharma, Nishit K Sinha, Sarvesh Varma, and Word Power Made Easy are all highly recommended for CAT preparation. They are particularly beneficial in establishing a solid foundation in verbal ability, logical reasoning, data interpretation, and quantitative aptitude.

However, to aid your preparation in CAT Preparation, EduRev provides with the strategies and techniques to help prepare for the Common Admission Test (CAT). Experts have provided with step by step guide which will help you to prepare for different sections of the exam.
Is the CAT exam tough?
Yes, CAT is not just a competitive exam but also complex in terms of questions. However, if you stay focused and follow a disciplined preparation strategy, you will be able to crack it well.

EduRev provides you with the strategies and techniques to help prepare for the Common Admission Test (CAT). Experts have provided with step by step guide which will help you to prepare for different sections of the exam.
How long does it take to cover CAT syllabus?
The time it takes to cover the CAT (Common Admission Test) syllabus varies depending on the individual's preparation level and the resources they are using to study. Generally, it is recommended to begin preparing for the CAT at least 6-8 months in advance to give oneself enough time to cover the entire syllabus and practice enough mock tests.

It also depends on how much time you can devote on a daily basis.
What is a good score/percentile in CAT?
Initially, most of the IIMs shortlisted candidates with 95-99 percentile. But in the last few years, the top ones like IIM-A have started profile-based shortlisting and have set their CAT cut-offs at 80 percentile. Yet, it is still better to target a percentile of 95 and above, if you want to stay open for a more number of B-schools.