Candidates who are thinking of appearing in the upcoming exam must keep their eyes on the official CAT Notification to avoid missing the deadline. CAT Notification 2023 is expected to be released by the last week of July 2023 on the official website of IIMCAT.

Official Notification is the official announcement that includes details of registration, exam dates, eligibility, age limit, fees, and other essential information.
It is important for you to note the details related to CAT eligibility criteria as mentioned in CAT Notification 2023 to avoid last-minute cancellations of applications.
The official CAT 2023 notification will inform you about:
Details about the Conducting IIM of CAT 2023
CAT 2023 Official Website
Post Graduate Programmes in Management (PGP)
Important CAT Exam Dates
CAT Reservation Policy
CAT Notification for the year 2023 is yet to be released on the official website. The registration process for CAT will most probably begin in the month of August and end in September.
CAT 2023: Key Highlights
CAT Exam has undergone major changes in the past few years which can be owed to the Covid-19 pandemic.
Read below the key highlights of the CAT Exam 2023.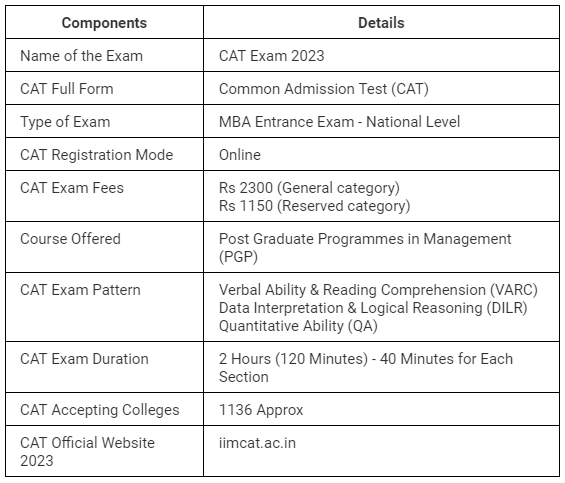 EduRev Infinity Package for CAT offers everything you need for CAT Preparation. You would get around 15+ EduRev courses, which include 600+ tests, 800+ docs, and 400+ videos for your CAT Preparation.
CAT Notification 2023: Important Dates
Stay updated about exam notifications, dates, and other essential information by visiting the official website https://iimcat.ac.in/
Here are some of the tentative dates of CAT 2023: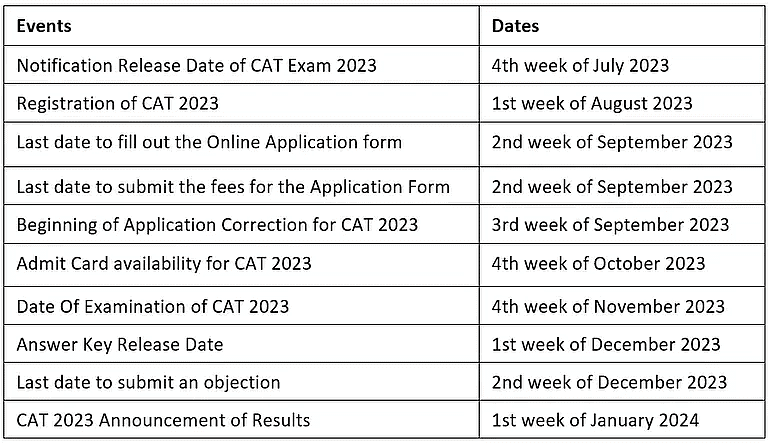 2023 Eligibility Criteria
The complex criteria for appearing in CAT have become less rigorous than before due to the recent changes caused by the pandemic. The aspirants must go through CAT Eligibility Criteria article prepared by EduRev to avoid any last-minute hustle.
1. Qualification
2. Age Limit
As for CAT Age Limit, there is no minimum/ maximum limit defined.
There is also no restriction on the number of attempts.
3. Work Experience
There are no specifications about work experience in the CAT eligibility criteria.
There are no limitations in the case of experience.
Therefore both the freshers and experienced candidates can take the exam.
However, some of the B-schools do consider work experience during admission. Like SP Jain gives preference to the candidates with work experience. If you're a working professional, you should have the list of MBA colleges, which gives additional weightage to the candidates with work experience because that would definitely help at the time of admissions.
4. Reservation
There is some %age allocated for certain categories of students in MBA colleges. (These are general numbers but can vary for different colleges)
For ST, SC, NC-OBC, and DA candidates, if shortlisted, are required to show their original caste/class and/or disability certificate and submit a copy of the certificate at the time of the interview.
CAT 2023 Registration Fees


The CAT 2023 Registration fee is Rs. 2300/- (for the general category) and Rs. 1150 (for SC, ST and PWD candidates), including the CAT Registration Fees and the IIM application fees. After this payment, you do not have to pay any additional amount for applying to the other 20 IIMs. Aspirants can make payments via online mode only.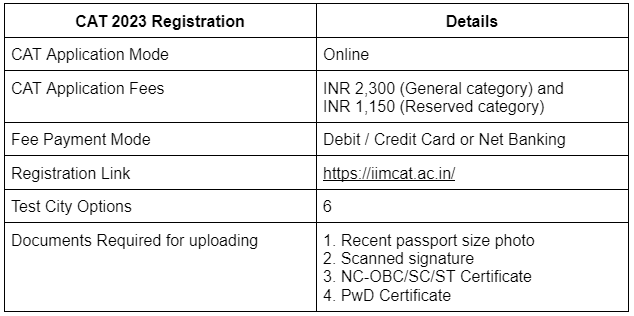 Frequently Asked Questions (FAQs) on CAT 2023 Important Dates
Can I apply for CAT 2023 now?
The CAT 2023 exam will be tentatively held in November 2023, in 3 slots. The official notification will be released around July 2023 with details about CAT exam date 2023 and registration dates. The CAT application form 2023 will also be released soon after. However, candidates must already begin their preparations with EduRev for CAT 2023 to clear the cut-offs with the highest percentile.
Which IIM will conduct CAT 2023?
IIM Lucknow will conduct CAT 2023 with some new changes in test content and structure. Last year IIM Bangalore conducted CAT 2022 with many aspirant friendly changes.

To know more about CAT 2023, check out the CAT Exam Handbook prepared by EduRev.
Is CAT conducted twice a year?
CAT is conducted once a year. Generally, it is conducted in the last week of November and the result is declared in the first week of January.
Can I apply for the CAT if my graduation will complete in May-June 2024?
Yes, if candidates are completing their degree by May-June 2024, they can apply for the CAT exam later this year. The only academic eligibility is that you need to complete your bachelor's with at least 50% marks.
Check out the detailed Eligibility Criteria of CAT 2023.
What is CAT Notification about?
CAT notification is basically an official notice released by the exam conducting authority. It is uploaded on the official website and includes details like exam date, registration schedule, admit card date, eligibility criteria, and related policies.

EduRev has prepared a list of notifications which provides details of the important dates, exam patterns, and other important information related to the exams. Check it out from here.
What is the CAT 2023 Exam Date?
In 2023, CAT exam will be held on the last Sunday of November 2023. The common entrance test will be concluded in 3 slots: morning, afternoon, and evening for 2 hours each. We recommend you consult the official notification for the CAT exam for detailed info.
When will the official CAT 2023 exam notification be released?
The official exam notification for CAT '23 will be released in the last week of July or the first week of August '23. Candidates can keep a check here for more information on this year's CAT exam notification.

EduRev has prepared a list of notifications which provides details of the important dates, exam patterns, and other important information related to the exams. Check it out from here.
Is there a way to register for CAT 2023 offline?
No, CAT has been conducted online since 2009, and candidates can only apply online for it.

To aid in your successful registration for the Common Admission Test (CAT) 2023, EduRev experts have curated comprehensive information that will assist you in completing the form easily and without any difficulties.

In addition to outlining the application procedures, we will provide you with all the necessary details to help you navigate the registration process smoothly.
What will be the CAT 2023 Application fees?
CAT application fee is INR 2300 for General & NC-OBC candidates whereas INR 1150 for SC/ST/PwD candidates.

To know more about CAT 2023, check out the CAT Exam Handbook prepared by EduRev.