Introduction to Bio-Molecules
We are aware that our body, plants and other animals are made up of many chemical substances. There are certain complex organic molecules which form the basis of life. These build up living organisms and are also required for their growth and maintenance. Such molecules are called biomolecules. The main classes of bio-molecules are
1. Carbohydrates
2. Nucleic acids
3. Amino Acids
4. Peptides
5. Terpenes
6. Lipids
7. Alkaloids
Carbohydrate
Carbohydrates form a very large group of naturally occurring organic compounds which play a vital role in daily life. They are produced in plants by the process of photosynthesis. After eating plant foods, humans convert the carbohydrates into glucose.
The most common carbohydrates are glucose, fructose, sucrose, starch, cellulose etc. Chemically, the carbohydrates may be defined as polyhydroxy aldehydes or ketones or substances which give such molecules on hydrolysis. Many carbohydrates are sweet in taste and all sweet carbohydrates are called as sugars. The chemical name of the most commonly used sugar in our homes is sucrose.
Functions of Carbohydrate
1. Provide energy
2. Maintain blood glucose
3. Spare protein
4. Prevents ketosis
Classification of Carbohydrates:
A. Depending upon their behaviour on hydrolysis-
(1) Monosaccharides: polyhydroxy aldehyde or ketone which cannot be hydrolysed further to a smaller molecule containing these functional groups, is known as a monosaccharide. About 20 monosaccharides occur in nature and glucose is the most common amongst them.
Monosaccharides are further classified on the basis of the functional group present in them. If a monosaccharide contains an aldehyde group, it is known as an aldose and if it contains a keto group, it is known as a ketose.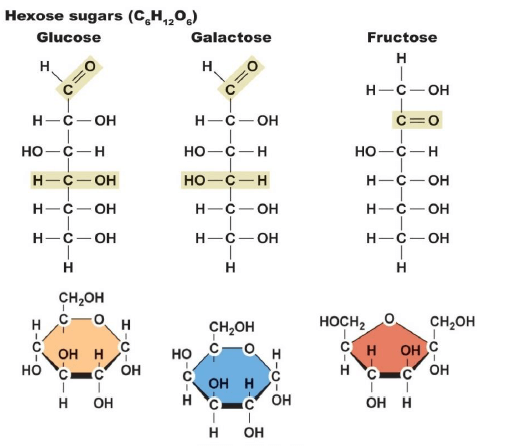 (2) Disacccharides: Carbohydrates which give two monosaccharide molecules on hydrolysis are called disaccharides e.g. sucrose, maltose, lactose etc.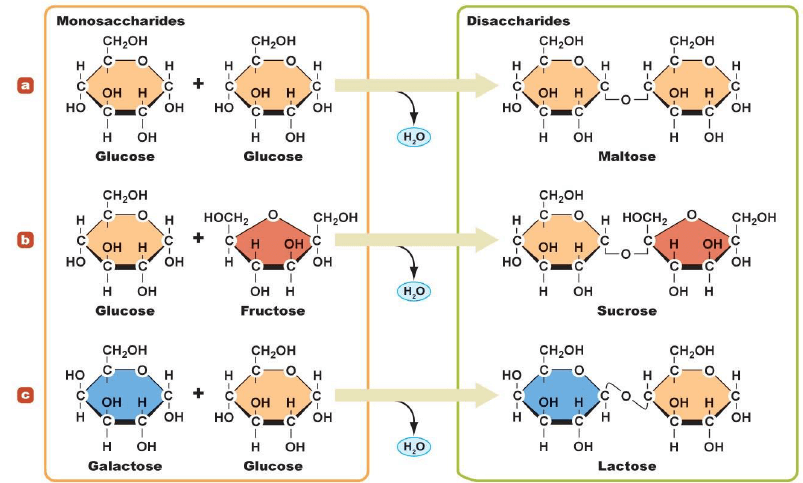 (2). Polysaccharides: Carbohydrates which yield a large number of monosaccharide units on hydrolysis e.g. starch, glycogen, cellulose etc.
Amylose: It is a component of starch.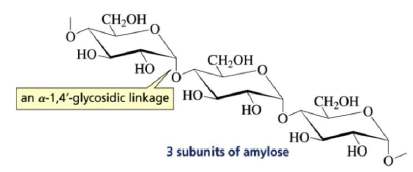 Amylopectin: It is another polysaccharide component of starch that has a branched structure.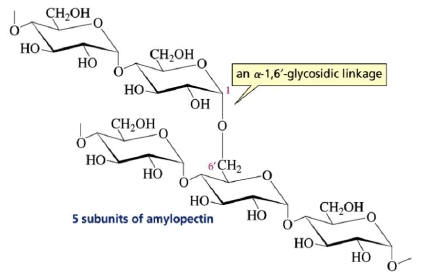 The Comparison of Starch and Glycogen Molecules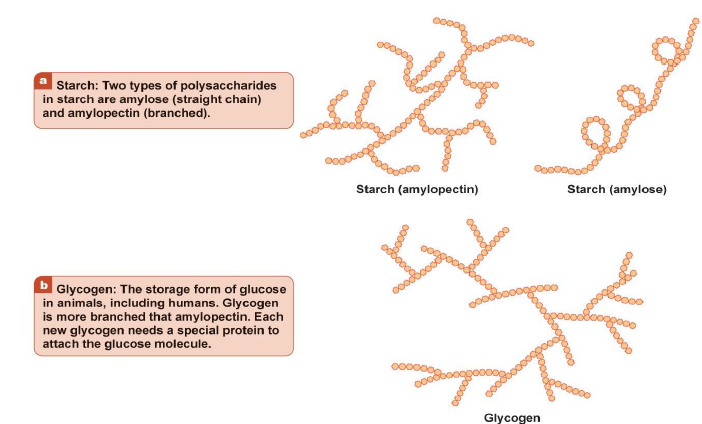 (4). Oligosaccharides: Similar in length to simple carbohydrates and in makeup to polysaccharides. Humans lack the enzymes necessary to digest them. Intestinal microflora digest and ferment them and cause bloating, discomfort, and flatulence. Food sources are Legumes, beans, cabbage, brussels sprouts, broccoli.
The Structure of an Oligosaccharide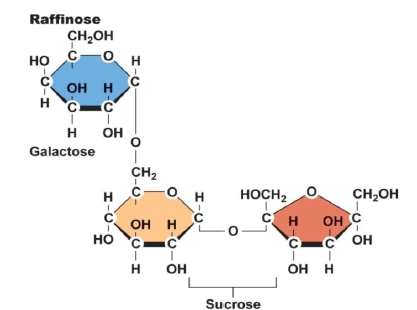 B. Depending upon functional group
1. Aldoses: They are aldehyde containing carbohydrates. At C1, carbonyl is an aldehyde.
2. Ketoses: They are ketone containing carbohydrates. At any other carbon, carbonyl present would be ketonic group.
C. Depending upon no. of carbon atoms
(a) Aldoses
(i) Three carbons: Aldotriose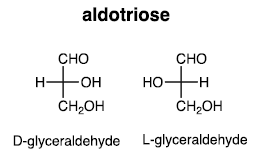 (ii) Four carbons: Aldotetrose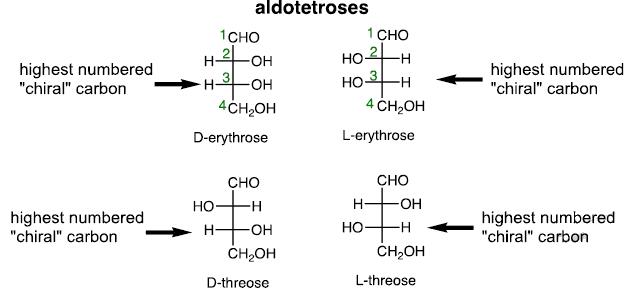 (iii)Five carbons:Aldopentose

(iv) Six carbons: Aldohexose

(b) Ketoses
Ketoses are less common than aldoses.

Fructofuranose and Fructopyranose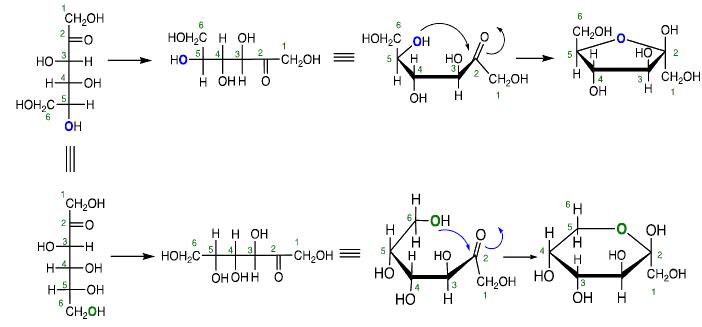 Cyclic Forms of Carbohydrates: Furanose Forms

Cyclic Structure of Monosaccharides Hemiacetal Formation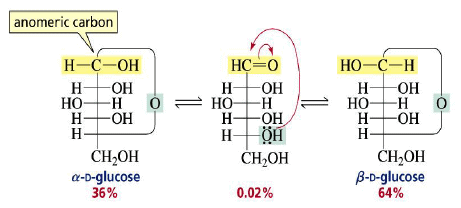 Cyclization of carbohydrates to the hemiacetal creates a new chiral center. The hemiacetal or hemiketal carbon of the cyclic form of carbohydrates is the anomeric carbon. Carbohydrate isomers that differ only in the stereochemistry of the anomeric carbon are called anomers.

Haworth projections: The structures of cyclic sugars are best represented by the Haworth projections. Haworth projections allow us to see the relative orientation of the OH groups in the ring.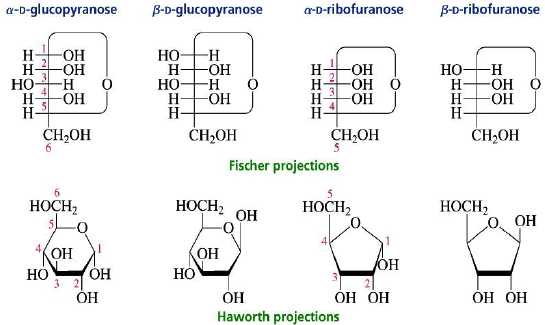 Converting Fischer Projections to Haworth formulas
Note: The pyranose forms of carbohydrates adopt chair conformations.
Mutarotation
The α- and β-anomers are in equilibrium, and interconvert through the open form. The pure anomers can be isolated by crystallization. When the pure anomers are dissolved in water they undergo mutarotation, the process by which they return to an equilibrium mixture of the anomer.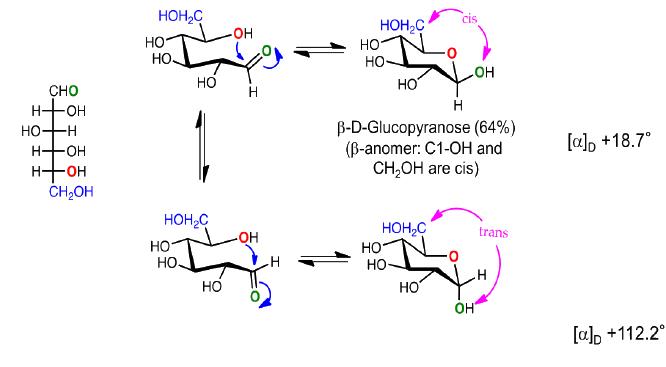 Osazone Formation: Aldoses and ketoses react with three equivalents of phenylhydrazine.

The C-2 epimers of aldoses form identical osazones.

Reaction of Ketoses with Phenylhydrazine.

Deoxy Sugars
Carbohydrates that do not contain hydroxy group.


Amino Sugars
Carbohydrates in which a hydroxyl group is replaced with an —NH2 or —NHAc group

Oxidation of Monosaccharides
C1 of aldoses can be selectively oxidized to the carboxylic acid (aldonic acids) with Br2 or Ag(I) (Tollen's test).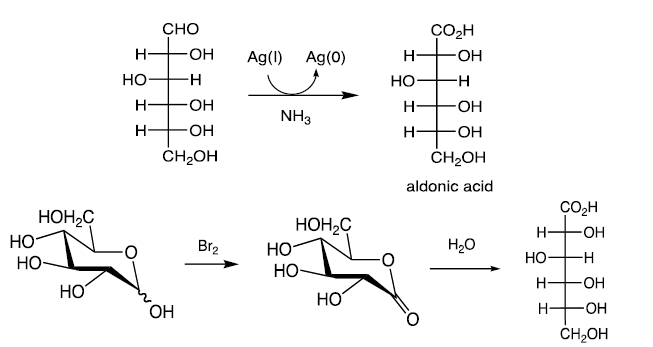 Reducing sugars: Carbohydrates that can be oxidized to aldonic acids. For example, oxidation of aldoses to aldaric acids with HNO3.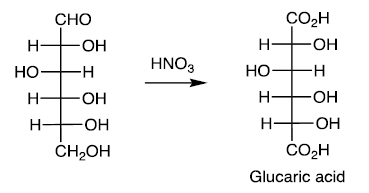 Reduction of Monosaccharides
C1 of aldoses are reduced with sodium borohydride to the 1° alcohol (alditols)

Chain Elongation:
The carbon chain of an aldose can be increased by one carbon by Kiliani–Fischer synthesis method.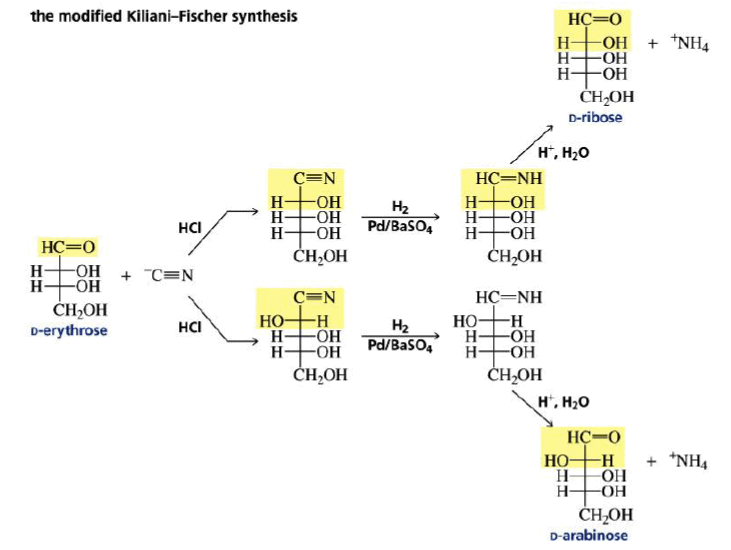 Chain Shortening
The Ruff degradation shortens an aldose chain by one carbon.

Preparation of the Calcium D-Gluconate for the Ruff Degradation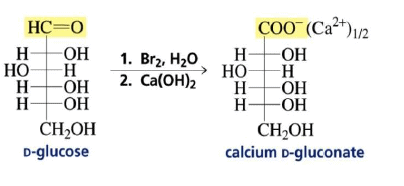 Acylation of Monosaccharides: The OH groups of monosaccharides show the chemistry of typical alcohols.

Alkylation of the OH Groups

Formation of Glycosides

Mechanism: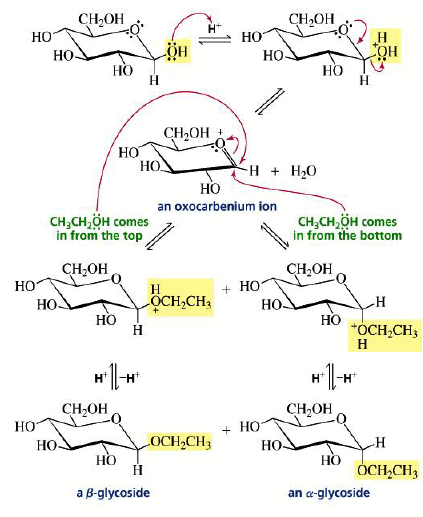 Formation of an N-Glycoside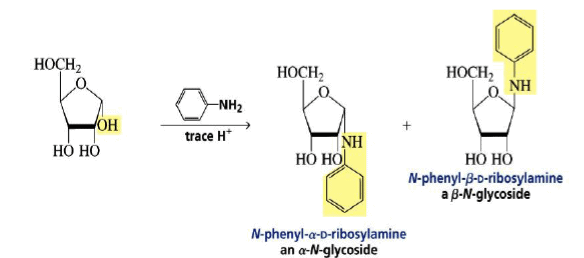 The Anomeric Effect
The anomeric effect refers to the tendency of a group X at C(1) of a pyranose ring to assume the axial rather than the equatorial orientation. This phenomenon is important in carbohydrate chemistry since it influences the composition of isomeric mixtures and hence their reactivities. It has been suggested that the effect is caused mainly by a stabilizing interaction between the axial lone pair of electrons on the ring oxygen atom and the anti-periplanar, antibonding orbital of the C-X bond. This leads to a shortening of the bond between the ring oxygen and the anomeric carbon and a lengthening of the C-X bond. Alternatively, electrostatic repulsive forces between the dipoles due to the ring oxygen lone pairs and the exocyclic oxygen or halogen may account in part for the observed axial preferences.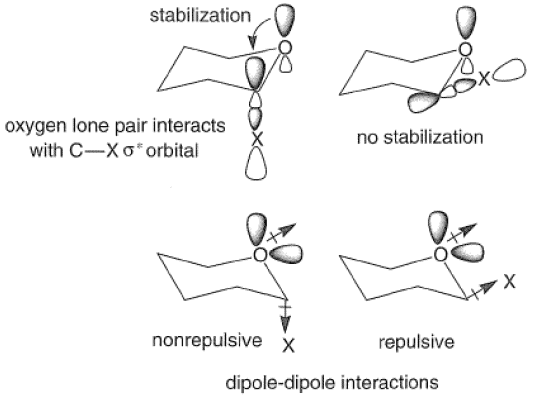 The anomeric effect is solvent and substituent dependent and decreases in the following order: C1> OAc > OMe > OH, as exemplified by the equilibrium concentrations of the alpha and beta anomers of substituted D-glucose in various protic solvents at 250C.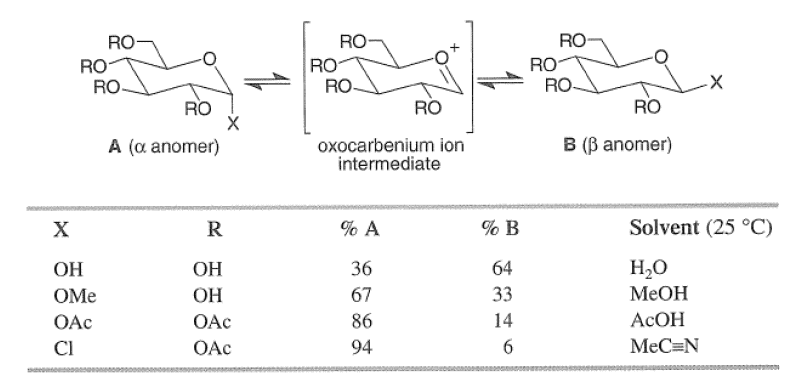 The formation of a glycoside favors the α-glucoside product: the anomeric effect.