The Earliest People
We describe people who lived in the subcontinent 2 million years ago as hunter-gatherers. This name has been provided because they hunted wild animals, caught fish and birds, gathered fruits, roots, nuts, seeds, leaves, stalks and eggs for their food.
Reasons behind Hunter-gatherers migration
If they had stayed at one place resources would have finished.
As animals moves people had to follow them for hunting purpose.
Moved from season to season in search of different kinds of plants.
During the dry season for water resources.
For meeting friends and relatives.
How do we know about these people
Hunter-gatherers made and used tools of:
(a) Stone
(b) Wood
(c) Bone
Stone tools were used:
(a) Cut meat and bone,
(b) Scrape bark (from trees) and making arrows,
(c) Hides (animal skins),
(d) Chop fruit and roots.

These are example of earliest
stone tools, pebbles
Choosing a place to live in
People preferred to live in places having the following availability.

They lived near to the sources of water, such as rivers and lakes.
People tried to find places where good quality stone was easily available as it was important for hunting.
Place where people lived long spell of time and made tools are known as habitation cum factory site.
Evidences:
(a) Blocks of discarded stone.
(b) Waste stone slips.


Bhimbetka (in present day Madhya Pradesh). Some sites, known as habitation sites, are places where people lived. These include caves and rock shelters such as the one shown here e.g Vindhyas, Deccan plateau and Narmada valley.
Making stone tools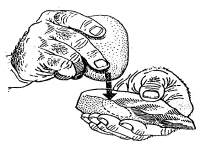 (a) Stone on stone: One stone used as hammer to strike off the flakes of other stone (core) till the required shape was obtained.
(b) Pressure flaking: The was placed on firm surface. The hammer stone was used ona piece of bone or stone.
Finding out about the fire
Traces of ash show that the people at that time with help of stone to stone technique have invented the fire. It had used for many things:
(a) As a source of light.
(b) To roast meat.
(c) To scare a way animals.

Note: Controlled use of fire was invented by HOMOERACTUS during early Paleolithicage.
A changing environment.
Rock paintings and what they tell us:
(a) These paintings show wild animals, drawn with great accuracy.
(b) Both men and women were involved.
(c) Stick like cave wall painting.

SITES
KURNOOL CAVE (PALEOLITHIC Site): Presently in Andhra pradesh.
Traces of ash have been found here.
It used for light, cooking, animal scaring.

PATNE (PALEOLITHIC Site)
This site is present in maharashtra.
Ostriches were found.
Their eggs are also designed for decoration.
Beads also made from eggs.
HUNSGI (PALEOLITHIC Site)
Large quality of stone used for multipurpose activities.
Factories and habitation site combination.
Tools made from limestone.
FRANCECAVE
Paintings were made from 20,000 to 10,000 years ago.
Many of these were of animals, such as wild horses, aurochs, bison, woolly rhinoceros, reindeer and bear.
These colours were made from minerals like ochre or iron ore, and charcoal.
Paintings were done on ceremonial occasions and special rituals.