A changing world climate




The beginning of farming and herding:

(a) People probably observed several things
Places where edible plants were found.
How seeds broke off stalks, fell on the ground.
New plants sprouted from seeds.
(b) By observing people became farmers
Perhaps they began looking after plants
Protecting them from birds and animals so that they could grow and seeds could ripen
Herders
Persons who look after a herd of livestock or makes a living from keeping livestock, especially in open country. 'they are nomadic cattle herders by tradition'
Domestication of animals:
People could also attract and then tame animals by leaving food for them near their shelters
The first animal to be tamed was the wild ancestor of the dog.
Animals such as sheep, goat, cattle, and also the pig lived in herds and most of them ate grass
Often, people protected these animals from attacks by other wild animals. This is how they became herders.
Those animals which were immune From diseases.
Domestication of plants:
(i) Those plants which have:
Large yield size grain.
Strong stalks.
Seed that can be Preserved i.e. wheat, barley.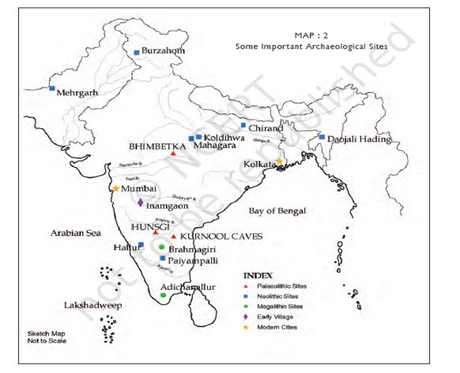 Blue squares
Each marks a site from where archaeologists have found evidence of early farmers and herders.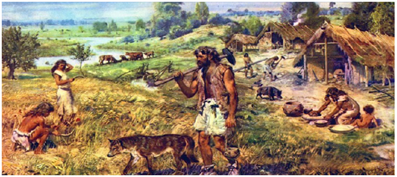 New life way of life
People had to stay in the same place for along time looking after the plants, watering, weeding, driving a way animals and birds – till the grain ripened.
For storing the grain for food and seeds. They begin making large clay pots, or wove baskets, or dug pits into the ground.
Animals that are reared can be used as a 'store' of food.
Some of the sites from which grain and bones have been found are the following:

(a) North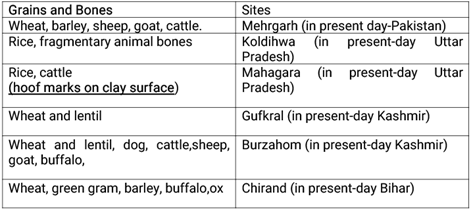 (b) South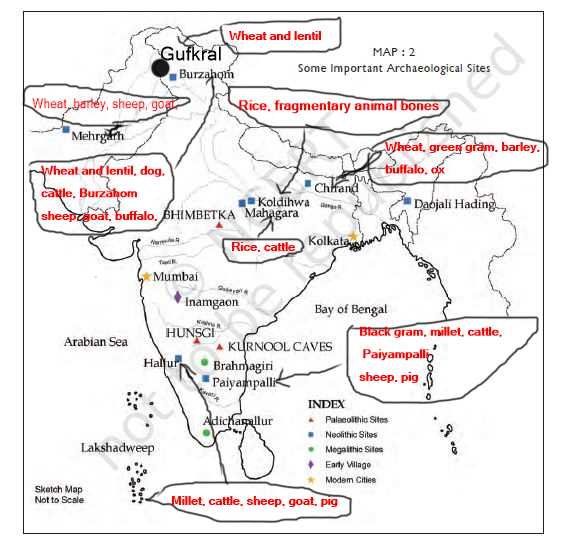 Towards a settled life
Archaeologists have found traces of huts or houses at some sites which shows that people have a stable life.
Neolithic age:
(a) Stone tools have been found from many sites. Many of these are different from the earlier Palaeolithic tools and that is why they are called Neolithic.
(b) These include tools that were polished to give a fine cutting edge, and mortars and pestles.
(c) Mortars and pestles are used for grinding grain even today.
(d) Earthen pots were used for decoration and for storing things.
(e) People also began weaving cloth, using different kinds of materials.
Example: cotton.

New stone tools & Polished jar
Neolithic sites And Features:
(a) Burzahom (in present-day Kashmir)
(i) Hut and pit houses were founded.
(ii) Indoor and outdoor cooking.
(iii) Stone tools of different sizes, polished and to give a fine cutting edge.
(iv) Earthen pot cooking, storing, decorative designs on it.
(v) Also got evidence of agriculture growth and weaving clothes.
(b) Mehrgarh (in present day-Pakistan)
(i) It is fertile plain around the bolan pass.
(ii) We can identify village development because of barley, wheat grown and sheep, goat reared.
(iii) Excavated in stratified manner. After hundreds of years surface rise and led to formation of mound.


Layers of mound
(1) Early layer → Animal bone. Example: Deer, Pig.

(2) Later layer → Sheep, Goat.

(3) Deep layer → Cattle Bones.
(iv) Square or rectangular houses: Each house had four or more compartments, some of which may have been used for storage.


(v) Burial sites: the dead person was buried with goats, which were probably meant to serve as food in the next world.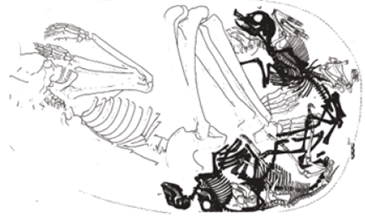 Dead man with Goat
(c) Daojali Hading:
(i) Located near Brahmaputra valley. Close to route leading China and Myanmar.
(ii) Stone tools, mortar, pestles and agricultural evidence have been found.
(iii) Stone like jadeite (not available locally) may have been brought from china.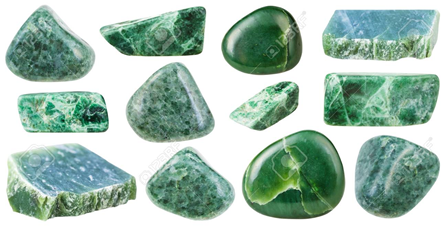 Jadeite stones
Note:
In TURKEY neolithic site CATAL HUYUK
(a) Established trade with
(i) Lint from Syria,
(ii) Cowries from the Red Sea,
(iii) Shells from the Mediterranean Sea — and used in the settlement.