Air
We cannot see air, but we can feel it when it moves. Moving air is called wind. When wind moves gently, it is called breeze. Sometimes wind blows very strongly. Strong winds accompanied with rain and thunder cause storms. Storms are harmful and can uproot trees and damage buildings.
What Does Air Contain?
Air is a mixture different gases. Apart from these; air also contains water vapour and dust particles. Sometimes air also contains smoke and germs.
Gases
Air is a mixture of gases such as nitrogen, oxygen, carbon dioxide and other gases. All living things need oxygen to live. Carbon dioxide is used by plants to prepare food. Nitrogen is important for the growth of plants.
Water vapour
Have you ever seen wet clothes hung out to dry on a clothesline? What happens to them after a while? They dry up. Where does the water from the clothes vanish?
The heat of the sun changes the water into water vapour. This vapour gets mixed with the air around. Hence, air contains water vapour.
Dust particles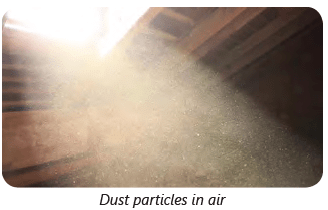 If you carefully observe a beam of light entering a dark room, you will see small particles floating in the light. These are dust particles. Thus, air also contains dust particles.
Smoke and germs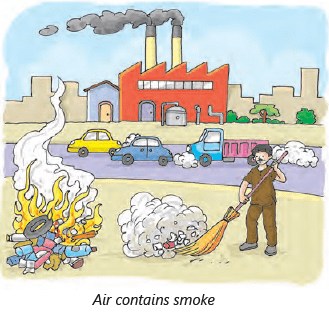 When we burn something, it gives out smoke. Vehicles also give out smoke. All this smoke gets mixed with the air. When we sneeze or cough, we release germs into the air. Thus, air also contains smoke and germs.

Uses of Air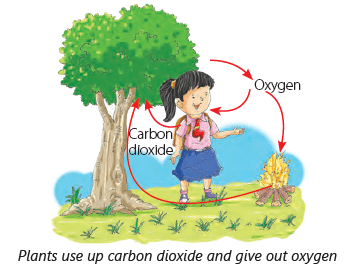 All living things need oxygen gas present in air to breathe.
Plants need air to make food.
Oxygen helps in burning. Things do not burn in the absence of air.
Air is used to fill tyres and balloons.
Air helps birds fly.
Air also helps kites fly and ships sail.
Wind helps to run windmills. Windmills are used to pump water and generate electricity.

Air is needed for burning.
Water
Water is essential for the survival of all living things. Plants, animals and human beings need water. Around 71% of the earth's surface is covered with water. Due to the presence of water, the Earth looks blue from the space. It is due to this reason that the Earth is often referred to as the blue planet.
Sources Of Water
The main sources of water are:
Rain is one of the major sources of water.
Rain helps in filling up oceans, seas, lakes and ponds on earth's surface. We also call water in these water bodies as surface water. Ice melting from the glaciers also feeds the rivers and seas.
Water is also present deep under the ground. This underground water can be drawn through wells and tube wells.
Water is also present in food. Milk, watermelon, cucumber, tomatoes and potatoes all contain water. Even our body contains large amount of water.
Sources of Water in Different States
Things around us can be found in three forms or state. They are solid, liquid, and gas. Water in a substance that can be found in all three states.
Water in liquid state: Oceans, seas, rivers, lakes, ponds and streams are the sources of liquid water. The water we drink is in liquid state. Liquids flow.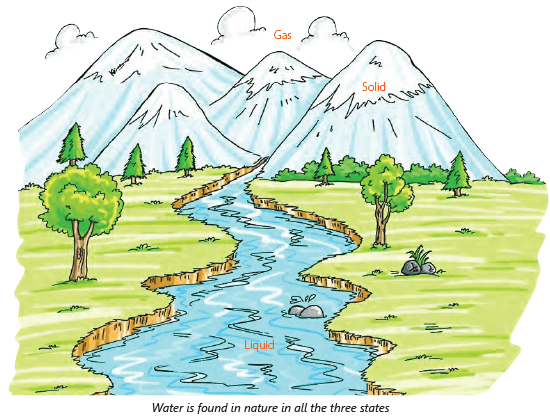 Water in solid state: Glaciers in the mountains like Himalayas in the cold regions. The ice cubes in your refrigerator is in the solid state. We can hold solid in our hand.
Water in gaseous state: Water vapour in the air. The steam which comes out of the boiling water, cooking food is in the gaseous state. Gas spreads in the available space.
Uses of water
1. All living things need water for drinking. We can sur vive without food for a few days but not without water.
2. Plants need water to make food. Without water they will wilt and die.
3. Animals like fish, whales, crabs and other aquatic animals live in water. They use the oxygen dissolved in water for breathing.
4. We need water for bathing and keeping ourselves clean.
5. We use water to clean our houses, cars, clothes etc.
6. Water is needed in fields for growing crops.
7. Water is used for cooking.
8. Flowing water is used to generate electricity.
9. Water is used in factories to make various things.
Saving Water
We should use water carefully. The earth has limited potable water. Potable water is the water which is safe to drink. The water from rivers, lakes and wells has to be cleaned to remove the harmful impurities, to make it potable. The water present in the oceans and seas cannot be used for drinking. It contains salts and minerals.
Let us learn some of the ways by which we can save water from wastage.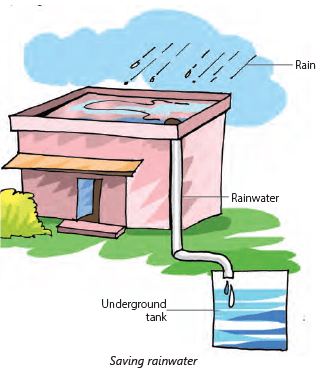 1. We should not keep the tap running while brushing our teeth.
2. We should use water in a bucket while bathing or washing clothes.
3. If we are using showers while bathing, we should take short showers.
4. We should not use a hose pipe while cleaning bicycles, cars or two wheelers.
5. We should repair all leaking taps.
6. We can use the water in which fruits and vegetables have been washed to water plants.
7. Saving rainwater is one way of saving water. Rainwater falling on the roof of a building normally flows down the drains and is not used. This water can be stored into an underground tank.