How are Animals in the World Classified?
There are thousands of animals in this world. They can be divided or classified into two main categories.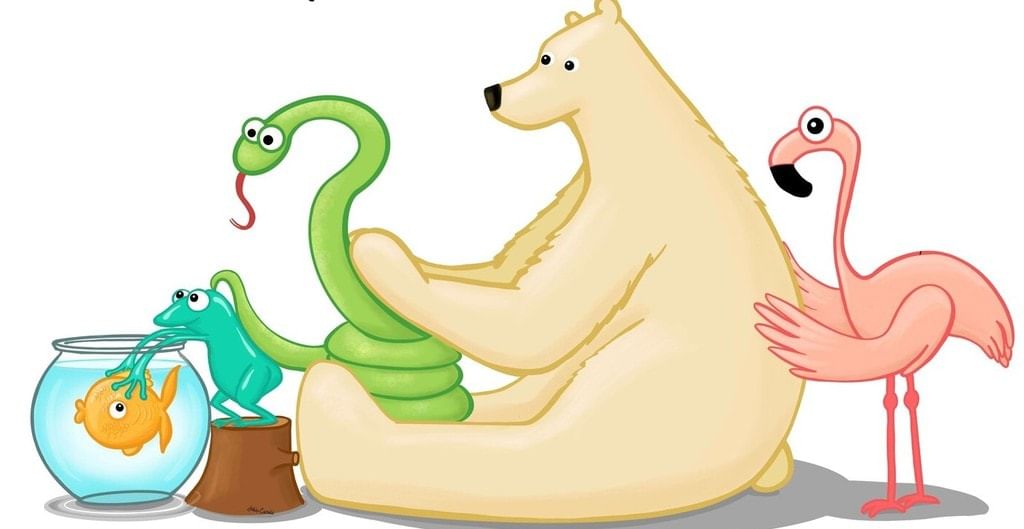 Animals with backbone
Animals without backbones: Some animals like amoeba, jellyfish, earthworms, roundworms, snails, insects, lobsters, and starfish do not have backbones.
Animals with backbone: Fish, amphibians, reptiles, birds, and mammals are animals that have a backbone or spinal column to support their body.
1. Animals without Backbones — Insects
Most animals found on earth do not possess a spinal column. Insects are the largest group of animals. They do not have a backbone. All insects lay eggs.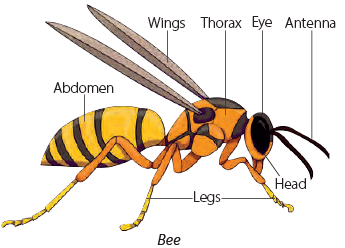 The body of an insect is divided into three parts – head, thorax, or the middle part, and abdomen, or the end part.
Insects have two antennae or feelers which help them to sense things around them. They also have highly developed senses of smell and taste.
Insects move with the help of their six legs. Ants and cockroaches can only crawl.
Butterflies and mosquitoes have wings to fly. Grasshoppers use their hindlimbs to hop and wings to fly.

Insects such as butterflies have a long hollow tube in their mouth. They use it to suck the nectar in the same way as you use a straw for drinking cold drinks.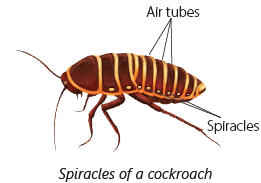 Insects have holes on their bodies called spiracles which help them to breathe. Air enters through the spiracles and passes into a network of air tubes that run across the whole body of the insect.
Question for Chapter Notes: Animals: Feeding Habits
Try yourself:Grasshopper gets energy:
2. Animals With Backbones
Animals with backbones include mammals, birds, reptiles, amphibians, and fish. Animals that have a backbone are called vertebrates. Vertebrates make up just 3 per cent of all known animal species.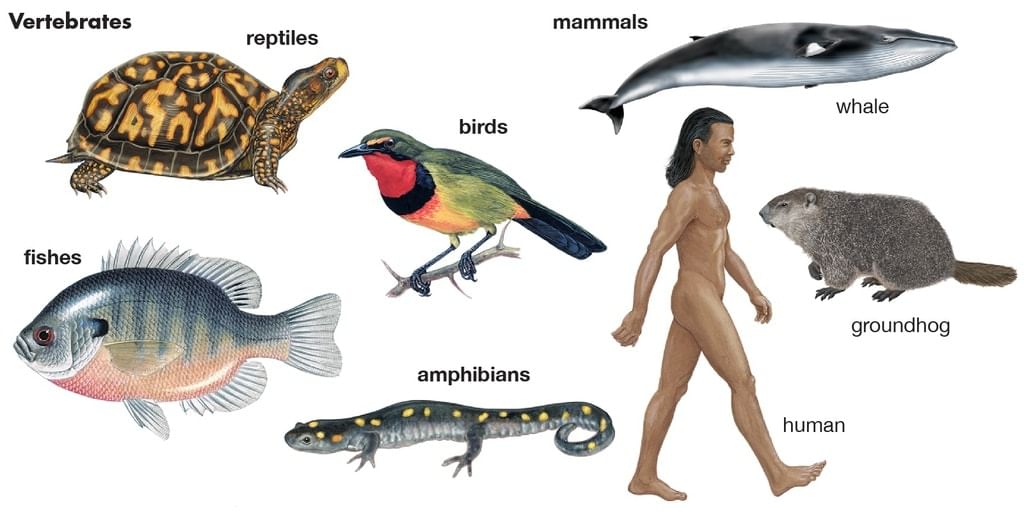 Fish: This is the second-largest group of animals. They are found in fresh water and seawater. Their body is covered with scales.
Amphibians: These are animals that live on both land and water. Frogs, toads, and salamanders are amphibians. They have moist skin.
Reptiles: Snakes, crocodiles, lizards, and tortoises are reptiles. The bodies of reptiles are covered with scales. Some reptiles live on land while others live on both land and water.
Birds: They form the third largest group of animals. Sparrows, parrots, pigeons, eagles, and owls are birds. They have feathers and wings.
Mammals: They form the fourth largest group of animals. Cows, tigers, lions, elephants, and human beings are mammals. The bodies of mammals are covered with hair or fur.

What are the Characteristics of Animals?
1. Animals Move from Place to Place
Fish: Fish live in water and swim with the help of their fins and tail.
Amphibians: Frogs have webbed feet to swim but they also have hindlimbs to jump on land.
Reptiles: Reptiles such as lizards and crocodiles have limbs to move. Snakes do not have limbs. They have strong muscles and scales or plates on the underside of their bodies that help them to move.

Birds: Birds have wings instead of arms, which help them to fly. Their bodies are covered with feathers. Birds have thin and hollow bones which make their bodies light. Their bodies are shaped like airplanes. This helps them easily cut through the air. They use their feet to hop and move. Ducks have webbed feet that help them to swim. Penguins, kiwi, and ostrich are birds that cannot fly. They use their feet to walk and run.

Mammals: Most mammals have four limbs. The front two limbs are called forelimbs and the two limbs at the back are called hindlimbs. Mammals can run, hop or walk. Some use their limbs to swim or burrow. Whales and dolphins, though living in water, are mammals.
Humans are a higher form of animals. They can use their feet to balance and stand erect. Their legs help to walk. Each hand helps to hold things as their hands have four fingers and a thumb to form grip.
2. Animals Eat Plants or Other Animals
Fish: Some fish only feed on plants. They are herbivorous. Some fish feed only on animals such as smaller fish and worms. They are carnivorous. Fish that eat both plants and animals are called omnivorous. Fish may also feed on decomposing plant and animal matter.
Amphibians: Amphibians, such as frogs, eat small insects which they catch by shooting out their long sticky tongue.

Large snakes capture and eat big animals like deer and pigs. Smaller snakes eat insects, mice, birds, eggs, frogs, and small mammals. Snake do not chew their food. They swallow their food as a whole. Reptiles such as lizards and chameleons eat insects which they trap with their long, sticky tongues.
Birds: Birds, such as eagles, eat the flesh of animals. Other birds, like sparrows, eat fruit, seeds, and grain. Birds do not have teeth. Their beaks help them to eat. They use their claws to catch food and also to protect themselves. Birds have different types of claws and beaks which are suitable for their eating habits.

Mammals: Cows, horses, deer, rabbits, and giraffes are herbivores and only eat plants. Tigers, lions, wolves, and snakes only eat the flesh of other animals. They are carnivores. Bears, crows, and humans are omnivores as they eat plants as well as the flesh of other animals.

Question for Chapter Notes: Animals: Feeding Habits
Try yourself:Omnivores are the animals that eat:
3. Animals Breathe through Lungs, Gills, or Air Hole
Fish have special organs called gills which help them to breathe underwater. Amphibians breathe on land with the help of their lungs. In water, they breathe through their skin.

Reptiles and birds breathe with the help of their lungs.

Mammals that live on land breathe with their lungs. Mammals such as whales and dolphins, which live in water, also have lungs. They come to the surface of the water to inhale fresh air and exhale the stale air in the water through nostrils called blowholes.
4. Animals have Sense Organs
Sense organs connect us to the world outside.
Most fish have good eyesight and a sense of taste. They can feel vibrations in the water which helps them to find food and know about danger.
Frogs have large eyes which allow them to see to the sides and behind without moving. They can also feel vibrations through the water.

Snakes have poor eyesight. They use their tongue to smell their surroundings.
Birds can see much better than human beings. This helps them find food easily and know about approaching danger.
Human beings have five sense organs – eyes, ears, nose, tongue, and skin. The eyes help us to see. Ears help us to hear and also maintain our balance. We breathe and smell through the nose.
The tongue allows us to taste food and helps us to speak. There are tiny sensory structures on the tongue called taste buds which help us to distinguish the different tastes – sweet, sour, salty, and bitter. The skin helps us to feel the heat, cold, and pain.
5. Animals Reproduce by Laying Eggs or Giving Birth to Young Ones
Fish reproduce by laying eggs in water. They lay thousands of eggs because some eggs and baby fishes that hatch out of them are eaten by other fishes.
Amphibians also lay their eggs in water. The eggs hatch to give birth to baby frogs called tadpoles. These live in water till they grow into frogs. They have gills that help them breathe in water.
Reptiles reproduce by laying their eggs on land. When the eggs hatch, the mother picks the babies in her mouth and carries them to the water.
Birds produce young ones by laying eggs in their nest. The mother bird lays eggs and keeps them warm until the young ones hatch.

Mammals do not lay eggs. They give birth to their young ones. The mother produces milk to feed her babies. They guard their babies and keep them clean. They look after them until they are old enough to look after themselves.
The duckbilled platypus and spiny anteater are the only two mammals that lay eggs. Their young ones hatch from eggs.


In Brief
1. Animals are divided into two main categories—those with backbones and those without backbones.
2. Insects are the largest group of animals. They have no backbone. They fly, hop or crawl, breathe through spiracles and lay eggs.
3. Fish, amphibians, reptiles, birds, and mammals possess a backbone.
4. Animals move differently---fish swim, frogs swim and hop, snakes slither, birds fly and mammals walk on four legs.
5. Animals may be herbivores, carnivores and omnivores. They have different ways of capturing and eating food.
6. Fish breathe through gills; amphibians breathe through lungs and skin; reptiles, birds, and mammals breathe through lungs. Dolphins have blowholes.
7. Some animals have antennae to feel, some can feel vibrations in water, some have sense organs like eyes, ears, nose, tongue, and skin.
8. Animals reproduce by laying eggs or giving birth to young ones.