Class-X
Time: 120 Minutes
M.M: 40
General Instructions:
Read the following instructions very carefully and strictly follow them:
The Question Paper contains THREE sections- READING, WRITING & GRAMMAR and LITERATURE.
Attempt questions based on specific instructions for each part.
Section - A
I. Read the passage given below : [5 Marks]
THE ROAD TO SUCCESS
The Road to success is not straight; there is a curve called failure, a loop called confusion, speed bumps called friends, caution–lights called family, and you will have flats called jobs. But, if you have a spark called determination, an engine called perseverance, insurance called faith, and a driver called God, you will eventually make it to a place called success!
In spite of all our planning and preparation, unexpected challenges are certain to arise. The bumps in the road will be unavoidable, but you'll never get to your destination if you aren't willing to drive over them. The difference between a disaster and triumph lies in whether or not you're prepared and willing to weather the storm. If you're ready, those bumps will become the stepping-stones.
The key thing to realise is that working harder is the same as working smarter. How do you work smarter? You just need to have the right skills. People want improved circumstances and better life without an improved self. They want victory without paying the price or making efforts. It really cannot happen without the other. Any improvements that have not been generated by improving yourself are superficial and short-lived. If you want to have a better future, you have to change yourself. Stop worrying about the various challenges that will come your way. Just believe in yourself and use them as stepping-stones.
"Success" is getting whatever you want out of life without violating the rights of others." It is not an accident. Success is the result of our attitude and our attitude is a choice. Hence success is a matter of choice and not chance.
Today success represents a holistic and positive attitude to life. Attitude is everything. Success is not restricted within some kind of brick and mortar premises. It assumes the individuality of a complete act executed with perfection; material achievements do not define life. We don't remember sports stars for the products they endorse but the spirit of achievement that they represent. In the abundance of positive attitude, lie the grandeur of a truly rewarding rich life.
Success can be measured from two standpoints—the external and the internal. Externally it is the measure of a job well done and the recognition. Internally it is the feeling of achievement and wholeness derived from the completion of a task or fulfilment of desire.
Based on your understanding of the passage, answer ANY FIVE questions from the six given below.
Q.1. What qualities lead one to the place called success ?

One's determination, faith and perseverance lead one to the place child success.
Q.2. What is the mantra to change bumps into stepping stones?
The only mantra to do so is to realize that working harder is the same as working smarter.
Q.3. What is success today according to the passage?
Success represents a holistic and positive attitude to life. It is not restricted to the four walls of any premises.
Q.4. The difference between a disaster and triumph lies __________.
Whether or not you are prepared and willing to weather the storm.
Q.5. How can one have a better future?
One can have a better future by changing oneself.
Q.6. Pick the synonym of 'surplus' as given in paragraph.
Abundance.
II. Read the following passage carefully: [5 Marks]
Even as the number of recorded COVID deaths crossed a million on Monday, medical professionals called for balance in the treatment of COVID and non-COVID cases pointing to the fact that every year cardiovascular diseases kill more than 17 million, cancers over 9.5 million and chronic respiratory diseases almost four million. According to the medical journal Lancet's report Global Burden of Diseases, there are at least 15 different diseases that kill more than a million people every year.

While the swine flue pandemic in 2009 is estimated to have killed about half a million in one year, the 1918 Spanish flu is estimated to have killed about 50 million.
However, COVID-19 stretched the capacity of health systems as no other pandemic in recent history, as an extraordinary number of patients required hospitalised care and came in at unexpected pace. A good section of these needed prolonged critical care. With the virus being highly infectious, large numbers are affected in a short time. Just 5-6% of total case becoming critically ill has meant a huge burden on the health system.
As health systems geared up for COVID, most other health services were suspended. Referring to a survey across several countries, that showed regular health services were hit in most countries due to COVID, WHO Director General said that many who needed treatment for diseases like cancer, heart ailments and diabetes were not getting the required attention.
A professor at AIMS, Delhi said, "We have about three to four patients of stroke or heart attack who are brought dead to the hospital every day. The only difference is that COVID deaths are being counted and these are not."
A modelling study published in the Lancet Global Health suggested that, worldwide, one in five people were at an increased risk of severe COVID-19 should they become infected, mostly as a result of underlying non-communicable diseases.
Unfortunately, hospital systems are designed for average patient loads, not epidemics, stated a paper on hospital capacity and operations during COVID-19, published in the Journal of the American Medical Association. It added that most hospitals prided themselves on minimising empty beds, but this could result in their being ill-equipped for an increase in cases. The pandemic brought into focus the slackness in a system — under-utilized capacities and capabilities both physical and human, which could be put to use in a crisis.
With health systems operating at more than maximum capacity, a Lancet editorial warned that "healthcare workers, unlike ventilators or wards cannot be urgently manufactured or run at 100% occupancy for long periods."
On the basis of your understanding of the passage, answer ANY FIVE questions from the six given below.
Q.1. What concern was shown by medical professionals?
The concern shown up by medical professional was that not enough attention was being paid to non-covid cases with the rise of covid patients.
Q.2. How did COVID-19 affect the health systems?
COVID-19 stretched the capacity of health systems as an extraordinary number of patients required hospitalised care and that too prolonged critical case.
Q.3. Which disease is the world's biggest killer after cardiovascular diseases?
Cancers are the biggest killers after cardiovascular diseases.
Q.4. How many people were killed due to diabetes mellitus in 2017?
As many as 1.4 million people were killed due to Diabetes milletus in 2017.
Q.5. What was brought into focus by the pandemic?
The pandemic brought into focus the slackness in a system – under utilized capacities and capabilities whether it was physical or human and which could be put to use in a crisis.
Q.6. The phrase 'geared up' in para 4 means ___________.
get ready
Section - B
III. Attempt ANY ONE from (i) and (ii). [5 Marks]
Q.1. Study the concept chart from the self-help magazine section of a monthly publication.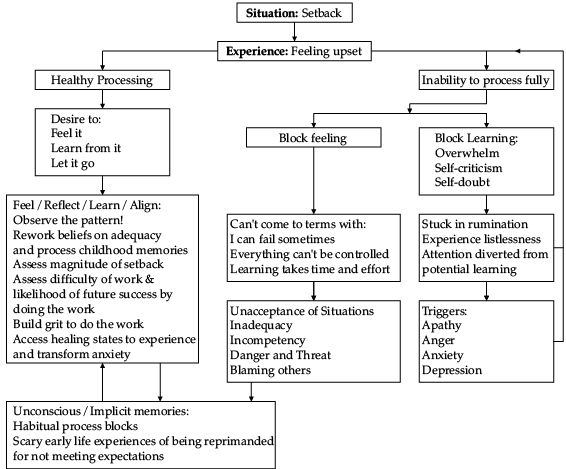 Write a paragraph in not more than 120 words, analysing the listed responses to the situation when one faces setbacks.
Detailed Answer:
Setbacks
Setbacks often leave one with a feeling of disappointment and sometimes even worse. The given concept chart displays two ways to handle setbacks, for the better or for the worse — healthy and unhealthy.
Healthy processing helps one learn from and let go the emotions inside. One should believe in oneself. In all of your jobs, expect that you will do well at your job. Your coworkers enjoy working with people with a 'can-do' attitude. Think about what you learned or gained from each new situation. An optimistic way of seeing a setback processes the ability to feel, reflect, learn and align.
On the contrary, inability to process leads to a block, self-criticism and self-doubt often times, we tend to wait for the setback to pass before we can move on. Very few times do we actually take up the deal with the failure head on. Acknowledging it and taking proactive mental and physical action to minimize the effect is what 'handing' a failure gracefully really means.
Hence, responding to setbacks the positive way is empowering as it leads to success.
Q.2. You are Samina Zaveri, Class X, Vadodara, Gujarat. You come across the following information on a local library's notice board.



You wish to participate but require more information. Write a letter to Teen-Toggle Games Pvt. Ltd. in about 120 words, enquiring about rules, scholarship details and deadlines. Also enquire about specifications for solo or group entries.
Detailed Answer:
53-B, Ring Road
Vadodara
Gujarat
January 12, 20XX
The Manager,
Teen Toggle Games Pvt. Ltd.
307, Satya Building
Coloba, Mumbai
Subject : Enquiry regarding Board Game Competition
Dear Sir
Referring to the information flashed on the library's notice board, I want to state that I wish to participate in the Board Game Competition. So, I require some more information regarding the same kindly provide the details of the following :

Rules of the competition for all the rounds
Scholarship details
Type of entry – solo or group entries
Mode of conduction – online or offline
Consolation Prizes [if any]

Kindly specify the deadline too. So that I can register myself before the last date of the competition.
Thanking you in anticipation.
Yours faithfully,
Samina Zaveri
(IV) The following paragraph has not been edited. There is one error in each line. Identify the error and write its correction against the correct blank number. Remember to underline the correction. The first one has been done for you.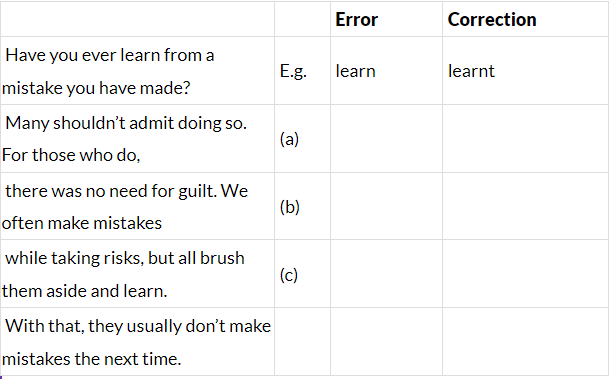 (V) Read the conversation between a teacher and student and complete the passage that follows.


The biology teacher had instructed Sameer to draw the diagram of a bacterial cell and asked him .....(a)..... a blank sheet. Sameer respectfully answered that he had drawn the diagram but .....(b)..... to the naked eye.
(a) why he had submitted
(b) he/ the teacher couldn't see it because it is not visible

Section - C
(VI) Answer ANY SIX questions in 30-40 words each. (Marks 2 × 6 = 12)
Q.1. Pranjol buried his head in his detective book while Rajvir was eager to look at the beautiful scenery during the train journey. Why was there a difference in their attitude?
Pranjol belonged to Assam. He was used to the scenic beauty of Assam since his childhood where as Rajvir was amazed to see huge fields full of green plantations. He was enjoying such natural beauty for the first time as he lived in Delhi.
Q.2. 'Amanda is alone but not lonely in the world she envisions.' Justify the statement with reference to any one image she pictures in her mind.
Amanda feels that she is being constantly pressurised in being a well-behaved girl as per her mother's demand. She wants to be alone and enjoy being herself. She wants to roam around in the streets alone and pattern the dust with her bare feet. She finds silence 'golden' and freedom sweet. Hence, she is not lonely in her own company.
Q.3. How did Sinclair Lewis suffer during the training period?
During his training period, Sinclair Lewis was sent to dirty and shadowy corners of the city to server summons. Sometimes he was beaten up by the larger and more confident ones, whom he would go to seek out.
Q.4. Why does the poet want to "turn and live" with animals?
Animals are satisfied and self-contained. They have better values than those of the humans. The poet finds animals more comfortable than humans.

Detailed Answer :
The poet Walt Whitman says that he can identify himself better with the animals, for their qualities of serenity and calm composure. So he intends turning towards them, away from his human companions. He feels that animals have better values than humans.
Q.5. What legends are associated with the origin of tea?
A Chinese legend is that once a few leaves of the twigs burning under the pot fell into the water and gave a delicious flavour. It is said that they were tea leaves. According to the Indian legend, Bodhi dharma cut off his eyelids because he felt sleepy during meditation. Ten tea plants which grew out of the eyelids, when boiled in water and drunk, banished his sleep.
Q.6. Why was Madame Loisel shocked at the end of the story?
Madame Loisel, who had borrowed a necklace from Madame Forestier to wear at the minister 's ball, had lost it by the time she was back home. Both her husband and she herself could not find it and decided to replace it with a new one. This cost them thirty six thousand francs and ten years of toil and suffering. At the end of the story, she was shocked to know from Madame Forestier that her necklace (diamond one) was fake and did not cost over five hundred francs.
Q.7. Richard's mother was his companion and spent a lot of time with him. A parent should try to be a companion to a child. Justify.
Yes, Richard's mother was his true friend who helped him in all steps of life to become the world's greatest scientist. It is necessary to be a friend to a child than be parents. As a friend, we can understand his problems better that he is facing because we have also gone through all this in our teenage years.
(VII) Answer ANY TWO of the following in about 120 words each. (Marks 4 × 2 = 8)
Q.1. "The life of mortals in this world is troubled and brief and combined with pain .......... ." With this statement of the Buddha, find out the moral value that Kisa Gotami learnt after the death of her child.
When Kisa's only son had died, she went to Buddha. Being plunged into deep grief, first she went to every neighbour, asking for medicine for her dead son. She had lost all her senses and forgot that no medicine could bring back the dead. Then she went to Buddha for making her son alive. Buddha asked her to bring some mustard seeds from a house where no death had occurred. But she couldn't find such a house. Buddha made her realise that death is common to all. One must accept the truth and should have farsightedness. Weeping and grieving over the death of near and dear ones cannot bring peace of mind. Blessed is the person who overcomes sorrow. She learnt that a person who remains composed after the death of his kinsmen obtains peace of mind.
Q.2. What really hurt the feelings of the narrator in the story, "The Hack Driver "?
The narrator was really fed up of his job. As he hated his work, he thought about running away to his own hometown and become a lawyer right away. He was always under the impression that the country people were honest, simple and helpful. Such impression made him gullible because he was easily befooled by the hack driver who was himself Oliver Lutkins. He took him around the village chasing himself. He not only charged him money for the 'service' but also subjected him to immense ridicule of his village folk and his mother. He felt like a fool who was easily coaxed into believing that Lutkins was someone else; whereas Lutkins was with him the whole day.

He felt really shameful of his act and realised that he should have done his homework more carefully about finding out the details of Oliver Lutkins before hand.
Q.3. Custard though mocked for his cowardice, displayed courage and was the one who saved the day in the end.
Pick a character from any of the units (lessons/poems) in First Flight, who displayed similar characteristics, like Custard and overcame a troubling issue?
What similarities and differences do you find between the character and Custard?
Custard, the dragon is portrayed as a timid dragon. He is also a humble dragon, pure in character. He never boasted about his bravery. Courage can be measured at the time of serious situation. And custard proved that he was the most courageous among all by not running away from the danger.

According to me, the similar characteristics, like Custard can be seen in Bholi. She was sent to the village school by chance but it turned out to be transformational for her. The school education and her interaction with her teacher transformed her into a self sufficient girl. Her teacher's encouragement and affection gave her a new hope and new life. She became a sharp, outspoken and fearless girl who knew how to stand for her rights.
Hence, both Custard and Bholi overcame troubling issues courageously.