Class-X
Time: 120 Minutes
M.M: 40
General Instructions:
Read the following instructions very carefully and strictly follow them:
All questions are compulsory.
The question paper has three sections and 15 questions.
Section–A has 7 questions of 2 marks each; Section–B has 6 questions of 3 marks each; and Section–C has 2 case based questions of 4 marks each.
Internal choices have been provided in some questions. A student has to attempt only one of the alternatives in such questions.
Section - A
Q.1. The table shows the electronic structures of four elements.


(a) Identify which element(s) will form covalent bonds with carbon.
(b) "Carbon reacts with an element in the above table to form several compounds." Give suitable reason.
(a) P and R

(b) Carbon has a valency of four or tetravalency & catenation
Q.2. The diagram below shows part of the periodic table.
(a) Which elements would react together to form covalent compounds?
(b) Between the two elements W and Z, which will have a bigger atomic radius? Why?

(a) Y and Z
(b) W has bigger atomic radius.
Reason:
Down the group, number of shells increases.
Q.3. (a) Trace the path a male gamete takes to fertilise a female gamete after being released from the penis.
(b) State the number of sets of chromosomes present in a zygote.
(a) Male gamete (sperm) travels in the female reproductive tract after being released. The path which it takes to fertilise the female gamete (egg) is vagina, uterus, fallopian tube where it fuses with the egg cell resulting in the formation of a zygote (Alternative: labelled figure of human female reproductive system indicating the passage of sperm from vagina to uterus and then to fallopian tube for fertilisation, resulting in the formation of a zygote.)
(b) Zygote has 2 sets of chromosomes.
Q.4. Rajesh observed a patch of greenish black powdery mass on a stale piece of bread.
(a) Name the organism responsible for this and its specific mode of asexual reproduction.
(b) Name its vegetative and reproductive parts.
(a) The greenish black powdery mass on a stale piece of bread is due to bread mould (Rhizopus) which reproduces by spore formation.
(b) Hyphae or thread like structures are the vegetative part and tiny blob like structures or sporangia are the reproductive parts.
Q.5. Mustard was growing in two fields- A and B, while field A produced brown coloured seeds, field B produced yellow coloured seeds.
It was observed that in field A, the off springs showed only the parental trait for consecutive generations, whereas in field B, majority of the off springs showed a variation in the progeny.
What are the probable reasons for these?
OR
In an asexually reproducing species, if a trait X exists in 5% of a population and trait Y exists in 70% of the same population, which of the two traits is likely to have arisen earlier? Give reason.
In field A, the reason for parental trait in consecutive generations of the off springs is self-pollination.
In field B, variation is seen because of recombination of genes as cross-pollination is taking place.
OR
Trait Y, which exists in 70% (larger fraction) of the population, is likely to have arisen earlier because in asexual reproduction, identical, copies of DNA are produced and variations do not occur.
New traits come in the population due to sudden mutation and then are inherited. 70 % of the population with trait Y is likely to have been replicating that trait for a longer period, than 5 % of population with trait X.
Q.6. A simple motor is made in a school laboratory. A coil of wire is mounted on an axle between the poles of a horseshoe magnet, as illustrated.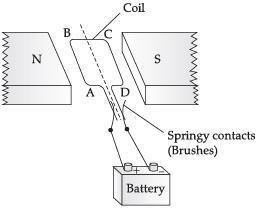 In the example above, coil ABCD is horizontal and the battery is connected as shown.
(a) For this position, state the direction of the force on the arm AB.
(b) Why does the current in the arm BC not contribute to the turning force on the coil?
OR
A circuit contains a battery, a variable resistor and a solenoid. The figure below shows the magnetic field pattern produced by the current in the solenoid.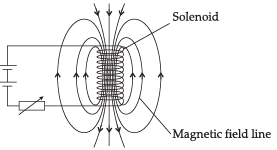 (a) State how the magnetic field pattern indicates regions, where the magnetic field is stronger.
(b) What happens to the magnetic field when the current in the circuit is reversed?
(a) downwards
(b) Because BC is in the same direction as the direction of field lines. Force is minimum when the direction of current in the conductor is the same as that of the magnetic field. BC will not contribute as the force on this part of the coil will be cancelled by the force on DA.
OR
(a) Relative closeness of field lines indicates the strength of magnetic field. Since, field lines are crowded around the ends of the solenoid, hence these are the regions of strongest magnetism.
(b) The direction of the field will also be reversed.
Q.7. DDT was sprayed in a lake to regulate breeding of mosquitoes. How would it affect the trophic levels in the following food chain associated with a lake? Justify your answer.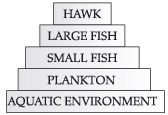 OR
In the following food chain, vertical arrows indicate the energy lost to the environment and horizontal arrows indicate the energy transferred to the next trophic level. Which one of the three vertical arrows (A, C and E) and which one of the two horizontal arrows (B and D) will represent more energy transfer? Give reason for your answer.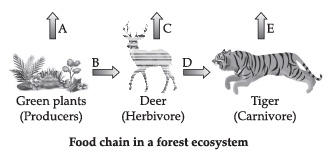 DDT being a non-biodegradable pesticide will enter the food chain from the first trophic level i.e., Plankton.
Non-biodegradable pesticides accumulate progressively at each trophic level. This phenomenon is known as biological magnification.
Hawk will have the highest level of pesticide.

OR

A will represent more energy transfer as compared to C and E.
B will represent more energy transfer as compared to D.
When green plants are eaten by primary consumers, a great amount of energy is lost as heat in to the environment, some amount goes into digestion and in doing work and the rest goes towards growth and reproduction. An average of 10% of the food eaten is made available for the next level of consumers. This loss of energy takes place at every trophic level.
(Alternatively accept- In accordance with 10% law of transfer of energy in a food chain, only 10% of energy available at one trophic level is transferred to the next trophic level.)
Section - B
Q.8. The following table shows the position of five elements A, B, C, D and E in the modern periodic table.



Answer the following giving reasons:
(a) Which element is a metal with valency two?
(b) Which element is least reactive?
(c) Out of D and E, which element has a smaller atomic radius?
(a) D, as it is on the left side of the table in group 2.
(b) C, as it is in the group 18/ Noble gas.
(c) E, as we move from left to right across a period, atomic radius decreases.
Q.9. (a) List two reasons for carbon forming a large number of compounds.
(b) Give reason why the carbon compounds-
(i) Generally, have low melting and boiling points.
(ii) Do not conduct electricity in molten state.
OR
While studying the molecular formula of an aldehyde and Ketone, Vivaan observed that an aldehyde as well as a ketone can be represented by the same molecular formula, say C3H6O.
(a) Write their structures and name them.
(b) What is the scientific relation between the two.
(a) The two characteristic properties of the carbon element which leads to the formation of a very large number of organic compounds are: Catenation and Tetravalency.
(b) (i) Inter-molecular forces of attraction are weak; hence they have low melting and boiling points.
(ii) Covalent compounds do not form ions/ charged particles and therefore do not conduct electricity.
OR
(a)


(b) Isomers (same molecular formula but different structural formula/different functional group).
Q.10. In a Biology class, teacher explained to the students that in humans, there is a 50% probability of the birth of a boy and 50 % probability that a girl will be born. Justify the statement on the basis of the mechanism of sex-determination in human beings.
In humans, every cell contains 23 pairs of chromosomes or 46 chromosomes. Out of these 46 chromosomes, 44 chromosomes are autosomes and 2 are sex chromosomes. The female gametes have a perfect pair of sex chromosomes (XX) while male gametes have a mismatched pair (XY). There is a 50% probability of male to produce (22 + X) and a 50% of probability to produce (22 + Y) type of chromosomes. Therefore, there is a 50% probability of the birth of a boy and a 50% probability that a girl will be born.

Q.11. Calculate the total cost of running the following electrical devices in the month of September, if the rate of 1 unit of electricity is ₹6.00.
(a) Electric heater of 1000 W for 5 hours daily.
(b) Electric refrigerator of 400 W for 10 hours daily.
Electric heater
P1 = 1000W = (1000/1000) kW,
t1 = 5h
Electric refrigerator P2 = 400W = (400/1000)kW
t2 = 10h
No. of days, n = 30 days
E1 = P1 × t1 × n
= 1 kW × 5h × 30
= 150 kWh
E2 = P2 × t2 × n
= (400/1000) kW x 10h x 30 = 120kWh
= 120 kWh
∴ Total energy = (150 + 120) kWh = 270 kWh
∴Total cost = 270 × 6 = ₹1620
Q.12. Find the effective resistance between the points A and B in the network shown in the figure.


OR
Study the following electric circuit and calculate the potential difference across a 5Ω resistor.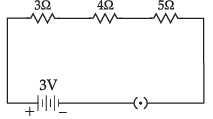 Resistance R1 = 2Ω, R2 = 6Ω, and R3 = 3Ω
Here, R2 and R3 are in parallel combination,


R4 = 2Ω
Resistance R1 and R4 are in series combination,
Equivalent resistance Req = R1 + R4 = 2 + 2 = 4Ω
OR
Since, V = IR
From the figure R = 3 + 4 + 5 = 12Ω
I = 3/12 = (1/4)A
Potential difference across 5Ω resistor:
V' = IR'
V = (1/4) x 5
= (5/4)V or 1.25V
Q.13. Your mother always thought that fruit juices are very healthy for everyone. One day she reads in the newspaper, that some brands of fruit juices in the market have been found to contain certain levels of pesticides in them. She got worried as pesticides are injurious to our health.
(a) How would you explain to your mother about fruit juices getting contaminated with pesticides?
(b) It is said that, when these harmful pesticides enter our body as well as in the bodies of other organisms, they get accumulated and beyond a limit may cause harm and damage our organs. Name the phenomenon and write about it.
(a) (i) Farmers generally use pesticides on fruit crops to protect their crops from plant diseases.
However, pesticides may contaminate the fruit and therefore fruit juices also become contaminated.
(ii) Using contaminated ground water for irrigation also makes the fruits infected with contaminants.
(b) Biological magnification or biomagnification is the accumulation of chemicals in the individuals of higher trophic level. Chemicals are nonbiodegradable and their concentration increases at each trophic level. Humans, being at the top of food chain, also get higher concentration of these harmful chemicals resulting into various health problems.
Section - C
This section has 02 case-based questions (14 and 15). Each case is followed by 03 sub-questions (a), (b) and (c). Parts (a) and (b) are compulsory. However, an internal choice has been provided in part (c).
Q.14. Sahil conducted an experiment on pea plants. In which, pure breeding pea plants with green pods were crossed with pure breeding pea plants with yellow pods. He found that all the F1 generation plants have green pods. Then he interbred the plants from the F1 generation.
(a) What colour of pods will be observed in F2 generation plants? Explain with a cross.
(b) The genotype for the colour of the pod of a pea plant is Gg. What conclusion may be drawn from this?
(c) Why Sahil selected garden peas as his experimental material? Give two reasons.
OR
List two contrasting visible characters of garden pea Mendel used for his experiment.
(a) In pea plants, the gene for green coloured pod (G) is dominant over the gene for yellow coloured pod (g). During a cross between pure breeding pea plants with green pods (GG) and pure breeding pea plants with yellow pods (gg), in F2 generation, plants with green and yellow coloured pods will be obtained in the ratio of 3:1 respectively.

(b) Genotype is the genetic composition of an organism, i.e., the combination of alleles it possesses. Every character in an organism is controlled by a gene that has at least two alleles that lie on the two homologous chromosomes at the same locus. These alleles may represent the same (homozygous, e.g., GG for green coloured pod) or alternate expressions (heterozygous, e.g., Gg) of the same character. Thus, if genotype for the colour of the pod is Gg, this means there are at least two different alleles for the gene for the colour of pod one is G and the other is g.
(c) Sahil selected pea plants because:

Peas have many visible characters like tall/dwarf plants, round/ wrinkled seeds, green/yellow pod etc.
Peas have bisexual flowers and therefore they undergo natural self-pollination. Thus, pea plants produce offspring with same traits generation after generation.
In pea plants, cross-pollination can be easily achieved by emasculation in which the stamen of the flower is removed without affecting the pistil.

OR
(d) Contrasting characters:
Round/wrinkled seeds
Tall/short plants
White/purple flowers
Green/yellow seeds (Or any other).
Q.15. In a school laboratory, Shikha was performing an activity. She started with an insulted copper wire that she wrapped as coil of many turns such that it takes the shape of a cylinder. Then, she drew the following diagram based on her observations. Answer the following questions.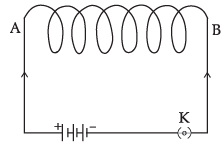 (a) Write the special name given to the coil AB which has many circular turns of insulated copper wire.
(b) State the nature of magnetic field inside AB when a current is passed through it.
(c) Redraw the diagram and sketch the pattern of magnetic field lines through and around AB.
OR
List two factors on which the strength of the magnetic field produced by AB depends.
(a) Solenoid.
(b) Uniform magnetic field.
(c)


OR
Strength of magnetic field depends upon the following.
(i) Magnitude of current flowing through it.
(ii) Number of turns of the coil.