What are Confusing Words?
Words that sound alike or nearly alike but have different meanings often cause writers and readers trouble.
No questions in the CAT examination simply ask for meanings of words.
However, when you're reading a block of text and reach this word where you are not quite sure of the meaning, that is enough to cause a problem.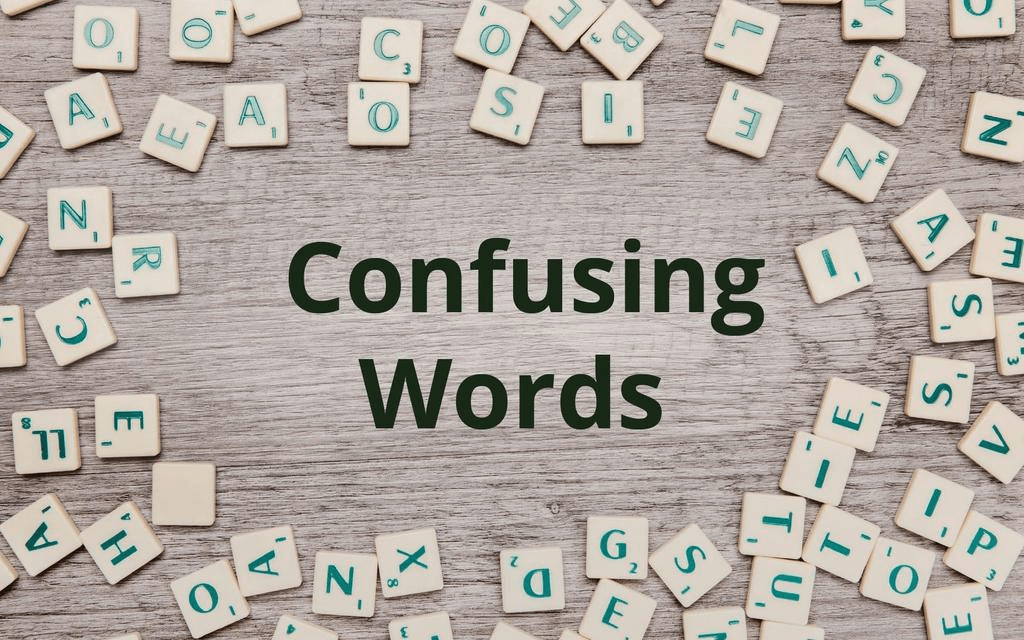 The best thing to do next is read these words, understand the subtle difference, use it in a sentence or two and you're good to go!
List of Confusing Words

Try yourself:Eric and Kane put _________ phones on the teacher's desk.​
Averse: having a strong dislike of or opposition to something.
Adverse: preventing success or development; harmful; unfavorable.
Example: I am averse to traveling in such adverse weather conditions.
Lot: a large number or amount; a great deal.
Allot: give or apportion (something) to someone.
Example: We need a lot of money. She will allot funds according to need.
All ready: completely prepared.
Already: something that has happened before a certain time.
Example: As soon as I put my coat on, I'll be all ready.
What do you mean you'd rather stay home? I've already got my coat on.
Allude: suggest or call attention to indirectly; hint at.
Elude: escape from or avoid (a danger, enemy, or pursuer), typically in a skillful or cunning way.
Example: She would often allude to her childhood when she would elude her brothers in a game of hide-and-seek.
Alternate: every other; every second.
Alternative: (of one or more things) available as another possibility or choice.
Example: In mock debates, we used alternate sides, taking alternative positions.
Alleviate: make (suffering, deficiency, or a problem) less severe.
Ameliorate: make (something bad or unsatisfactory) better.
Example: Government agencies tried to alleviate the effects of depression. They attempted to ameliorate the job-seeking process.
Amiable: having or displaying a friendly and pleasant manner.
Amicable: characterized by friendliness and absence of discord.
Example: With amiable people like the Duritz, it's not unusual to have an amicable divorce.
Amount: a quantity of something, especially the total of a thing or things in number, size, value, or extent.
Number: an arithmetical value, expressed by a word, symbol, or figure, representing a particular quantity and used in counting and making calculations.
Example: The amount of money you make in a year depends on the number of deals you close.
Annoyed: slightly angry; irritated.
Aggravated: (of an offense) made more serious by attendant circumstances.
Example: I am annoyed that my bad back seems to be aggravated by tension.
Anticipate: regard as probable; expect or predict.
Expect: regard (something) as likely to happen.
Example: It's difficult to anticipate things that one doesn't expect.
Lawyer: a person who practices or studies law
Attorney: a person, typically a lawyer, appointed to act for another in business or legal matters.
Example: She wanted a good lawyer, so I told her about my attorney.
while: a period of time.
awhile: adverb that means "for a while"
Example: I'll be back in a while. Can you wait awhile?
Try yourself:Can you ask Nick and Lyle if ____________ coming on the trip tomorrow?
Anecdote: a short amusing or interesting story about a real incident or person.
Antidote: a medicine taken or given to counteract a particular poison.
Example: He told a funny anecdote about mixing up his soda with the snake-bite antidote.
Eager: strongly wanting to do or have something.
Anxious: feeling or showing worry, nervousness, or unease about something with an uncertain outcome.
Example: The eager audience awaited the anxious, sweating performer.
Bad: of poor quality or a low standard.
Badly: in an unsatisfactory, inadequate, or unsuccessful way.
Example: She felt bad about his behaving badly at the conference.
Bizarre: very strange or unusual.
Bazaar: a market in a Middle Eastern country.
Example: She was afraid of him after seeing his bizarre behaviour at the county's annual bazaar.
Besides: in addition to; apart from.
Beside: at the side of; next to.
Example: Besides my unphotogenic aunt and uncle, there were fourteen other people standing beside the train station.
Between: at, into, or across the space separating (two objects or regions).
Among: situated more or less centrally in relation to (several other things).
Example: He has divided the money between Carlos and his daughter. He has divided the rest of his property among his three brothers.
Backwards: (of a movement) in the direction of one's back.
Backward: directed behind or to the rear.
Example: The economy seemed to slide backward thanks to the backward government policies.
Brought: take or go with (someone or something) to a place.
Bought: obtain in exchange for payment.
Example: She brought with her all the Diwali gifts she had recently bought.
Break: separate or cause to separate into pieces as a result of a blow, shock, or strain.
Brake: a device for slowing or stopping a moving vehicle, typically by applying pressure to the wheels.
Example: He will break the car brake if he keeps pushing on it like that.
Breech: the part of a cannon behind the bore.
Breach: an act of breaking or failing to observe a law, agreement, or code of conduct.
Example: The breech of the gun slammed into his shoulder as he fired into the breach of the wall.
Breath: the air taken into or expelled from the lungs.
Breathe: take air into the lungs and then expel it, especially as a regular physiological process.
Example: Every breath counts, so breathe deeply now.
Bridal: of or concerning a bride or a newly married couple.
Bridle: the headgear used to control a horse, consisting of buckled straps to which a bit and reins are attached.
Example: The entire bridal party took a long and pleasant walk along the bridle path.
Try yourself:It looks like ________________________ going to rain outside.
Canvas: a strong, coarse unbleached cloth made from hemp, flax, or similar yarn, used to make items such as sails and tents and as a surface for oil painting.
Canvass: solicit votes from (electors or members).
Example: We wore canvas shoes while we tried to canvass the entire neighborhood.
Capitol: a building that houses a government's legislative branch
Capital: A state's capital is the primary city and usually the seat of the state government. Capital is also a financial word referring to the money a person or business has, not including debts.
Example: We went over to the capitol to see the legislators. The capital of India is New Delhi. The state is running out of capital.
Carat: a unit of weight for precious stones and pearls, equivalent to 200 milligrams.
Carrot: a tapering orange-coloured root eaten as a vegetable.
Example: If a bride wants a diamond that weighs a carat, it will cost more than a carrot.
Censured: express severe disapproval of (someone or something), especially in a formal statement.
Censor: an official who examines books, films, news, etc. that are about to be published and suppresses any parts that are considered obscene, politically unacceptable, or a threat to security.
Example: The Board of Education has censured the high-school principal because he tried to censor the student newspaper.
Certitude: absolute certainty or conviction that something is the case.
Certainty: firm conviction that something is the case.
Example: The Pilgrims acted with certitude on matters of faith; others required more certainty.
Childlike: (of an adult) having the good qualities, such as innocence, associated with a child.
Childish: of, like, or appropriate to a child.
Example: Some people thought he was sweet and childlike in his innocence, but I always thought he was boorish and childish.
Choose: pick out (someone or something) as being the best or most appropriate of two or more alternatives.
Chose: Past tense of choose.
Example: I chose the red balloon. Now you choose a balloon of another color.
Climactic: acting as a culmination or resolution to a series of events; forming an exciting climax.
Climatic: relating to climate.
Example: The climactic moment of a lightning storm, nature's most dramatic climatic event is a deafening roll of thunder.
Clothes: items worn to cover the body.
Cloths: woven or felted fabric made from wool, cotton, or a similar fiber.
Example: His clothes were made of cloths of many different colors.
Coarse: rough or harsh in texture.
Course: route or path which a ship or aircraft follows. It denotes the way in which something evolves gradually.
Example: In this project, the students have to make something unique out of coarse material.
The strategy is the best course of action, to reach the desired end.
Complimented: politely congratulate or praise (someone) for something.
Complemented: contribute extra features to (someone or something) in such a way as to improve or emphasize their qualities.
Example: She complimented her sister on the way her scarf complemented her blouse.
Comprises: consist of; be made up of.
Constituted: be (a part) of a whole.
Example: Connecticut comprises eight counties. The system is constituted of twelve separate campuses.
Try yourself:Is this ___ book or is it my book?
Confident: feeling or showing confidence in oneself or one's abilities or qualities.
Confidant: a person with whom one shares a secret or private matter, trusting them not to repeat it to others.
Example: She was confident that her confidant had given her good information.
Confounded: used for emphasis, especially to express anger or annoyance.
Compounded: makeup (a composite whole); constitute.
Example: Confounded by the instructor's ambiguous instructions, the students' problems were compounded by a lack of time to do the exam.
Denotes: be a sign of; indicate.
Connotes: (of a word) imply or suggest (an idea or feeling) in addition to the literal or primary meaning.
Example: The word guts denotes one's viscera, one's intestines, but it also connotes determination, fortitude, persistence, and courage.
Dinning: (of a word) imply or suggest (an idea or feeling) in addition to the literal or primary meaning.
Dining: the activity of eating a meal.
Example: There was a terrible dinning noise coming from the dining room.
Dissent: the holding or expression of opinions at variance with those commonly or officially held.
Decent: conforming with generally accepted standards of respectable or moral behaviour.
Descent: an act of moving downwards, dropping, or falling.
Example: Since no one offered any dissent, we waited for a decent interval and then began our descent to the lower floors.
Conscious: aware of and responding to one's surroundings.
Conscience: a person's moral sense of right and wrong, viewed as acting as a guide to one's behaviour.
Example: She didn't seem conscious of the fact that her husband has no conscience.
Contemptuous: showing contempt; scornful.
Contemptible: deserving contempt; despicable.
Example: Her family grew contemptuous of her contemptible behavior.
Continual: forming a sequence in which the same action or event is repeated frequently.
Continuous: forming an unbroken whole; without interruption.
Example: These continual changes in our weather seem to be related to our continuous emissions of carbon monoxide into the atmosphere.
Convince: cause (someone) to believe firmly in the truth of something.
Persuade: induce (someone) to do something through reasoning or argument.
Example: My mother will convince him that she is right. She will persuade him to keep working.
Counsel: advice, especially that given formally.
Council: an advisory, deliberative, or administrative body of people formally constituted and meeting regularly.
Example: She decided to seek the counsel of the Dorm Council.
Credible: able to be believed; convincing.
Creditable: (of performance, effort, or action) deserving public acknowledgment and praise but not necessarily outstanding or successful.
Example: It didn't seem credible that such a creditable person would say such a horrible thing.
Criterion: a principle or standard by which something may be judged or decided.
Criteria: plural form of criterion.
Example: At first, there was only one criterion for becoming Chairperson, but then, suddenly, the Party imposed several other criteria.
Try yourself: I do not like it when Mrs. Lahari gives us _______ of homework.