CONSTRUCTION OF TANGENTS TO A CIRC LE
(a) If a point lies inside a circle, we can not draw any tangent to the circle i.e., No tangent is possible in this case.


If a point lies on the circle, then there is only one tangent to the circle at this point. The tangent to a circle at any point is perpendicular to the radius passing through the point of contact.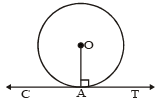 Two tangents are drawn from an external point to circle, they are equal in length.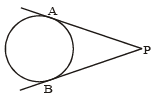 Construction 4 : Draw a circle of radius 5 cm. From a point 8 cm away from its centre, construct pair of tangents to the circle measure their lengths.
Sol.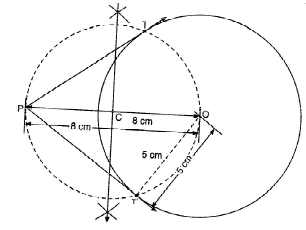 Steps of Construction :
Step-1 : Draw a circle with radius 5 cm whose centre is O.
Step-2 : Take a point P at a distance 8 cm from the centre O such that OP = 8cm.
Step-3 : Bisect the line segment OP at the point C such that OC =CP =4 cm.
Step-4 : Taking C as centre and OC as arc, draw a dotted circle to intersect the given circle at the points T and T'.
Step-5 : Join PT and PT'
PT and PT' are the required pair of tangents to the circle.
By measurement we obtain PT = PT' = 6.2 cm

Construction 5. Construct a tangent to a circle of radius 4 cm from a point on the concentric circle of radius 6 cm and measure its length. Also verify the measurement by actual calculation.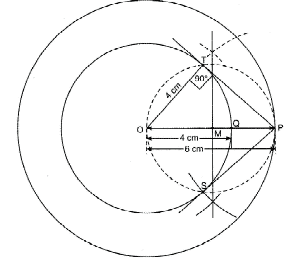 Steps of Construction:
Step 1 : Draw two concentric circles with centre O and radii 4 cm and 6 cm such that OP = 6 cm, OQ = 4 cm.
Step 2 : Join OP and bisect it at M. i.e. M is the mid-point of OP i.e. OM = PM = 3 cm.
Step 3 : Taking M as centre with OM as radius draw a circle intersecting the smaller circle in two points namely T and S.
Step 4 : Join PT and PS.
PT and PS are the required tangents from a point P to the smaller circle, whose radius is 4 cm. By measurement: PT = 4.5 cm.
Verification. OTP is right D at T