Cyclic structure of Fructose:
Like glucose, fructose also has a cyclic structure. Since fructose contains a keto group, it forms an intramolecular hemiketal. In the hemiketal formation, C5-OH of the fructose combines with C2-keto group. As a result, C2 becomes chiral and thus has two possible arrangements of CH2OH and OH group around it. Thus,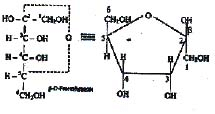 D-fructose exists in two stereoisomeric forms, i.e., α-D-fructopyranose and β-D fructopyranose. However in the combined state (such as sucrose), fructose exists in furanose form as shown below: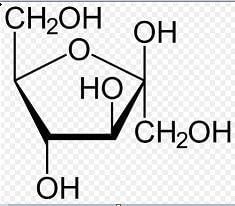 Hydroylsis of Sucrose: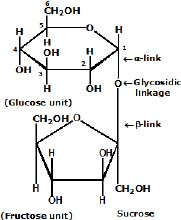 (Invert Sugar or Invertose). Hydrolysis of sucrose with hot dilute acid yields D-glucose and D-fructose.
C12H22O11 + H2O

C6H12O6 + C6H12O6
Sucrose D( )-glucose D(-)-Fructose
[a]D = 66.5° [a]D = 53° [a]D = -92°
Invert Sugar:
[a]D = ( 53°) - (-92°) = 39°
Surose is dextrorotatory, its specific rotation being 66.5%, D-glucose is also dextrorotatory, [a]D = 53°, but D-fructose has a large negative rotation, [a]D = -92°. Since D-fructose has a greater specific rotation than D-glucose, the resulting mixture is laevorotatory. Because of this the hydrolysis of sucrose is known as the inversion of sucrose, and the equimolecular mixture of glucose and fructose is known as invert sugar or invertose.