Diazonium Salt:
When primary aromatic amine is treated with nitrous acid in a cool solution, product is unstable compound, known as diazonium salt.

This reaction is known as diazotisation. Diazonium salts have the structure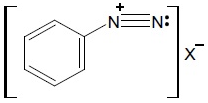 Mechanism of diazotisation:

Illustration:
Why ice cold condition have to be maintained in the diazotisation reaction of aniline?
Ans: Because benzene diazonium chloride is unstable and decomposes to give phenol above 278k.