NEET : Doc: Dinoflagellates, Red Tides NEET Notes | EduRev
The document Doc: Dinoflagellates, Red Tides NEET Notes | EduRev is a part of the
NEET
Course
Biology Class 11
.
All you need of NEET at this link:
NEET
Dinoflagellates - Protists With Two Flagella

Note: It is also classified in protozoa due to its holozoic mode of nutrition and colourless body.
Their cell wall is divided into plates, which is made up of cellulose. Therefore the covering of Dinoflagellates is seen as armoured, so they are called as Armoured algae.
Dinoflagellates have two flagella - one is transverse and other is longitudinal. Dinoflagellates show a special type of movement which is like whorling whips. Therefore they are also known as "Whorling whips".

Dinoflagellates are haploid. Histone proteins are absent. Due to this reason Dinoflagellates are called as Mesokaryote.
They have an osmoregulatory structure called 'Pusule'.
Dinoflagellates are yellow-brown or golden brown in colour. These colour of Dinoflagellates are due to the pigments present in them - Chlorophyll 'a', Chlorophyll 'c' and Xanthophylls (Dinoxanthin & Didinoxanthin).
They have starch as stored food.

➤ Reproduction
Mainly Asexual – Binary fission.
Sexual reproduction is very rare. Dinoflagellates are haploid, so they reproduce by Zygotic meiosis. Therefore, their life cycle is haplontic type.
Note: Exceptionally Noctiluca is diploid so it reproduce by gametic meiosis, therefore its life cycle is Diplontic type.
➤

Some Information on Dinoflagellates
Maximum Dinoflagellates (Example: Noctiluca, Gonyaulax, Pyrocystis) show 'bioluminescence'. Their protoplasm has photogenic granules. These granules are made up of luciferin protein.

Energy is released by the oxidation of luciferin. This energy is liberated in the form of light during the night. This is known as "bioluminescence. So these dinoflagellates are also known as 'night light'.

Gonyaulax spreads on the surface of seawater, through rapid multiplication due to which the seawater appears red. It is called red tide. It is also responsible for water bloom.

Both Gymnodinium & Gonyaulax are toxic. They secrete toxins, which are known as "saxitoxin". These toxins can cause paralysis in human beings. Humans acquire these toxins through the food chain. These algae also affect marine animals.

Noctiluca is known as 'sea - ghost' because it glows at night.

Dinoflagellates are also called "fire algae" because they appear as glowing light due to bioluminescence. Division - Chrysophyta/Bacillariophyta - DIATOMS.
Diatoms - Golden Algae or Jewels of the Sea
The members of Division - Bacillariophyta are known as Diatoms. Diatoms mean-"Cut into two". This name is based on the cell wall of diatoms, which is divided into two parts. They have Holophytic mode of nutrition because they possess chloroplast.
Examples of Diatoms include Navicula, Cyclotella, Pinnularia.
They are found in different shapes such as circular, rectangular, triangular, elongated and boat-shaped.
The cell wall of diatoms is made up of cellulose in which silica particles are embedded in many places, due to which the cell wall appears to be made up of silica. This silicate cell wall is called "shell" or "frustule".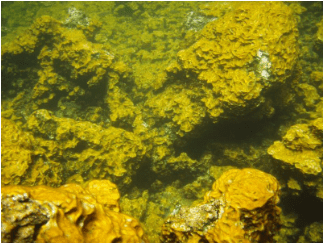 Golden Algae
Their cell wall is made up of two halves, which are arranged like the lids of a soapbox. These half parts are collectively known as theca. The part which is present on the upper side acts as the lid and known as epitheca, and the other basal part is known as hypotheca. The place where the two parts overlap each other is called a girdle.
Note: Their cell wall has silica in very large quantity. Due to this reason, their cell wall is hard. The cell wall does not get destroyed after their death so, at the bottom of the sea, very huge rocks of dead diatoms are formed which are known as "diatomite" or "diatomaceous earth" or "kieselguhr".
The diploid nucleus is present in Diatom.

Diatom

Their cells have chloroplasts, in which pigments are present, Chlorophyll 'a', Chlorophyll 'c', and xanthophyll (fucoxanthin). Due to these pigments, it appears golden coloured.
Stored food: Leucosin (Chrysolaminarian) & fats (Oil).
Movement: They are immotile because flagella are absent. They float on the surface of the water with the help of low molecular weight stored fats.
Mainly asexual: Binary fission.

Sexual reproduction: Very rare - by gametic meiosis.

The zygote formed during sexual reproduction is called as "Auxospore". Auxospore is an asexual structure.
Soundproofing
Filtration of oils and syrups.
Stone polishing.
As "Heat insulator" in steam boilers, i.e. they are used as thermostat because the kieselguhr is a bad conductor of heat.