IMPERFECT COMPETITION-MONOPOLISTIC COMPETITION
Consider the market for soaps and detergents. Among the well known brands on sale are Lux, Vivel, Cinthol, Dettol, Liril, Pears, Lifebuoy Plus, Dove etc. Is this market an example of perfect competition? Since all the soaps are almost similar, one might think that this is an example of perfect competition. But, on a close inspection we find that though these products are technically and functionally similar, each seller produces and sells a product which is different from those of his competitors. For example, whereas Lux is claimed to be a beauty soap, Liril is associated more with freshness. Dettol soap is placed as antiseptic and Dove claims to ensure young smooth skin. The practice of product and service differentiation gives each seller a chance to attract business to himself on some basis other than price. This is the monopolistic part of the market situation. Thus, this market contains features of both the markets discussed earlier – monopoly and perfect competition. In fact, this type of market is more common than pure competition or pure monopoly. The industries in monopolistic competition include clothing, manufacturing and retail trade in large cities. There are many hundreds of grocery shops, shoe stores, stationery shops, restaurants, repair shops, laundries, manufacturers of women's dresses and beauty parlours in a medium sized or large city.
Features of Monopolistic Competition
(i) Large number of sellers: In a monopolistically competitive market, there are large number of independent firms who individually have a small share in the market.
(ii) Product differentiation: In a monopolistic competitive market, the products of different sellers are differentiated on the basis of brands. Because competing products are close substitutes, demand is relatively elastic, but not perfectly elastic as in perfect competition. Firms use size, design, colour, shape, performance, features and distinctive packaging and promotional techniques to make their products different. Such differentiation may be true or fancied. Brands are generally so much advertised that a consumer starts associating the brand with a particular manufacturer and a type of brand loyalty is developed. Product differentiation gives rise to an element of monopoly to the producer over the competing products. Because of absence of perfect substitutability, the producer of an individual brand can raise the price of his product knowing that he will not lose all the customers to other brands. However, since all brands are close substitutes of one another; the seller who increases the price of the product will lose some of his customers to his competitors. Thus, this market is a blend of monopoly and perfect competition.
(iii) Freedom of entry and exit: Barriers to entry are comparatively low and new firms are free to enter the market if they find profit prospects and existing firms are free to quit.
(iv) Non-price competition: In a monopolistically competitive market, firms are often in fierce competition with other firms offering a similar product or service, and therefore try to compete on bases other than price, for example: they indulge in aggressive advertising, product development, better distribution arrangements, efficient after-sales service and so on. A key base of non-price competition is a deliberate policy of product differentiation. Sellers attempt to promote their products not by cutting prices but by incurring high expenditure on publicity and advertisement and other sales promoting techniques. This is because price competition may result in price – wars which may throw a few firms out of market or reduce the profit margins.
Price-output determination under monopolistic competition: Equilibrium of a firm
In a monopolistically competitive market, since the product is differentiated, each firm does not face a perfectly elastic demand for its products. Each firm makes independent decisions about price and output. Each firm is a price maker and is in a position to determine the price of its own product. As such, the firm is faced with a downward sloping demand curve for its product. Generally, the less differentiated the product is from its competitors, the more elastic this curve will be.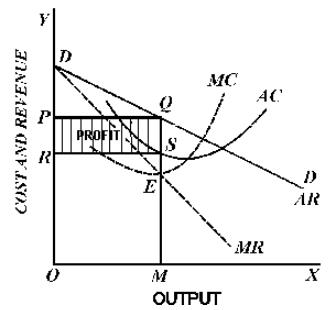 Fig. 29: Short run equilibrium of a firm under monopolistic competition: Supernormal profits
The firm depicted in figure 29 has a downward sloping but flat demand curve for its product. The firm is assumed to have U-shaped short run cost curves
Conditions for the Equilibrium of an individual firm: The conditions for price-output determination and equilibrium of an individual firm may be stated as follows:
(i) MC = MR
(ii) MC curve must cut MR curve from below
Figure 29 shows that MC cuts MR curve at E. At E, the equilibrium price is OP and the equilibrium output is OM. Since per unit cost is SM, per unit supernormal profit (i.e. price - cost) is QS (or PR) and the total supernormal profit is PQSR.
It is also possible that a monopolistically competitive firm may incur losses in the short run. This is shown in fig. 30. The figure shows that per unit cost (HN) is higher than price OT (or KN) of the product of the firm and the loss per unit is KH (HN-KN). The total loss is GHKT.
What about long run equilibrium of the firm? If the firms in a monopolistically competitive industry earn supernormal profits in the short run, there will be an incentive for new firms to enter the industry. As more firms enter, profits per firm will go on decreasing as the total demand for the product will be shared among a larger number of firms. This will happen till all supernormal profits are wiped away and all firms earn only normal profits. Thus, in the long run all firms under monopolistic competition will earn only normal profits.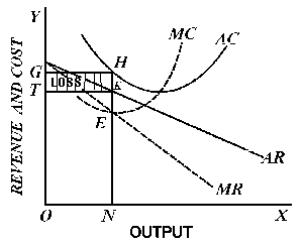 Fig. 30: Short run equilibrium of a firm under Monopolistic Competition – With losses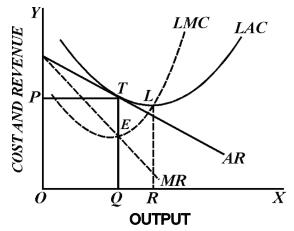 Fig. 31: The long-term equilibrium of a firm in monopolistic competition
Figure 31 shows the long run equilibrium of a firm in a monopolistically competitive market. The average revenue curve touches the average cost curve at point T corresponding to quantity Q and price P. At equilibrium (i.e. MC= MR) supernormal profits are zero, since average revenue equals average costs. All firms are earning zero economic profits or just normal profits.
In case of persisting losses, in the long run, the loss making firms will exit from the market and this will go on till the remaining firms make normal profits only.
It is to be noted that an individual firm which is in equilibrium in the long run, will be operating at levels at which it does not fully realize economies of large scale production. In other words, the plants are not used to optimum capacity. However, any attempt to produce more to secure the advantage of least cost production will be irrational since the price reduction to sell the larger output will exceed the cost reduction made possible. If output is increased up to R in the above figure, we find that average total cost will be greater than average revenue. Thus, a monopolistically competitive firm which is in equilibrium in the long run is at a position where it has excess capacity. That is, it is producing a lower quantity than its full capacity level. The firm in figure 31 could expand its output from Q to R and reduce average costs. But it does not do so because in doing so, the firm would reduce average revenue more than it reduces average costs. It implies that, firms in monopolistic competition are not of optimum size and there exists excess capacity (QR in our example above) of production with each firm.
The following table presents a comparison of the three market forms we have discussed so far:
Table 7 Comparison of Perfect Competition, Monopoly and Monopolistic Competition
| | | |
| --- | --- | --- |
| Perfect Competition | Monopoly | Monopolistic Competition |
| Large number of buyers and large number of firms in the industry | Single seller, no difference between firm and industry | Large number of buyers and large number of firms in the industry |
| Homogenous products which are perfect substitutes | No close substitutes | Differentiated products which are close substitutes, but not perfect substitutes |
| Insignificant market share | Command over the whole market | Each firm is small relative to the market |
| Competition among firms is perfect | Absence of competition | Imperfect competition |
| Complete absence of monopoly | High degree of monopoly power prevails | Some degree of monopoly power due to product differentiation |
| Free entry and exit | Strong barriers to entry | Free entry and exit |
| Price-taker | Price maker | Some control over price |
| Price is equal to marginal cost | Price is higher than marginal cost | Price is higher than marginal cost |
| Price less than other market forms | High equilibrium price | Price is high compared to perfect competition |
| Demand curve is infinitely elastic | Downward sloping and highly inelastic demand curve | Downward sloping and more elastic demand curve |
| MR and AR represented by the same curve | MR starts at the same point as AR, and is twice steep when compared to AR | MR starts at the same point as AR, and is twice steep when compared to AR |
| TR straight line positively sloping through the origin | TR inverted U shaped | TR inverted U shaped |
| | | |
| --- | --- | --- |
| No price discrimination-same price for all units | Can practice price discrimination by selling a product at different prices | Depends on the extent of monopoly power the firm has |
| No supernormal profits in the long run | Supernormal profits both in the short run and long run | No supernormal profits in the long run |
| No selling costs | Generally low selling costs, only for informing the consumers | Due to severe competition, selling costs are vital to persuade buyers |
| Price being given, decides only quantity of output | Decides on both price and output | Decides on both price and output |
| Product is produced at the minimum average cost | Produced at the declining portion of average cost curve | Produced at the declining portion of average cost curve |
| Equilibrium quantity is highest and produced at least cost | Equilibrium quantity less than other market forms | Equilibrium quantity less than optimal, there is excess capacity |
| No consumer exploitation | Consumers can be exploited by charging high prices | Consumers are influenced through price and non price competition |
| Efficient allocation of resources | Inefficient allocation of resource | Inefficient allocation of resource |
| No wastage of resources | Wastage of resource | Huge wastage of resources for advertisements |
| | | |