Ques 1: Which is the most significance aspect of human development?
Ans: Enlarging the range of people's choice is the most significant aspect of human development.

Ques 2: What is key of human development?
Ans: Freedom from hunger, poverty, servitude bondage, ignorance, illiteracy and any other type of domination is the key to human development.

Ques 3: Which state has the lowest female literacy in India?
Ans: Bihar

Ques 4: Name the indicators of human development.
Ans: (I) Health
(ii) life expectancy
(iii) social
(iv) Economic

Ques 5: What is human development why is it necessary?
Ans: Human Development is a process of enlarging the range of people's choices, increasing their opportunities for education, health care income and empowerment and covering the full range of human choices from a sound physical environment to economic social and political freedom.

Ques 6: What is HDI? Which state is on the top in HDI list give one reason of it?
Ans: HDI is the measures the various dimensions of human development.
Kerala is on the top in HDI Reason: - high literacy rate (90.92%)

Ques 7: What relations do you find among population, environment and development.
Ans: Population, Environment and development – development in general and human development in particular is a complex concept used in social sciences. It is complex because for ages it was thought that development is a substantive concept and once it is achieved it will address all the socio – cultural and environmental ills of the society. Though development has brought in significant improved in the quality of life in more than one way but increasing regional disparities, social inequalities, displacement of people, abuse of human rights and undermining human values and environmental degradation have also increased.

Ques 8: What is the concept of development?
Ans: Development means a qualitative change which is always value positive.

Ques 9: 'Increasing freedom is also one of the most effective ways of bringing about development', who put this idea of development?
Ans: Nobel laureate Prof. Amartya Sen.

Ques 10: Explain the abbreviation P.P.P. and what does it really mean.
Ans: Purchasing Power Parity/ Access to resources.

Ques 11: In actual what does the human development index measures.
Ans: ATTAINMENTS in human development.

Ques 12: What is common achievement in the countries with higher human development?
Ans: A lot of investment in the social sector.

Q.13 On what behalf the medium Index Value countries have been rapidly improving their human development scores?
Ans. By adopting more people oriented policies and reducing social investment. Most of these countries have a much higher social diversity than the countries with higher human development scores.

Q.14 Give reasons for declining child sex ratio in India?
Ans. In India, the female sex ratio is declining. The child sex ratio between 0-6 age group is declining. The rate is below 800 female's children per 1000 male children. For this social attitude is responsible. For this scientific method of sex determination are also important males dominate Indian society therefore the health and education is ignored.

Q.15 Which factors have caused spatial variations in the levels of human development among major states in India?
Ans. India ranks 126 among 172 countries as regard H.D.I. on its value India is placed among the moderate group. In Kerala (0.63%) ranks first in India. In other states value of H.D.I. is as follows: - Punjab (0.527), Tamil Nadu (0.531), Maharashtra (0.523) etc. Many social economic and political factors are responsible for these variations: -
1. The literacy rate is high in states with high value of HDI in states of central India like Bihar, M.P., Orissa, the HDI value is low due to low literacy rate.
2. In Maharashtra, Tamil Nadu, Punjab, Haryana value of HDI is high due to economic development. In Assam, Bihar etc. states, HDI value is low due to low economic development.

Q.16 What is human development? What are its indicators?
Ans. Human development is a process of widening people's choices as well as raising the level of wellbeing. Main indicators: - long and healthy life, education and decent standard of living additional indicators include political freedom, guaranteed human rights, self-reliance and self-esteem.

Q.17 Study the world map showing Human development index (HDI) in the world countries and answer the question which follows.
World: Human Development Index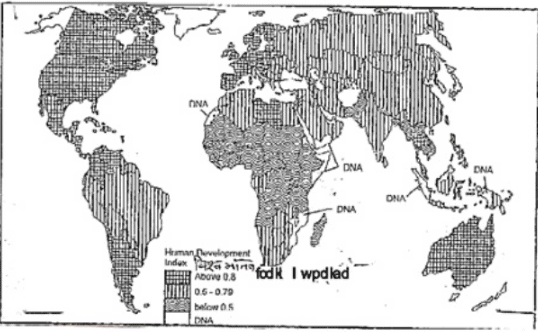 1. Name the two European and two Asian countries having high and medium Human Development Index respectively.
2. Mention the main causes of downward change in human development in the world countries.
3. Mention the main causes of upward change in human development in the world countries.
Ans. 1. High HDI– Norway, Sweden, Finland, Denmark etc.
Medium HDI – India, China, Korea, Brazil etc.
2. Down ward Change-
1. Decrease in life expectancy due to spread of diseases like AIDS/HIV.
2. Suffering from famine like conditions caused by prolong droughts.
3. Static economic growth
4. War and lawlessness
3. Upward Change:-
1. Health program & nutritious food supply.
2. Industrialization and service sector has increased income.
3. Peace, health and welfare program.