Intermolecular forces
Atoms and molecules constitute most of the matter that is around us. Every molecule or an atom exerts a force of attraction or repulsion on the other constituents. This force is known as the intermolecular force.
These forces are responsible for holding together of a substance. Intermolecular forces are of two types: attractive forces and repulsive forces.
The attractive intermolecular forces are also called van Der Waals forces which in honour of a Dutch scientist Johannes Van der Waals. Using these forces Van der Waals describes the deviation of a real gas from the ideal gas law.
The attraction is mainly a result of the electrostatic forces. However, there can be other causes of attraction between two or more constituents of a substance. Therefore we have many types of intermolecular forces as:

Types of intermolecular forces
It is important to be able to recognise whether the molecules in a substance are polar or non-polar because this will determine what type of intermolecular forces there are. This is important in explaining the properties of the substance.

1. Ion-dipole forces
As the name suggests, this type of intermolecular force exists between an ion and a dipole (polar) molecule. You will remember that an ion is a charged atom, and this will be attracted to one of the charged ends of the polar molecule.
A positive ion will be attracted to the negative pole of the polar molecule, while a negative ion will be attracted to the positive pole of the polar molecule. This can be seen when sodium chloride (NaCl) dissolves in water.
The positive sodium ion (Na+) will be attracted to the slightly negative oxygen atoms in the water molecule, while the negative chloride ion (Cl−) is attracted to the slightly positive hydrogen atoms. These intermolecular forces weaken the ionic bonds between the sodium and chloride ions so that the sodium chloride dissolves in the water.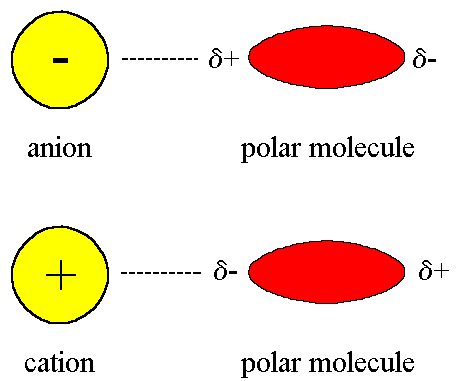 Fig: Ion- dipole forces
This is a simplified diagram to highlight the regions of positive and negative charge. When sodium chloride dissolves in water it can more accurately be shown as: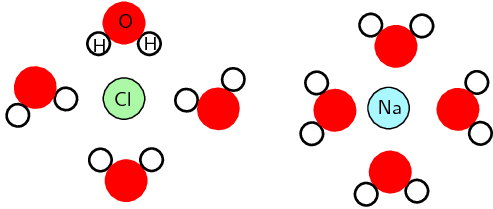 Fig: Region of positive and negative charge when NaCl is dissolved in water

2. Ion-induced-dipole forces
Similar to ion-dipole forces these forces exist between ions and non-polar molecules. The ion induces a dipole in the non-polar molecule leading to a weak, short lived force which holds the compounds together.
These forces are found in haemoglobin (the molecule that carries oxygen around your body). Haemoglobin has Fe2+ ions. Oxygen (O2) is attracted to these ions by ion-induced dipole forces.

3. Dipole-dipole forces
When one dipole molecule comes into contact with another dipole molecule, the positive pole of the one molecule will be attracted to the negative pole of the other, and the molecules will be held together in this way. Examples of materials/substances that are held together by dipole-dipole forces are HCl, SO2 and CH3Cl.
One special case of this is hydrogen bonding.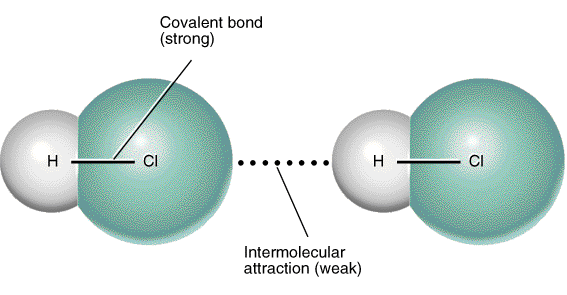 Fig: Dipole- dipole interactions4. Induced dipole forces
These intermolecular forces are also sometimes called "London forces" or "momentary dipole" forces or "dispersion" forces.
We know that while carbon dioxide is a non-polar molecule, we can still freeze it (and we can also freeze all other non-polar substances). This tells us that there must be some kind of attractive force in these kinds of molecules (molecules can only be solids or liquids if there are attractive forces pulling them together). This force is known as an induced dipole force.
In non-polar molecules the electronic charge is usually evenly distributed but it is possible that at a particular moment in time, the electrons might not be evenly distributed (remember that the electrons are always moving in their orbitals). The molecule will have a temporary dipole.
In other words, each end of the molecules has a slight charge, either positive or negative. When this happens, molecules that are next to each other attract each other very weakly. These forces are found in the halogens (e.g. F2 and I2) and in other non-polar molecules such as carbon dioxide and carbon tetrachloride.

All covalent molecules have induced dipole forces. For non-polar covalent molecules these forces are the only intermolecular forces. For polar covalent molecules, dipole-dipole forces are found in addition to the induced dipole forces.
When the noble gases condense, the intermolecular forces that hold the liquid together are induced dipole forces.
5. Dipole-induced-dipole forces
This type of force occurs when a molecule with a dipole induces a dipole in a non-polar molecule. It is similar to an ion-induced dipole force. An example of this type of force is chloroform (CHCl3) in carbon tetrachloride (CCl4).
The following image shows the types of intermolecular forces and the kinds of compounds that lead to those forces.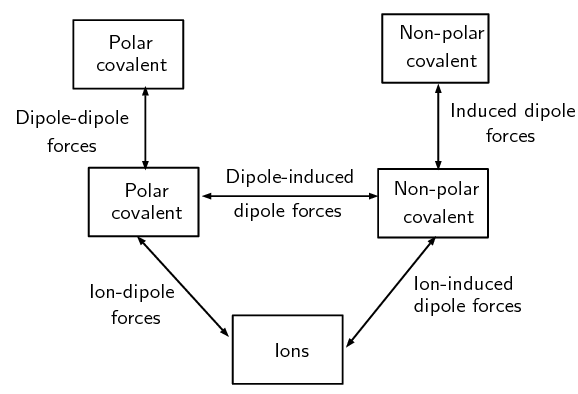 Fig: The types of intermolecular forces. The boxes represent the type of compound while the lines represent the type of force

The last three forces (dipole-dipole forces, dipole-induced dipole forces and induced dipole forces) are sometimes collectively known as van der Waals' forces. We will now look at a special case of dipole-dipole forces in more detail.
Hydrogen bonds
As the name implies, this type of intermolecular bond involves a hydrogen atom. When a molecule contains a hydrogen atom covalently bonded to a highly electronegative atom (
O,N
or
F
) this type of intermolecular force can occur. The highly electronegative atom on one molecule attracts the hydrogen atom on a nearby molecule.
Water molecules for example, are held together by hydrogen bonds between the hydrogen atom of one molecule and the oxygen atom of another (
fig:hydrogen bonds
).
Hydrogen bonds are a relatively strong intermolecular force and are stronger than other dipole-dipole forces. It is important to note however, that hydrogen bonds are weaker than the covalent and ionic bonds that exist between atoms
Do not confuse hydrogen bonds with actual chemical bonds. Hydrogen bonding is an example of a case where a scientist named something believing it to be one thing when in fact it was another. In this case the strength of the hydrogen bonds misled scientists into thinking this was actually a chemical bond, when it is really just an intermolecular force.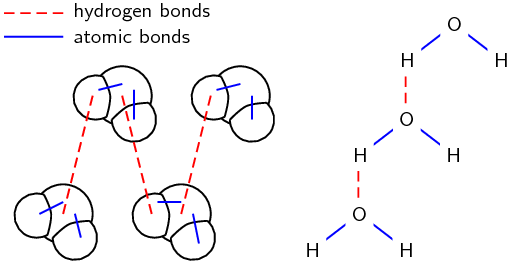 Fig: Two representations showing the hydrogen bonds between water molecules: space-filling model and structural formula Solved Examples
Ques 1: Which intermolecular forces are found in:
i. Hydrogen fluoride (HF)
Ans: Hydrogen fluoride is a polar covalent molecule. (It is linear and not symmetrical.) So the type of intermolecular force is dipole-dipole forces.

ii. Methane (CH4)
Ans: Methane is a non-polar covalent molecule. (It is tetrahedral and symmetrical.) So the type of intermolecular force is induced dipole forces.

iii. Potassium chloride in ammonia (KCl in NH3)
Ans: Potassium chloride is an ionic compound. Ammonia is a polar covalent molecule. (It is trigonal pyramidal and not symmetrical.) So the type of intermolecular force is ion-dipole forces.

iv.Krypton (Kr)
Ans: Krypton is a noble gas. So the type of intermolecular force is induced dipole forces.