Q.1. Enlist the difference between FTP and TELNET. (2 Marks)
Ans: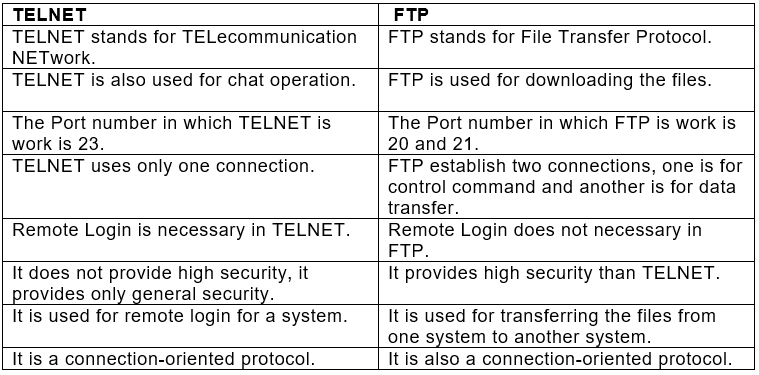 Q.2. What is a network protocol? (2 Marks)
Ans: A network protocol is a set of rules for communication among networked devices. Protocols generally include rules of how and when a device can send or receive the data, how is the sent data packaged, and how it reaches its destination.

Q.3. What is ICMP? (2 Marks)
Ans: ICMP is Internet Control Message Protocol, a network layer protocol used by hosts and gateways to send notifications of packets to the sender. It uses echo test to test whether a destination is reachable. It also handles control and error messages.

Q.4. What is protocol independence? (2 Marks)
Ans: All protocols share the same physical cabling which allows multiple protocols to peacefully coexist over the network. So, common hardware can be used for a variety of protocols. This concept is known as Protocol Independence.

Q.5. Explain Telnet with its advantage. (2 Marks)
Ans: Telnet is a network protocol which allows the user to get connected to other hosts via remote login. Telnet remote login is widely used for file sharing.
One can then easily browse the host's machine and can download or upload files from/to the host. It works on a standard port number-23.
Telnet allows the user to get access to any remote host machine through remote login.
Using this protocol, one can access the remote computer as his/her own computer.
The main advantage of using Telnet is that the user can make changes related to system which is not possible in any other method. All type of resources can be shared.

Q.6. What is the difference between TCP and IP? (2 Marks)
Ans: TCP breaks the data into packets that the network can handle while IP handles the address part and makes sure the packet reaches to the right destination.

Q.7. Differentiate between SSH and Telnet. (2 Marks)
Ans:
SSH offers security mechanisms that protect the users against anyone with malicious intent while Telnet has no security measures.
SSH

uses

encryptions

to

make

it

harder

for

the

other person to sniff the password and other relevant information while in Telnet, the data is encrypted in plain text, including passwords and can be easily sniffed by others.
SSH

uses

public

key

to

authenticate

the

source

of the data while Telnet does not use any authentication.
SSH adds a bit more overhead to the bandwidth compared to Telnet.
Q.8. What is FTP? (2 Marks)
Ans. File Transfer Protocol (FTP) is a standard Internet protocol for transmitting files between computers on the Internet. FTP is commonly used to transfer Web page files from their creator to the computer that acts as their server for everyone on the Internet. It is also commonly used to download programs and other files to your computer from other servers.

Q.9. What is the difference between HTTP and HTTPS? (2 Marks)
Ans. Write any two difference:




Q.10. What are the differences between POP3 and IMAP Mail Server? (2 Marks)
Ans:
IMAP is

a

standard

protocol

for

accessing

e-mail

from

a

local

server.

A

simpler

e-mail

protocol is Post Office Protocol version 3 (POP3), which download mail to the computer and does not maintain the mail on the server.
In IMAP,

e-mails

are

stored

on

the

server,

while

in

POP3, the messages are transferred to the client's computer when they are read.
Q.11. What is SSH? (2 Marks)
Ans: The Secure Shell (SSH) is a protocol for secure remote login from one computer to another. It allows using several alternative options for strong authentication, and protects the communications, security and integrity with strong encryption.

Q.12. Differentiate between SFTP and SCP. (2 Marks)
Ans. The basic difference between SFTP and SCP is SFTP works on interactive mode while SCP works on non-interactive mode. Using SFTP, the user can access remote file system i.e. creating, deleting and listing files whereas, SCP is used only for transferring files.

Q.13. What is SCP? (2 Marks)
Ans: SCP stands for Secure Copy Protocol, which means the user can copy files across SSH connection. That connection will be securely encrypted. It is a very secure way to copy files between computers.

Q.14. What is PPP? (2 Marks)
Ans: PPP (Point to Point Protocol) comes into play when we establish a connection to our ISP (Internet Service Provider) via a modem and we make up two points on the network hence the protocol that is used to get things 'happening' between the two of us is the Point to Point Protocol or the PPP.