The animal kingdom is one of the kingdoms among the Five-Kingdom Scheme of classification proposed by R.H. Whittaker.
What is the Basis of Classification of Animal Kingdom?
Animals are multicellular eukaryotes; do not possess a cell wall or chlorophyll like plants, and share the same mode of nutrition, that is, the heterotrophic mode.
Besides these similarities, they are also related to their cell arrangement, body symmetry, the level of organization, coelom, presence/absence of notochord, etc.
Based on these features, the animal kingdom has been classified into 11 different phyla. The different criteria for animal classification are explained below.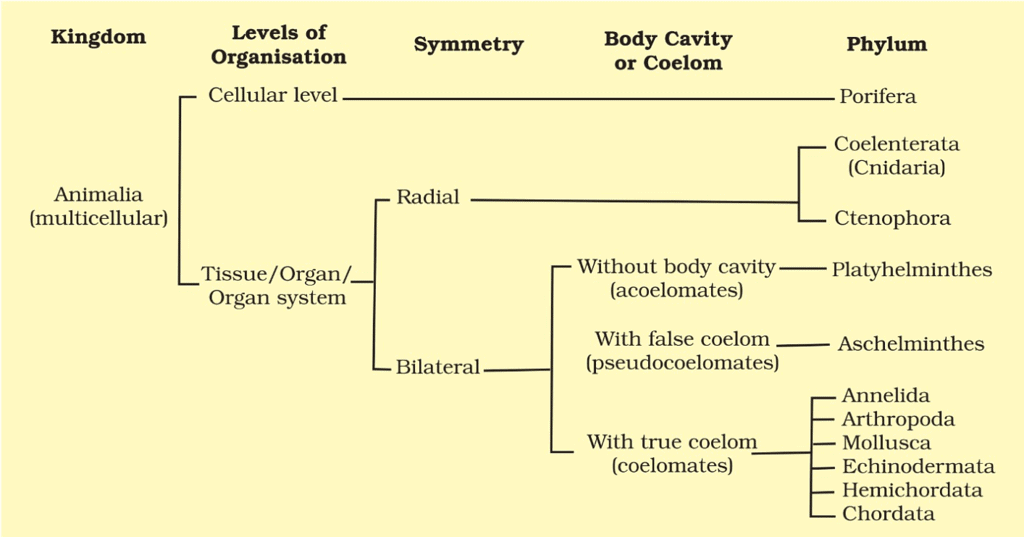 Broad Classification of Animal Kingdom based on common fundamental features
1. Levels of Organization
Though animals are multicellular, the level of organization of cells varies from one animal to another. Here are the different levels of Organization:
Cellular Level of Organization: The cells are arranged as loose aggregates. An example of a Cellular Level of Organization is Sponges.
Tissue Level of Organization: The cells that perform the same function are arranged into tissues. An example of Tissue Level of Organization is Coelenterates.

Organ Level of Organization: The tissues are grouped to form organs. Each organ is specialized for a particular function. An example of an Organ Level of Organization is Platyhelminthes.
Organ system Level of Organization: The organs associate to form some functional systems like Arthropods, Annelids, Chordates, Echinoderms, and Molluscs. An example of an Organ System Level of Organization is the Circulatory System.
2. Patterns of Organ Systems
Digestive System – There are two forms of digestive framework Complete and Incomplete Digestive Framework.

Incomplete Digestive Framework – This form of digestive system has one and only opening to the outside of the body, i.e., a solitary opening serving as both mouth and rear-end. Hence, the digestive system is incomplete.

Complete Digestive Framework – In this form there are two different openings to the outside of the body, a mouth and a rear-end.
Circulatory System – Circulatory framework might be of two sorts

Open Type – In open sort circulatory framework the blood is pumped out of the heart and all the cells and tissues are straightforwardly washed in it. Hence, the circulatory system is open.

Closed Type – In this kind of circulatory framework, the blood flows through a progression of vessels of varying size and diameters. These include the veins, arteries, and capillaries.
3. Body Symmetry
Symmetry is another basis for the classification of animals.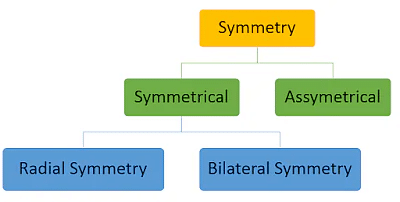 Generally, animals show two types of symmetry:
Bilateral Symmetry: Those organisms falling under the bilateral body symmetry can be divided into two identical left and right halves through only one plane e.g. Annelids, Arthropods, Molluscs, etc.

Bilateral symmetry
Radial Symmetry: Those organisms falling under the radial body symmetry can be divided into two identical halves through any plane passing through the central axis. Examples are Coelenterates, ctenophores, and echinoderms.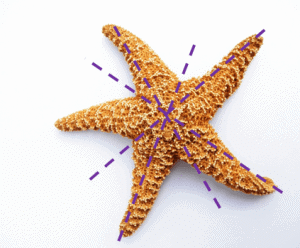 Radial symmetry
Asymmetrical: Those organisms falling under the asymmetrical body symmetry cannot be divided into two halves through a median plane. An example of asymmetrical body symmetry is Sponges.
4. Diploblastic and Triploblastic Organization
All animals develop their tissues, organs and organ system from the cells that form the embryonic layers. Based on the number of embryonic layers, animals are classified into two: diploblastic and triploblastic animals.
Diploblastic animals: In diploblastic animals, the cells form two embryonic layers, i.e., an outer layer- ectoderm and an inner layer – endoderm, e.g. Phylum Coelenterata.
Triploblastic animals: In triploblastic animals, cells are arranged in three embryonic layers- ectoderm, endoderm and a middle layer – mesoderm. Animals belonging to Phyla Platyhelminthes to Chordata have a triploblastic organization.
5. Coelom
Coelom is a key feature for classification. Coelom is a cavity between the body wall and gut wall, lined by mesoderm. Depending on the presence/absence of coelom, animals have been classified into three:

Coelomate: Coelom is present in a coelomate. Animals belonging to phyla Annelida, Mollusca, Arthropoda, Echinodermata, Hemichordata and Chordata are examples of coelomates.
Pseudocoelomate: In pseudocoelomates, mesoderm appears as pouches between the endoderm and ectoderm. But the cavity formed is not lined by mesoderm, e.g. Aschelminthes.
Acoelomate: Coelom is absent in an acoelomate, e.g. Platyhelminthes.
6. Notochord
The notochord is a longitudinal, cartilaginous supporting rod running beneath the nerve cord.
The animal kingdom has been broadly classified into two, based on the presence or absence of notochord- Non-Chordata and Chordata.

Chordates possess notochord while non-chordates lack it. Animals belonging to the Phylum Porifera to Phylum Echinoderms are non-chordates.
Classification of the Kingdom Animalia

R.H. Whittaker organized organisms into five kingdoms. He classified organisms based on cell structure, mode, and source of nutrition and body design.
The five kingdoms proposed by Whittaker are Monera, Protista, Fungi, Plantae, and Animalia.
Kingdom Animalia constitutes all animals. Amongst the five kingdoms, the largest kingdom is the animal kingdom.
Kingdom Animalia has been classified into 11 different phyla based on their body design or differentiation.
The different phylum of the animal kingdom are as follows:
Phylum Porifera
Phylum Coelenterata (Cnidaria)
Phylum Ctenophora
Phylum Platyhelminthes
Phylum Aschelminthes
Phylum Annelida
Phylum Arthropoda
Phylum Mollusca
Phylum Echinodermata
Phylum Hemichordata
Phylum Chordata.
1. Phylum Porifera
Porifera means organisms with holes. They are commonly known as Sponges.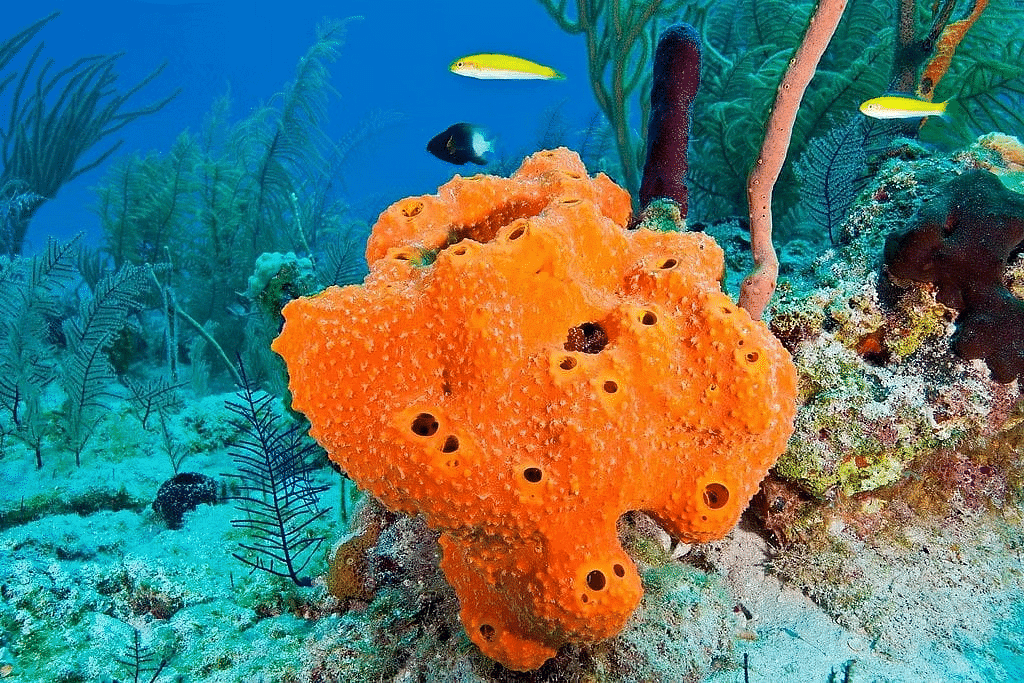 Features of the poriferans are:
Non-motile, multicellular organisms with a hard outer skeleton.
Have a porous body.
Pores on the bodies create a canal system which helps in the circulation of substances.
Not differentiated into head and tail; do not have a well-developed organ or organ system.
Include marine habitat.
Examples of phylum Porifera include- Spongilla, Sycon.
2. Phylum Coelenterata (Cnidaria)
The term Coelenterata is derived from the Greek word "kilos" which means hollow-bellied.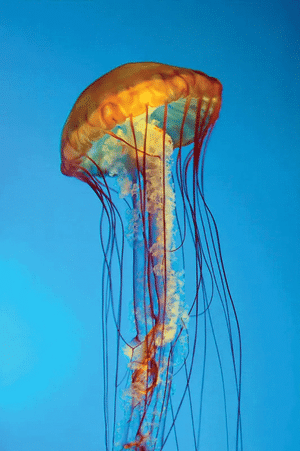 Cnidaria
Their features are:
Have a hollow body cavity.
The body is differentiated into two ends.
Includes all aquatic animals.
The body is made of two layers of cells: inner and outer linings.
Live in colonies (corals) as well as solitary (Sea anemone).
Examples of phylum Coelenterata include – Hydra, Jellyfish.
3. Phylum Platyhelminthes
Platyhelminthes are commonly known as flatworms.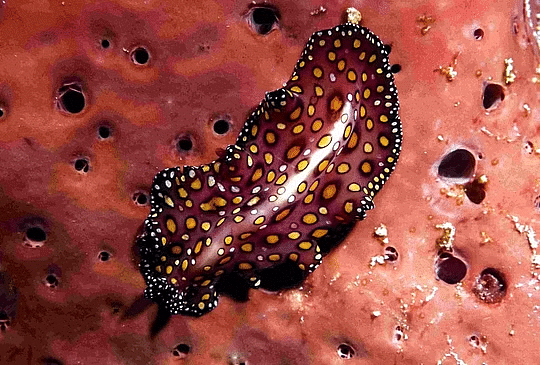 Flatworm
Their features are:
Dorsoventrally flattened body.
Complex and have differentiated body structure.
Tissues are differentiated from three layers of cells and are triploblastic.
Do not have a true internal cavity or coelom.
Have bilateral symmetry.
Either free-living (Planaria) or parasitic (liver flukes).
Examples of phylum Platyhelminthes include -Tapeworm, Planaria.
4. Phylum Nematoda
Phylum Nematoda consists of nematodes or roundworms.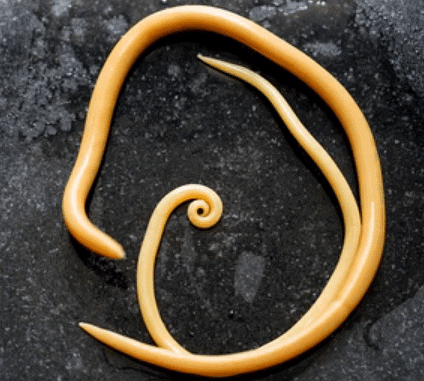 Their features are:
Nematodes have a cylindrical body.
Bilaterally symmetrical and triploblastic.
Have pseudocoelom, a false body cavity.
Parasitic and causes diseases such as elephantiasis, ascariasis.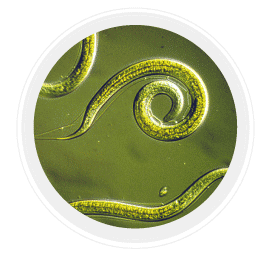 Wuchereria
Examples of phylum Nematoda include – Ascaris, Wuchereria.
5. Phylum Annelida
Annelids are commonly known as segmented or ringed worms. They have the following features:
Have a segmented cylindrical body.
The body is differentiated into head and tail.
Bilaterally symmetrical and triploblastic.
Have a true body cavity.
Habitat: marine, freshwater and land.


Earthworm (Land)

Examples of phylum Annelida include – Earthworm, Leech.
6. Phylum Arthropoda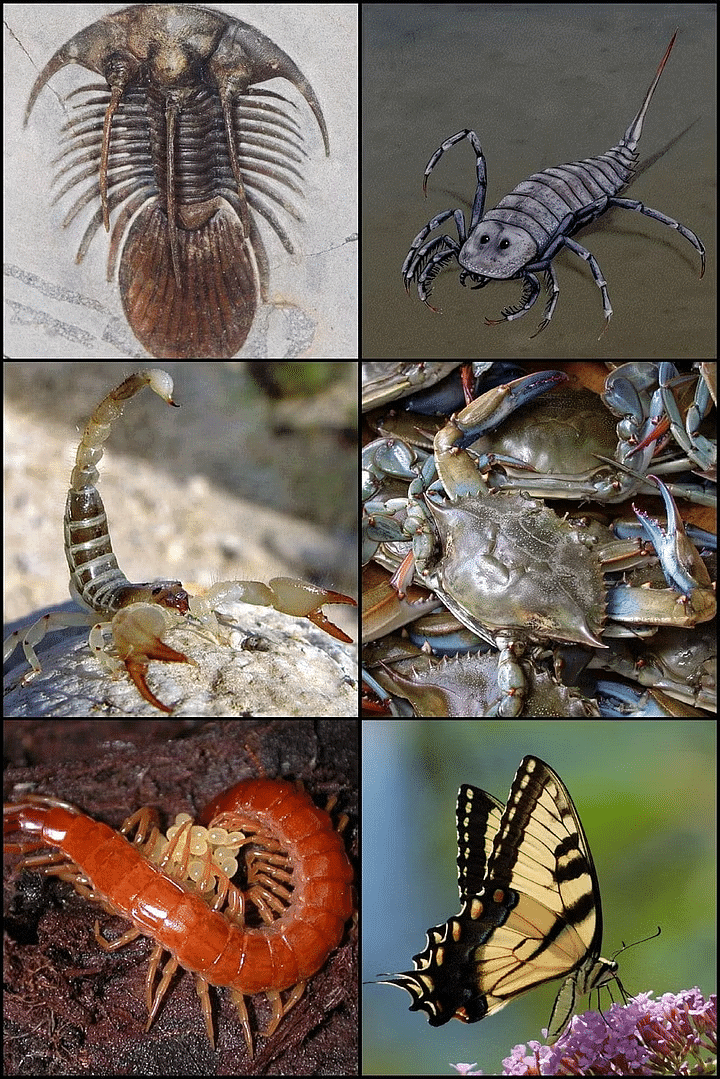 Arthropods
Arthropod means jointed legs. Animals which have jointed appendages belong to this phylum. This is the largest phylum in the animal kingdom. Other features are:
They are bilaterally symmetrical.
Have jointed appendages, exoskeleton and a segmented body.
Have well-differentiated organ and organ system.
Have an open circulatory system, but do not have differentiated blood vessels.
Examples of phylum Arthropoda include – Spiders, butterflies, and mosquitoes.
7. Phylum Mollusca
Phylum Mollusca consists of a large group of animals. Features are:
Bilaterally symmetrical and triploblastic.
Less segmented body.
Well-developed organ and organ system.
Typically, open circulatory system.
Limbs are present.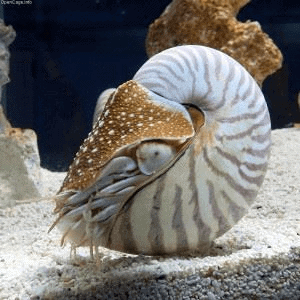 Pearly Nautilus
Examples of phylum Mollusca include- Snails and octopus.
8. Phylum Echinodermata
The term Echinodermata is derived from the Greek words, echinos meaning hedgehog and derma meaning skin. Thus, echinoderms are spiny-skinned animals.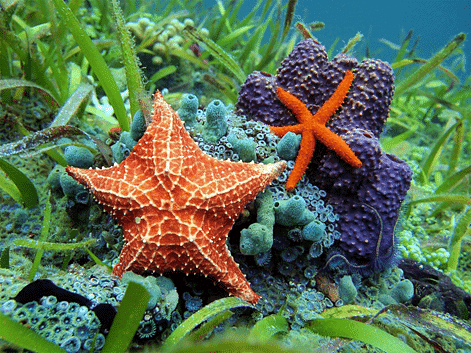 Radial symmetry and triploblastic.
Have true coelom.
Have hard calcium carbonate skeleton structure.
Free-living marine animals.
Examples of phylum Echinodermata include - Sea urchins, starfish.
9. Phylum Hemichordata
The characteristics of phylum Hemichordata are as follows:
The body is soft, fragile, and divided into a proboscis.
The epidermis is single-layered.
It comprises worm-like marine animals with an organ-system level of organization.
They have an open circulatory system.
They respire through gills since they are marine.
They have separate sexes and external fertilization is seen.
Development is direct.
10. Phylum Chordata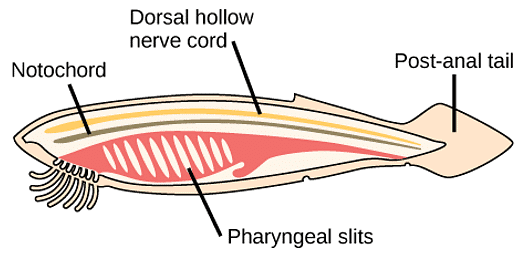 The Chordates possess the following characteristics:
They are bilaterally symmetrical, triploblastic with an organ-system level of classification.
They possess a notochord and a nerve cord.
The circulatory system is closed type.
Phylum Chordata can be divided into the following sub-phyla:


A. Urochordata
The adults are fixed to the substratum.
It is also known as Tunicate because the body of an adult is enclosed within a tunic made up of cellulose-like substance known as tunicin.
Notochord can be seen only in the larval stage and disappears in adults.
The nerve cord present in larva is replaced by a dorsal ganglion in adults.
The larva can move and undergoes a metamorphosis.
For e.g., Ascidia, Salpa, Doliolum
B. Cephalochordata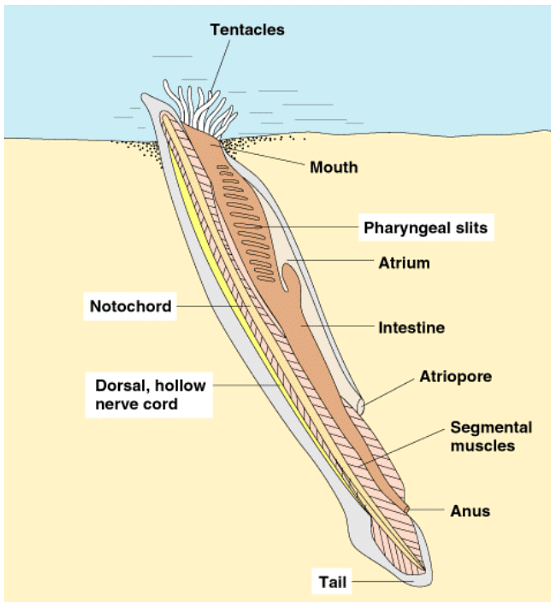 The atrium is present.
Motile adult and larval stage.
The tail is present throughout life.
They show progressive metamorphosis.
The notochord is found throughout life. Numerous well-developed pharyngeal gill slits are present.
For e.g., Lancelets possess the notochord and nerve cord throughout their life. However, they lack the brain and bony vertebral column like Branchiostoma.
C. Vertebrata
The characteristic features of vertebrates include:
These are advanced chordates and have cranium around the brain.
The notochord is replaced by a vertebral column in adults.
This is why it is said that 'all vertebrates are chordates but all chordates are not vertebrates'.
A high degree of cephalization is observed.
The epidermis is multi-layered.
They consist of three types of muscles-striped, unstriped and cardiac.
They have a well-developed coelom.
The alimentary canal is complete.
The heart is three or four-chambered.
They have well-developed respiratory and excretory systems.
Endocrine glands are present in all.
They are unisexual and reproduce sexually, hagfish being an exception.
For e.g., humans.
Classification of Vertebrates into Classes: