What do we mean by Heredity?
Do you remember your grandparents telling you that you are just like your father or mother? That is the concept of heredity, the most puzzling and mysterious phenomenon of nature.
No matter how unique we call ourselves, we happen to be an accumulation of all the traits we have inherited. Therefore, our bloodline matters and those traits travel through you till the end of time. Before we understand the importance of inheritance and variation, we need to understand the following terms:
Genetics
Genetics is the study of principles and mechanisms of heredity and variation. Genetics term was given by W. Bateson (Father of Modern Genetics).
Heredity
It is a process of transmission of parents' traits to their offspring either via asexual reproduction or sexual reproduction. These characteristics or traits are located on the chromosomes in the form of genes.
Variation
It is the degree to which progeny differ from their parents. Variation may be in terms of morphology, physiology, cytology, and behavioristic traits of individual belonging to the same species. Variation arises from Reshuffling of gene/chromosomes, Crossing over or recombination, mutation, and the environment's effect.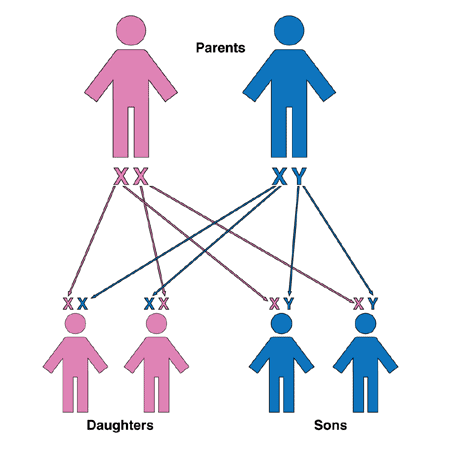 How heredity occurs in human beings
History of Researchers in Genetics
Muller: Father of Actinobiology. Actinobiology is the study of the effects of radiation on living organisms.

Morgan: Father of Experimental genetics. He did experiments on Drosophila & proposed various concepts.

Gene Theory:

Gene Theory is one of the basic principles of

biology

. The main concept of this theory is that traits are passed from parents to offspring through gene transmission.

Genes

are located on

chromosomes

and consist of

DNA

. They are passed from parent to offspring through reproduction.

Garrod: Father of human genetics & Biochemical genetics. Garrod discovered the first human Metabolic, genetic disorder called alkaptonuria(black urine disease). In this disease enzyme, homogentisic acid oxidase is deficient. Gave the concept 'One mutant gene one metabolic block.
Pre-Mendelian Theories
To explain the like begets (offsprings are similar to their parents), several theories were given. They are collectively known as theories of Blending Inheritance as they believed that characters of the parents blended or got mixed during their transmission to the offspring.
Some of them are as follows:
1. Vapour Fluid Theory
Greek philosopher Pythagoras [500B.C.] proposed this theory. According to this theory, at the time of coitus of male and female, moist vapour secretes from the brain, and due to this, offsprings are similar to their parents.

Pythagoras
2. Semen Theory
This theory has given by Empedocles. In his view, the semen of males and females is mixed during coitus. Characters of parents appear in the offsprings due to the mixture.
According to Aristotle, the semen of a male is considered "highly purified blood" with the power of life, and the semen of a female nourishes it.
3. Preformation Theory
The theory of preformation believes that the organism is already present, which is performed in the sperm or egg in a miniature form called homunculus (Fig. 5.1). Fertilization is required to stimulate its growth. Sperms were observed for the first time by Leeuwenhoek, in 1672.
Preformation theory was given by Swammerdam (1679) and advocated by Malpighi (1673). It was believed by a number of workers of that period like Hartosoeker (1694) and Dalepatius (1694). It was supported by Roux as late as 1888 but discarded by Wolff who suggested that organs are formed step by step (theory of epigenesis).


Homunculus - Spermist conception of a human sperm
5. Encasement Theory
Charles Bonnet and his supporters presumed that every female contains within her body miniature prototypes of all the creatures which would descend from her, one generation within the other, somewhat like a series of Chinese boxes. This was named encasement theory.
6. Epigenesis Theory
Wolff proposed that the germ cells contain definite but undifferentiated substances, which, after fertilization, become organized into various complex body organs that form the adult. This idea was referred to as epigenesis.
7. Pangenesis Theory
The theory of pangenesis was described by C.Darwin. This theory postulated that all parts of a living body [tissues] synthesize "micro molecules." These micro molecules are known as Pantene or Gemmules.

C. Darwin
The male and female pangenes fuse together during fertilization. These are, further again distributed in the various organs of the body at the time of development.
8. Germplasm Theory
This theory, advocated by August Weismann (1889), a German biologist, states that body tissues are of two types, viz., germplasm and Somatoplasm. The germplasm refers to the reproductive tissues or cells which produce gametes.
The Somatoplasm includes all other body tissues which are not related to sexual reproduction. Thus, the transmission of characters from one generation to another takes place only through germplasm. Any change in the germplasm will lead to change in the next generation. This theory is accepted in a broad sense.
Key Terms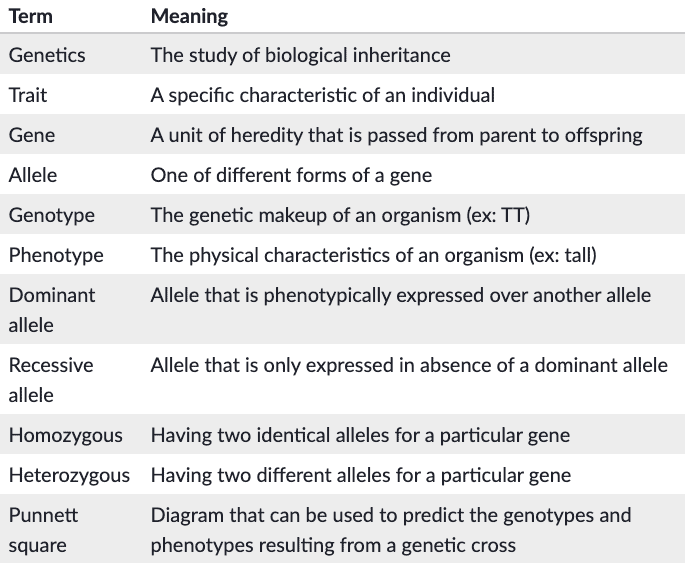 FAQs (Frequently Asked Questions)

Q1. What are the principles of inheritance?
Ans: The key principles of Mendelian inheritance are summed up by Mendel's three laws: the Law of Independent Assortment, Law of Dominance, and Law of Segregation.
Q2. What is point mutation? Give an example.
Ans: Point mutation is the mutation that affects a single nucleotide or nucleic acid. It commonly occurs when one base is substituted for the other. It may also result due to insertion and deletion of a single base pair. Examples of point mutation are:
a. Cystic fibrosis: It occurs due to the deletion of three nucleotides in the CFTR gene. In this, an amino acid phenylalanine is lost which causes misfolding of protein.
b. Sickle cell anemia: It is caused by single point mutation in the beta haemoglobin gene. This results in the conversion of GAG codon into GUG that encodes amino acid valine.
Q3. What was the theory of genetics before Mendel did his experiments?
Ans: Before Mendel's experiments, most people believed that traits in offspring resulted from a blending of the traits of each parent.