Reaction in saponification process: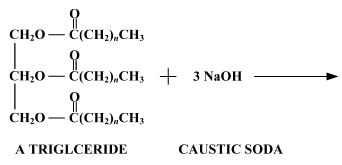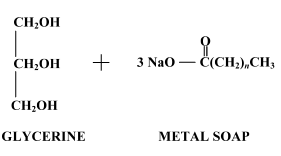 Continuous Saponification
Process Continuous saponification process has now replaced old batch process for making soap. Although there are variety of commercial system available , however all the process rely on high speed saponification using intense mixing and continuous separation of soap ,lye and glycerol, drying and finishing of the soap. In the continuous process the blended oils and fats along with appropriate amount of caustic lye and salt is continuously fed to the pressurized, heated autoclave (temperature 120 oC and pressure 200 kpa). The saponification process is very fast and proceeds very quickly requiring about 30 minutes or less. After saponification in autoclave with short residence time the reaction product are fed to cooling mixer where further saponification is completed. The soap stream from the cooling mixer is sent to the static separator where lye phase containing, glycerol, caustic soda and salt are separated from the soap layer. The soap layer still contains glycerine which is washed in a washing column with lye and salt solution to remove impurities and allow further separation of glycerol. The soap solution is added at the bottom column while the fresh caustic lye is added at the top for washing. Final separation of lye with soap is achieved in centrifuge.
The soap from the crutcher is fed to feed tank where it is preheated in heat exchanger and then sprayed into the spray dryer for drying. Removal of excess moisture from vapor and entrained soap is achieved. Soap is separated by passing the vapor in a cyclone. The dry soap is fed to noodles which is screw extrodudes. The extruded soap is cut into small noodles. The measured base soap for through the vortary air value blower is fed to noodles. The soap from noddle silo is fed to noddles through sigma mixer and roll mill. After milling it goes to pre plodder, vacuum chamber and final plodder, bar cutter and packing, wrapping and storage.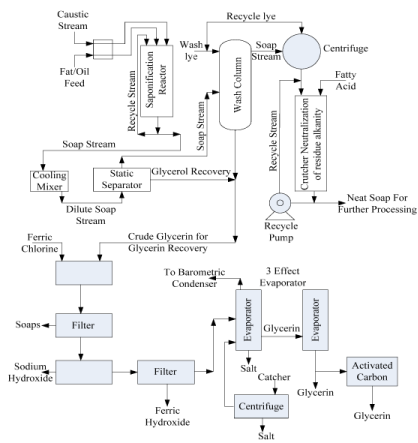 Figure M-IV 1.1: Soap Manufacturing Process Direct Saponification of Oils and Fat and Glycerine recovery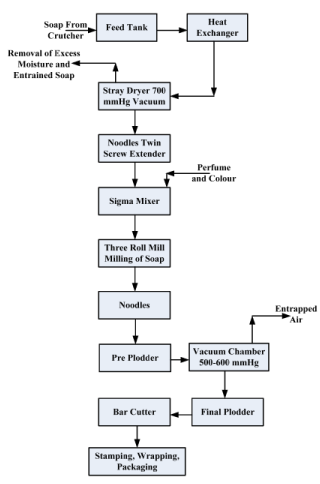 Figure M-IV 1.2: Process of Toilet Soap Bar Making
Glycerine Recovery
Glycerol is important by product of soap manufacture. The process of soap manufacture from fats and oils usually yield glycerol to about 10% of the value of the soap formed and because of its application in many uses, its recovery is very important for better economy of soap manufacture. Some of the major industrial application of glycerol include manufacture of alkyl resins and flexible polyurethane for plastic industry. It is also an important ingredient of in cosmetics and adhesive manufacture .Sweet water from wash column and lye
from the static separator containing glycerol is processed for producing glycerine.
First step in glycerine recovery is the pretreatment of lye for removal of traces of soluble soap in the lye. Ferric chloride is added to the lye to precipitate the soluble soap as ferric soap which is separated by filtration. The acidic filtrate after removal of soap is acidic and contains excess ferric chloride. This is treated with caustic soda and ferric chloride is separated as ferric hydroxide precipitate which separated by filtration. The filtrate after removal of soap is sent to evaporation section. In multiple effect evaporator dilute glycerine is concentrated to 52percent glycerine. Some salt is separated at this stage. The concentrated liquor after separation of salt is centrifuged and the concentrated glycerine is sent to another single effect evaporator to achieve a concentration of about 84 percent glycerine. This is called crude glycerine which is further refined in special distillation column at 140 oC and 755 mmHg. The distillation column contains three condenser in series from which different fraction of glycerine are recovered which is further treated with activated carbon to achieve the finished product.
Soap Removal: The spent lye contains a small quantity of dissolved soap which must be removed before the evaporation process. This is done by treating the spent lye with ferrous chloride. However, if any hydroxide ions remain the ferrous ions react with them instead, so these are first removed with hydrochloric acid:
HCl + NaOH → NaCl + H2O
The ferrous chloride is then added. This reacts with the soap to form an insoluble ferrous soap:
FeCl2 + 2RCOONa → 2NaCl + (RCOO)2Fe
This precipitate is filtered out and then any excess ferrous chloride removed with caustic:
2NaOH + FeCl2 → Fe(OH)2 (s) + 2NaCl
This is filtered out, leaving a soap-free lye solution.
Salt removal: Water is removed from the lye in a vacuum evaporator, causing the salt to crystallise out as the solution becomes supersaturated. This is removed in a centrifuge, dissolved in hot water and stored for use as fresh lye. When the glycerine content of the solution reaches 80 – 85percent, it is pumped to the crude settling tank where more salt separates out.
Glycerine Purification: A small amount of caustic soda is added to the crude glycerine and the solution then distilled under vacuum in a heated still. Two fractions are taken off - one of pure glycerine and one of glycerine and water. The glycerine thus extracted is bleached with carbon black then transferred to drums for sale, while the water/glycerine fraction is mixed with the incoming spent lye and repeats the treatment cycle.