Match the Following
Q.1. DIRECTIONS (Q. No. 1) : Each question contains statements given in two columns, which have to be matched. The statements in Column-I are labelled A, B, C and D, while the statements in Column-II are labelled p, q, r, s and t. Any given statement in Column-I can have correct matching with ONE OR MORE statement(s) in Column-II. The appropriate bubbles corresponding to the answers to these questions have to be darkened as illustrated in the following example :
If the correct matches are A-p, s and t; B-q and r; C-p and q; and D-s then the correct darkening of bubbles will look like the given.

Q.1. Match the entries in Column I with the correctly related quantum number(s) in Column II. Indicate your answer by darkening the appropriate bubbles of the 4 × 4 matrix given in the ORS
Column I Column II

(p) sodium fusion extract of the compound gives Prussian blue colour with FeSO4

(q) gives positive FeCl3 test

(r) gives white precipitate with AgNO3

(s) reacts with aldehydes to form the corresponding hydrazone derivative
Ans. (A) - r, s; (B) - p, q; (C) - p, q, r; (D) - p, s
Solution. compound (A) does not have carbon, hence does not responds (p) test.

DIRECTIONS (Q. No. 2) : Following question has matching lists. The codes for the list have choices (a), (b), (c) and (d) out of which ONLY ONE is correct.
Q.2. Different possible thermal decomposition pathways for peroxyesters are shown below. Match each pathway from List-I with an appropriate structure from List-II and select the correct answer using the code given below the lists.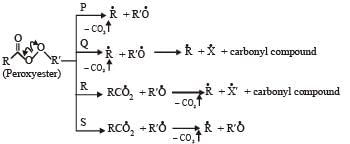 List-I List-II
P. Pathway P

Q. Pathway Q

R. Pathway R

S. Pathway S



Ans. (a)
Solution.