Transport

Transport is divided into three modes — land, water and air transport.
Land transport consists of roads and railways. Water transport consists of river or inland transport and sea or oceanic transport. The latest and the fastest mode of transport is air transport.
There are five types of transport systems in India: Roadways, Railways, Pipelines, Waterways and Airways.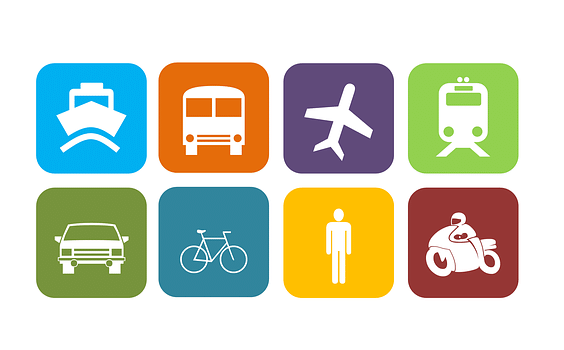 ➢ Roadways
Roads: A number of roads were built during the Mughal rule. Sher Shah Suri built the Grand Trunk Road from Chittagong (now in Bangladesh) in the east to Peshawar (now in Pakistan) in the west.
Length: India has a road length of about 2.3 million kilometres, one of the largest road networks in the world. Of these 57% are surfaced roads.
Question for Key Concepts: Lifelines of National Economy
Try yourself:
Which mode of transport is the latest and fastest?
Significance of Roads:
Roads are cheap and easy, both in construction and maintenance.
They connect fields with markets, factories with farms and help in providing door to door service.
Roads are useful for short distances both for passengers and goods.
Types of Roads:
(i) National highways
(ii) State highways
(iii) District roads
(iv) Village roads
(v) Border roads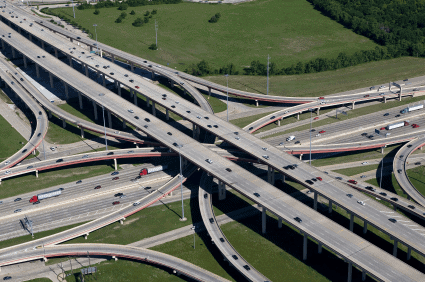 (a) National Highways:
Connect one state with another and are of national importance.
They are about 65,000 km of national highways. They constitute 2% of the total road network but carry 40% of total road traffic.
They are constructed and maintained by the Central public works department (CPWD).
(b) State Highways:
They are constructed and maintained by the State public works department (PWD). They join state capitals with district headquarters and other places of the district.
(c) Village Roads:
They connect the villages with the neighbouring towns and cities.
(d) Border Roads:
They are maintained by the Border Roads Organisation.
Expressways
They are highways with 4 to 6 lanes for long-distance, fast-moving traffic between one part of the country to another.
The Expressway National Highways: About 14,846 km of national highways will be constructed between 1999–2007.
These roads with 4 or 6 lanes are named as:
(i) Golden Quadrilateral will connect Delhi, Mumbai, Chennai, and Kolkata. It will have a length of 5,846 km.
(ii) North-South and East-West Corridors will connect Srinagar to Kanniyakumari and Silchar to Porbandar and it will have a length of 7,300 km.
A road with a length of 1157 km will connect 10 major ports, namely Kandla, Jawaharlal Nehru Port, Marmagao, Tuticorin, Chennai and Ennore, Visakhapatnam, Paradip and Haldia.
All these national highways are based on the concept of Build, Operate and Transfer (BOT).

➢ Railways
The railways are now 157 years old in India. The total length of railways is about 63,221 km.
India has the second-largest railway network in Asia and the sixth largest railway network after the USA, Russia, Canada, Germany and China.
The Indian Railways carry 40,000 lakh passengers and 4,000 lakh tonnes of goods a year. It had a fleet of 7817 locomotives, 5321 passenger service vehicles, 4904 other coach vehicles and 228,170 wagons as of 31 st March 2004.
Three Gauges of the Railways:
(i) Broad gauge (1.675 m)
(ii) Metre gauge (1.000 m)
(iii) Narrow-gauge (0.762 m and 0.610 m)
Unigauge System of Railways has a larger capacity, higher speed, cheaper transportation and reduction in trans-shipment. At present, 70.72% of rail routes are broad gauge, 23.92% metre gauge and 5.36% narrow gauge.
Improvement in Railways
Metre gauge lines are being converted to broad gauge. Steam engines have been replaced by diesel and electric engines.
Other improvements are being made in the area of track replacement, the introduction of fast-moving trains and providing public amenities at the railway stations.
➢ Pipelines
Pipelines were earlier used for the transportation of water and now they are being used for the transportation of crude oil, petroleum products and natural gas.
Important Network of Pipelines:
(i) From oilfields in upper Assam to Kanpur.
(ii) From Salaya in Gujarat to Jalandhar in Punjab.
(iii) Gas pipelines from Hazira in Gujarat to Jagdishpur in Uttar Pradesh, via Bijaipur in Madhya Pradesh.
Question for Key Concepts: Lifelines of National Economy
Try yourself:
What is the purpose of national highways in India?
➢ Waterways
Inland Waterways have a length of 14,500 km.
The Government has declared the following waterways as National Waterways:
(i) National Waterway No. 1: The Ganga river between Allahabad and Haldia (1,620 km).
(ii) National Waterway No. 2: The Brahmaputra between Sadiya and Dhubri (891 km).
(iii) Kollam and Kottapuram (168 km).
(iv) National Waterway. No. 3: The Champakara Canal (14 km).
(v) The Udyogamandal Canal (22 km).
➢ Airways
Airways are the fastest mode of transport but they are the costliest ones.
In 1953, air transport was nationalised. In India, domestic services are provided by Indian Airlines, Alliance Air, private scheduled airlines.
Air India provides international air services. Pawan Hans Helicopters Ltd. provides helicopter services to the Oil and Natural Gas Commission in its offshore operations.
Indian Airlines operations also extend to neighbouring countries of South East Asia and the Middle East.
Types of Airways:
(i) International
(ii) Domestic
(a) International Airports: Delhi, Mumbai, Kolkata, Chennai, Thiruvananthapuram, Bengaluru, Amritsar, Hyderabad, Ahmedabad, Panaji, Guwahati and Cochin.
(b) Domestic Airports: There are 63 domestic airports in the country. Airports are managed by the Airport Authority of India.
Major Seaports
Seaports: India has 12 major, 181 medium and minor seaports.
Major Ports on the West Coast: Kandla, Mumbai, Jawaharlal Nehru (Nhava Sheva), Marmagao, New Mangalore and Cochin.
Major Ports on the East Coast: Kolkata, Haldia, Paradip, Visakhapatnam, Chennai, Ennore and Tuticorin.
Biggest Port: Mumbai.
Communication
The means of communication are divided into two categories — personal and mass communication.
Personal Written Communication: Indian postal network — 1.5 lakh post offices in India. It includes postcards, letters, telegrams, telephones and the internet.
First-Class Mail: Mail that is airlifted between stations.
Second-Class Mail: Mail that is carried by surface covering land and water transport.
Mass Communication: Mass communication includes handbooks, journals, magazines, newspapers, radio, television and films. They are of two types (i) print media, (ii) electronic media.
Question for Key Concepts: Lifelines of National Economy
Try yourself:
What is the length of India's inland waterways?
International Trade
Trade between two countries is called international trade.
Trade: Exchange of goods between two parties such as people, states and countries.

Economic Barometer: International trade of a country.
Balance of Trade: The difference between exports and imports.
Favourable balance of trade: If the value of exports is more than the value of imports.
Unfavourable balance of trade: If the value of imports is more than the value of exports.
Tourism as a Trade


Tourism promotes national integration and develops an international understanding. It supports local handicrafts and cultural pursuits.
Foreign tourists arrivals in the country witnessed an increase of 23.5% during the year 2004 as against the year 2003, thus contributing Rs 21,828 crore of foreign exchange.