SECTION A—
THE FRENCH REVOLUTION AND THE IDEA OF A NATION, and MAKING OF NATIONALISM IN EUROPE:
Growth of nationalism in France.
Introduction of various measures and practices created sense of collective identity among the people of France.
Change of monarchy and establishment of republic, creation of new assembly.
Rise of Napoleon and his reforms. Revolutionaries help other people of Europe to become nation.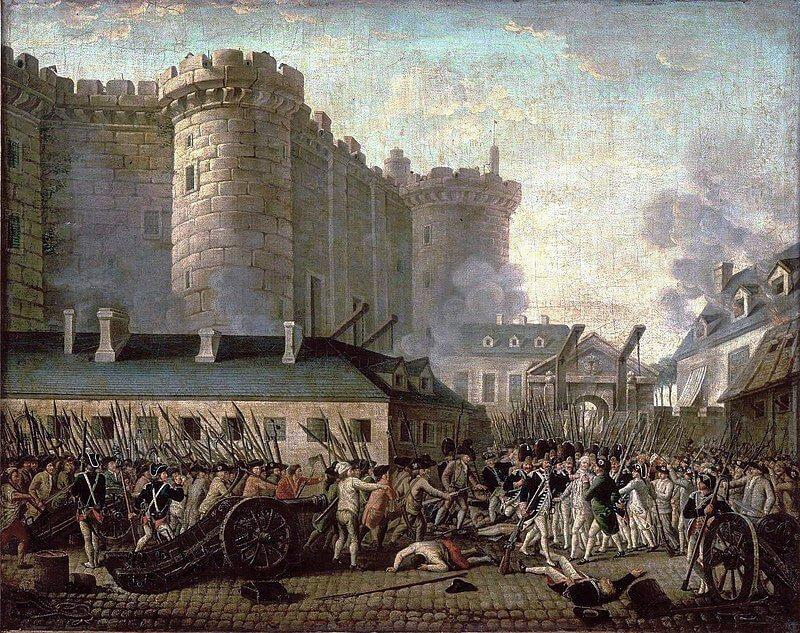 Fig: Storming of the Bastille during French Revolution
The making of Nationalism in Europe:
Germany, Italy and Switzerland were divided into Kingdom, duchies and cantones these divisions were having their autonomous rulers.
Uses of different languages.
Rise of middle class.
Industrialization in England, emergence of a working class and liberalism.
New conservation after 1815 and preservation of traditional institution.
After the defeat of Napoleon, the European government follows the spirit of conservatism. Conservative regimes were autocratic Revolutionaries at that time fought for liberty and freedom.
Example, Mazzini's young Italy and Young Europe.

SECTION B—
THE AGE OF REVOLUTION (1830–1848) AND THE UNIFICATION OF GERMANY AND ITALY
1. Liberalism and nationalism became associated with revolution in many regions of Europe such as the Italian and German states, the provinces of the Ottoman Empire, Ireland and Poland.
2. The first upheaval took place in France, on July 1830.
3. The Greek War of Independence was another event which mobilized nationalist feelings among the educated elite in Europe.
4. Culture played an important role in creating the idea of the nation. Art and poetry, stories, music helped express and shape nationalist feelings.
5. Romanticism was a cultural movement which sought to develop a particular form of nationalist sentiment.
6. Language too played an important role in developing nationalist sentiments.
7. The 1830's saw a rise in prices, bad harvest, poverty in Europe. Besides the poor, unemployed and starving peasants, even educated middle classes, revolted.
8. In 1848, an all-German National Assembly was voted for in Frankfurt.
9. The issue of extending political rights to women became a controversial one.
10. Conservative forces were able to suppress liberal movements in 1848, but could not restore the old order.
11. After 1848, nationalism in Europe moved away from its association with democracy and revolution.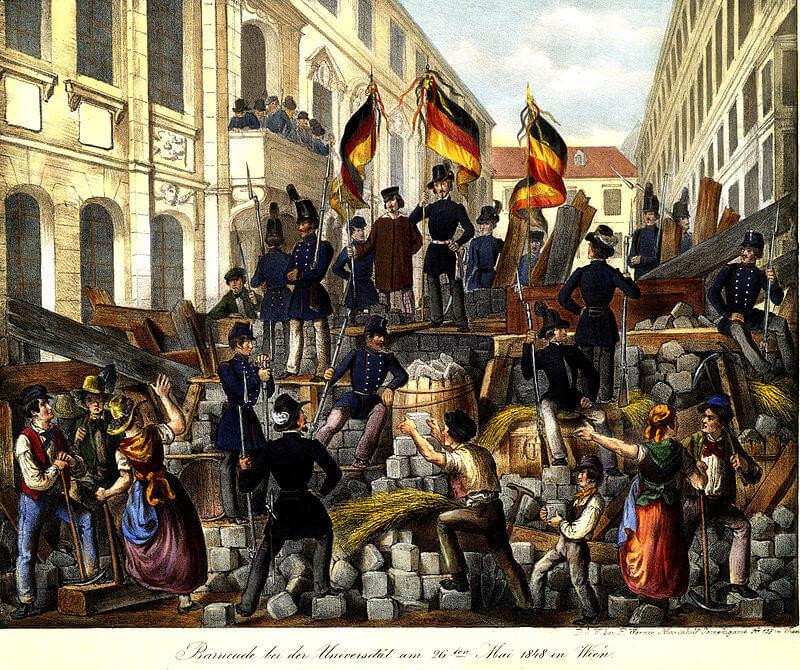 Fig: The revolutionary barricades in Vienna in May 1848 12. In 1848, Germans tried to unite into a nation-state.
13. Prussia took the lead under its Chancellor, Otto von Bismarck. Three wars over seven years with Austria, Denmark, and France ended in victory for Prussia and a unified Germany.
14. In January 1871, Prussian king, William I, was proclaimed German Emperor at a ceremony at Versailles.
15. Italy was fragmented, before unification, it was a part of the multinational Habsburg Empire in the north, center under the Pope and the south under the Bourbon kings of Spain.
16. Three Men– Giuseppe Mazzini, Chief Minister Cavour and Giuseppe Garibaldi played a leading role in unifying Italy during the 1830's.
17. In 1861, Victor Emmanuel II was proclaimed the king of united Italy.
18. In Britain, the formation of the nation-state was not the result of a sudden upheaval but was the result of a long-drawn-out process.
19. The Act of Union (1707)– united Scotland and England and "the United Kingdom of Great Britain" was formed.
20. Ireland was forcibly incorporated into the United Kingdom in 1801. A new British nation was formed.

SECTION C—
VISUALIZING THE NATION: NATIONALISM AND IMPERIALISM
1. People and artists in the 18th and 19th centuries personified a nation.
2. In France, Marianne became the allegory of the French nation, while Germania became the allegory of the German nation.
3. By the 1870's nationalism no longer retained its idealistic liberal democratic sentiment but became a narrow creed with limited ends.
4. The major European powers, manipulated the nationalist aspirations of the subject peoples in Europe to further their own imperialist aims.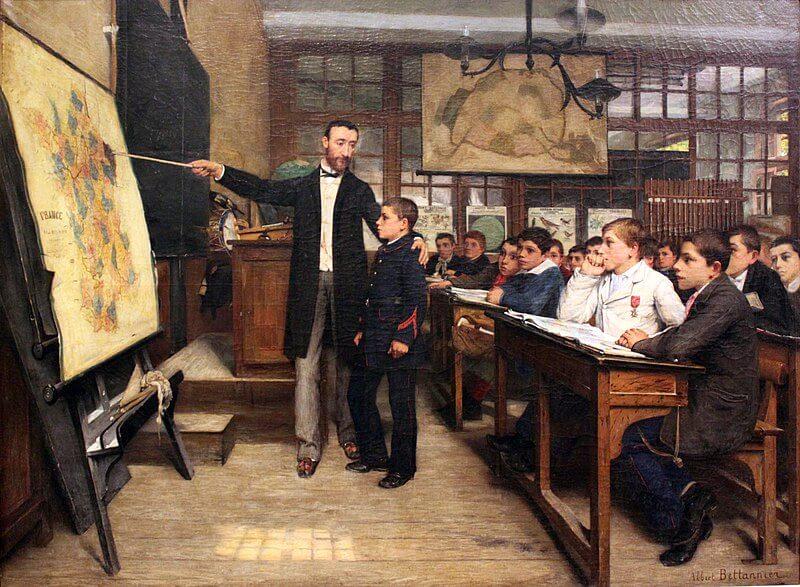 Fig: A painting by Alphonse-Marie-Adolphe de Neuville from 1887 depicting French students being taught about the lost provinces of Alsace-Lorraine, taken by Germany in 1871.
5. People everywhere developed their own specific variety of nationalism.
6. The idea that societies should be organised into nation-states came to be accepted as natural and universal.