Ques 1: Explain how microbes are useful to us in our day to day life.
Ans:
(i) Microorganisms are beneficial to us in various ways; they not only prepare curd, bread, cake, wine and medicines for us but also used to increase soil fertility by fixing atmospheric nitrogen. Thus we called them as friendly.
(ii) Yeast reproduces rapidly and produces carbon dioxide during respiration. Bubbles of gas fill the dough (mixture of atta or maida and some sugar and water) and increase its volume. This is the basis of using yeast in baking industry.
(iii) Fermentation is the process of food processing in which sugar is converted into alcohol by the action of microorganisms. This process is used to produce alcoholic beverages such as wine, beer, and cider. For this purpose yeast is grown on natural sugars present in grains like barley, wheat, rice, crushed fruit juices etc.
(iv) Antibiotics are medicines that kill or stop the growth of disease causing microorganisms and they are prepared from microorganisms. For e.g. streptomycin, tetracycline and penicillin are some of the antibiotics prepared from microorganisms like fungi and bacteria.
Ques 2: Explain how microbes are harmful to us.

Ans: Microorganisms are harmful in many ways. Some microorganisms cause diseases in human beings, plants and animals. Such disease-causing microorganisms are called pathogens. Some microorganisms spoil food, clothing and leather. Some of the common communicable diseases caused by microorganisms affecting humans are cholera, common cold, chicken pox and tuberculosis. Many microorganisms not only cause diseases in humans and plants but also in animals like anthrax is a dangerous human and cattle disease caused by a bacterium. Disease causing microorganisms in plants like wheat, rice, potato, sugarcane, orange, apple and others reduce the yield of crops. Food poisoning is caused due to the consumption of food spoilt by some microorganisms.
Ques 3: What are the major precautions one should follow while taking antibiotics?
Ans: Following precautions must be taken while taking antibiotics:
(i) Antibiotics should be taken only on the advice of a qualified doctor. And one must finish the course prescribed by the doctor.
(ii) Antibiotics must be avoided when not needed or in wrong doses.
(iii) Antibiotics taken unnecessarily may kill the beneficial bacteria in the body.
Ques 4: What are the major group of microorganisms explain each group with their harmful and useful effects in our life
Ans: Microorganisms are broadly divided into four major groups namely: Bacteria, virus, fungi and virus.
(i) Bacteria are single-celled microscopic organisms. They can survive under all types of environment, ranging from ice cold climate to hot springs and deserts to marshy lands. Bacteria always live in colonies. They are of spiral shape or rod shape. Bacteria play an important role in our life; some bacteria are useful whereas some others are harmful and cause diseases. Bacteria are involved in making of cheese and pickles. Lactobacillus bacteria promote the formation of curd. Antibiotics are also made from bacteria. Apart from this diseases like tuberculosis and typhoid are caused due to bacteria.
(ii) Viruses are microscopic infectious agent that acts as non-living outside host cell and inside host cell becomes living and show reproduction. It can affect all kinds of an organisms including animals, plants and bacteria. Common ailments like cold, coughs and influenza (flu) are caused by viruses; serious diseases like chicken pox and polio are also caused by viruses.
(iii) Protozoa had been defined as unicellular protists with animal-like behaviour like movement. They move around with whip-like tails called flagella, hair-like structures called cilia, it is responsible for causing diseases like dysentery and malaria in human beings.
(iv) Algae are a very large and diverse group of simple, typically autotrophic organisms, ranging from unicellular to multicellular forms. Most are photosynthetic like plants, and "simple" because their tissues are not organized into many distinct organs found in land plants. The largest and most complex marine forms are called seaweeds.
Ques 5. What are carriers of disease-causing microbes? Explain with the help of two examples.
Ans. These are some insects and animals which carry the disease-causing microorganisms like a housefly, mosquitoes. Such insects and animals are called carriers of disease-causing microbes.
Examples:
(i) Housefly : The housefly is a carrier of microorganisms. They sit on the garbage and animal excreta. The pathogens stick to their bodies. When these flies sit on uncovered food, they may transfer the pathogens. Whoever eats the contaminated food is likely to get sick. So, we should not consume uncovered food.
(ii) Female Anopheles Mosquito: It is the carrier of the parasite of malaria. Female Aedes mosquito acts as carrier of dengue virus. We can control malaria by keeping the surroundings clean and dry.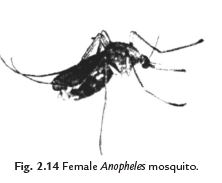 Ques 6. Explain causative microorganisms, mode of transmission and preventive measures of the human diseases like Tuberculosis, Measles, Chicken pox, Polio, Cholera, Typhoid, Hepatitis B and Malaria etc.
Ans. Some of the common diseases affecting humans, their mode of transmission and few general methods of prevention are given in the following table:
Human Disease

Causative

Microorganisms

Mode of Transmission

Preventive Measures (General)

Tuberculosis

Measles

Chicken Pox

Polio

Bacteria

Virus

Virus

Virus

Air

Air

Air/Contact

Air/Water

Keep the patient in complete isolation. Keep the personal belongings of the patient away, from those of the others. Vaccination to be given at suitable age.

Cholera

Bacteria

Water/Food

Maintain personal hygiene and good sanitary habits.

Typhoid

Bacteria

Water

Consume properly cooked food and boiled drinking water. Vaccination.

Hepatitis B

Virus

Water

Drink boiled drinking water. Vaccination.

Malaria

Protozoa

Mosquito

Use mosquito net and repellents. Spray insecticides and control breeding of mosquitoes by not allowing water to collect in the surroundings.

Ques 7. Name some common plant diseases, their causative microorganisms and mode of transmission with the help of the figures.
Ans. Some common plant diseases caused by microorganisms are following:


Ques 8. What are food preservatives? Explain some common food preservatives.
Ans. The chemical substances which are used to check or stop the growth of harmful microorganisms in food are called food preservatives. These food preservatives keep the edible food materials protected from the invasion of microorganisms which can spoil the food. Some common food preservatives are:
(i) Salt: Common salt is used to preserve meat, fish, amla, raw mangoes and tamarind etc.
(ii) Sugar: Jams, jellies and squashes are preserved by sugar. Sugar reduces the moisture contents which inhibit the growth of bacteria which spoil food.
(iii) Oil: Edible oils are used as preservatives in vegetables and pickles. Oil does not allow the moisture to surface, thus preventing the growth of harmful bacteria.
(iv) Vinegar: It is used to preserve fruits, vegetables, fish, meat and pickles.
Ques 9. Explain nitrogen cycle with a schematic diagram.
Ans. Certain bacteria and blue green algae present in the soil fix the atmospheric nitrogen and convert it into compounds of nitrogen. These can be utilised by plants by taking them from the soil through their root system. Nitrogen is then used for the synthesis of the plant proteins and other compounds. Animals use these proteins and other nitrogen compounds as food.
When animals and plants die, bacteria and fungi present in the soil convert these nitrogenous waste into usable nitrogen compounds which are used by plants again. Some other bacteria convert some part of them to free nitrogen gas which goes back into the atmosphere. As the result percentage of nitrogen in the atmosphere remains constant.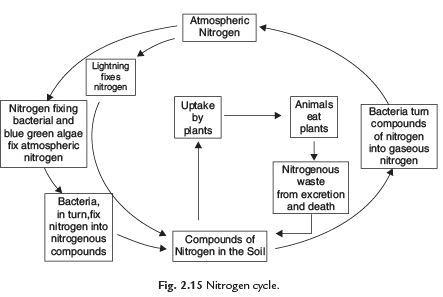 Ques 10. Explain the uses of Bacteria, Fungi and Algae.
Ans. (A) Uses of Bacteria:
(i) They are used to increase soil fertility by fixing nitrogen.
(ii) Some bacteria are used to produce antibiotics.
(iii) Lactobacillus bacteria converts milk into curd. It also helps in digestion of food.
(iv) Some bacteria help in many functions of our body.
(B) Uses of Fungi:
(i) Yeast is used to prepare alcohol and vinegar by fermentation.
(ii) Yeast is used to produce bread, cheese, beer, wine etc.
(iii) Mushrooms are eaten as food.
(iv) Yeast is used to produce vitamin B.
(v) Penicillin is an antibiotic formed by a fungus called Penicillium.
(C) Uses of Algae:
(i) Algae are used to make jellies.
(ii) They are used in soups, ice creams, jellies and jams as thickening agent.
(iii) Chlorella is used to obtain proteins.
(iv) Silica from Diatoms are used in toothpastes.
Ques 11. Explain some indications which help to detect the spoilage of food.
Ans. Indications to detect spoilage of food:
(i) Odour: The unpleasant and foul smell indicates that food is spoiled.
(ii) Discolouration: The presence of the microorganisms in the food results in discolouration of food black. Some fungi and moulds cause change in original colour.
(iii) Taste: Sometimes the cooked food becomes sour. It is due to the production of acids by the action of certain bacteria.
(iv) Sliminess: Sometimes the food becomes slimy. It is also due to action of certain bacteria, thread like slims also caused due to moulds.
(v) Gas formation: Due to action of bacteria, gases like, carbon dioxide are produced. They also spoil the food by making it swell or become spongy.