➢ Wireless communication involves transmitting signals through air and space using radio waves. Wireless spectrum is allocated by governments and international organisations.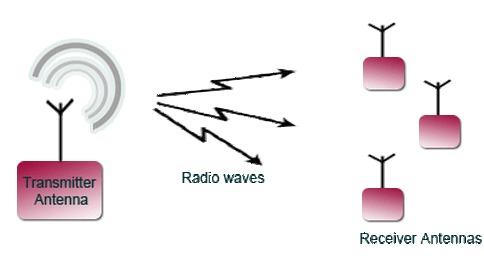 ➢ GSM: Global System for Mobile communications (GSM) is world's most widely used cell phone technology having 80% mobile phone users. It is a standard developed by the European Telecommunications Standards Institute (ETSI) to describe protocols for second generation (2G) digital cellular networks for mobile phones.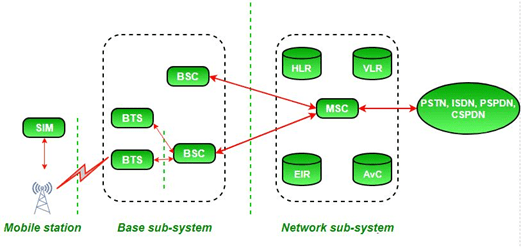 ➢ The GSM standard was developed as a replacement for first-generation (1G) analog cellular networks, and originally described a digital, circuit-switched network for voice telephony. This was expanded to facilitate GPRS (General Packet Radio Services).
➢ CDMA: Code Division Multiple Access (CDMA) is an alternative cell phone technology to GSM. CDMA uses a "broad -spectrum" electromagnetic waves for signaling with wider bandwidth. This allows multiple people on multiple cell phones to be "communicated" over the same channel to share a bandwidth of frequencies. In CDMA technology, data and voice packets are separated using codes and then transmitted using a wide frequency range. CDMA is being used for 3G high-speed internet access on mobile. Wireless.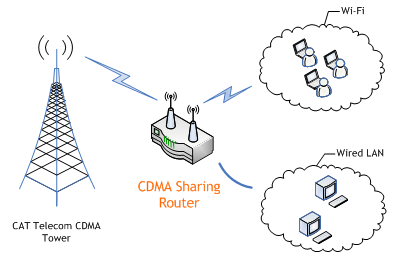 ➢ 3G: 3G is the third generation of Wireless & Mobile technologies. It comes with enhancements over previous wireless technologies, like high-speed transmission, advanced multimedia access and global roaming. 3G is mostly used with mobile phones and handsets as a means to connect the phone to the internet or other IP networks in order to make voice and video calls, to download and upload data and to surf the net.
➢ 4G: 4G is fourth-generation of wireless service, which refers to the next wave of high-speed mobile technologies that will be used to replace current 3G networks. 4G wireless network is next step of 3G, which is currently the most widespread, high-speed wireless service. At present, 4G is available in limited countries and areas.
➢ WLL (Wireless Local Loop): In traditional telephone networks, phone was connected to the nearest exchange through a pair of copper wires. Wireless Local Loop (WLL) technology simply means that the subscriber is connected to the nearest telephone exchange through a radio link instead of copper wires. WLL is basically the use of radio wave to provide a telephone connection to the home. In general, WLL is cheaper and quicker than copper wire connectivity.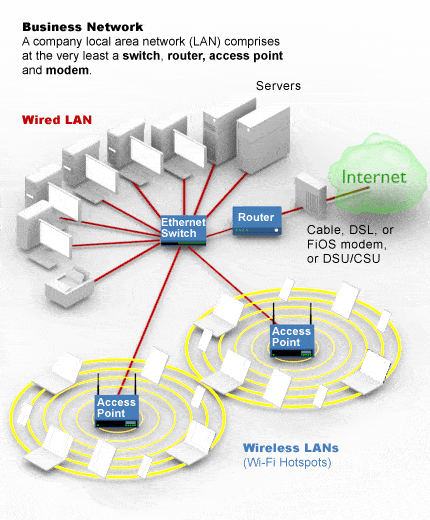 ➢ Wi-Fi (Wireless Fidelity): Wi-Fi is a very common wireless technology that was developed in the 1990s. It is used to connect machines in a Local Area Network (LAN). So, Wi-Fi is like a wireless version of Ethernet.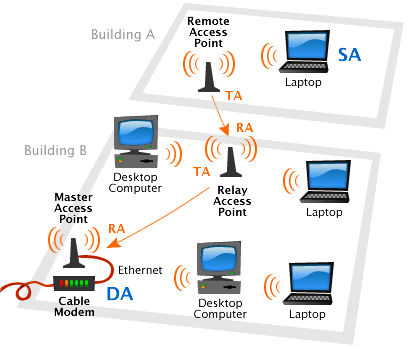 ➢ SMS: Short Message Service (SMS) is a text messaging service component of phone, web, or mobile communication systems, using standardized communications protocols that allow the exchange of short text messages between fixed line or mobile phone devices.
➢ MMS: Multimedia Message Service (MMS) is a method of transmitting graphics, short video and audio files from mobile phone networks. Today, these have been replaced by apps like Facebook and WhatsApp.